Yabangee Trivia Night
Yabangee, which is a website devoted to keeping expats updated on events and goings on in Istanbul, will be holding their second-ever Trivia Night on May 2 at Bunk Roof, an innovative top-floor terrace setting situated atop the 170-bed luxurious hostel of the same name in Harbiye. Enjoy international classics such as burgers and pizzas, while testing your knowledge with other expats and locals alike in a trivia game that will take place between 8-11 p.m. Doors open at 7 p.m., teams will be a maximum of six people and can be arranged for you should you come solo or in odd numbers. No cell phones will be allowed during game time; entrance is TL 10 ($2.7) and for those 18 and over, and the top three teams will win a prize.
Spoken Word Istanbul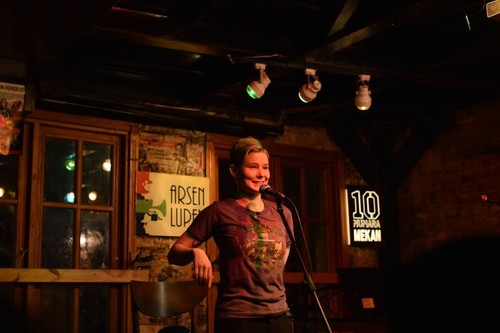 Also on May 2, Spoken Word Istanbul resumes its weekly multilingual open mike show in which comedians, writers, actors, or anyone and everyone are welcome to take the stage to showcase their talents for six minutes. Held at Arsen Lüpen, located off Istiklal Avenue on Mis Street, the show will run from 8:30-11 p.m., but make sure to arrive early to sign up.

Arabs Are Not Funny
Held at the Boğaziçi University South Campus, and organized by Istanbul&I, Turkey's first-ever social impact youth community, the English Stand-up Comedy Night: Arabs Are Not Funny will happen on May 4 at the Boğaziçi University theater located on the south campus. Entrance to the show, in which eight comedians will take the stage, is TL 10 for the university's students and TL 15 general admission. Due to security measures, however, those attending who are not students of the university will have to make a reservation prior to the day of the show in order to be allowed past the security gate. Non-students will not be able to purchase tickets on the day of the show.

Yabangee Visits Izmir: A Cinco de Mayo meetup
On May 5, a Friday which also happens to be Cinco de Mayo, a special day commemorating Mexico's military victory in 1862, which is celebrated in the U.S. as well as Mexico, the Yabangee team will be heading out of town for a special meetup in Izmir's buzzing Alsancak neighborhood. Entry is TL 5 and the event will begin at 8 p.m. at Bardak, where there will be a concert by Polu Polu, an extra-fun jam band that play popular covers.

Handmade Istanbul Spring Market
On Sunday, May 7, the craft collective Handmade Istanbul, comprised of expat and local craftsmen, will be holding their seasonal market from 11 a.m. to 6 p.m. at the St. Helena Chapel, located off Meşrutiyet Street. Expect to find dozens of stalls devoted to handmade crafts including jewelry home décor, textiles, hand knits, arts, accessories, food, toys and much, much more.

Take Me Up the Bosphorus Open Mike Show
Also on May 7 the Take Me Up the Bosphorus crew will be hosting an English-language open mike show at Kaset Kadıköy. Sign up begins for this free event at 7 p.m. and the show will run between 7:30 p.m. and 9:30 p.m.

Wizards' Wednesday: Magic & Comedy
On Wednesday, May 18, from 8:30-11:30 a.m., Genie Istanbul will be holding their monthly Wizards' Wednesday in which four young magicians will showcase their talents in a performance that will be held in English and Turkish.

Country for Syria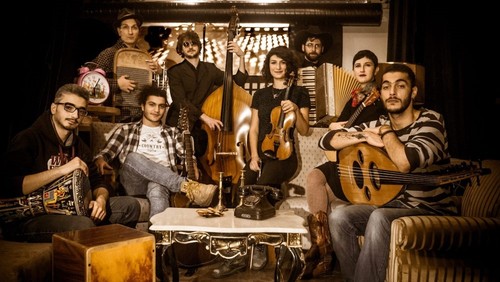 Country for Syria is a multicultural band that blends traditional Middle Eastern music with American country music, whose earnings are contributed to aid Syrian refugees and those affected by conflict around the world. This month, Country for Syria will be performing at th eGaziantep Chamber of Industry on Wednesday, May 10 from 4:30-6:30 p.m. Then on Friday, May 12, they take the stage at Böcek in Kadıköy, for a performance that will begin at 10 p.m. The entry fee for this is TL 20. On Saturday, May 13, they also play at Creatolyein Cihangir at 8:30 p.m., and entrance is TL 25. On Friday, May 19, Country for Syria also performs at Line in Taksim, which will be a free show.

Expat Spotlight #4
Organized by Yabangee and held in collaboration with and at ATÖLYE, located in the bomontiada complex, Expat Spotlight is a monthly talk series showcasing the freshest, most inspiring contributions being made by Istanbul's diverse international community in the cultural, sporting, humanitarian, and business spheres.This will be the fourth Expat Spotlight and this month's theme is "community leaders." Here speakers will share moving stories, reflect on personal experiences and participate in resourceful dialogue. This free event, will take place in English on Monday, May 29, starts at 7:30 p.m., with doors opening at 7 p.m.