The global trend of increasing veganism, vegetarianism and emphasis on plant-based nutrition is certainly not lost on Turkey, a country that inherently follows many guidelines being purported as ways of eating healthy. Eating seasonally, when produce is at its peak and enjoying a wide variety of vegetables, prepared as homemade dishes or as meze, is already the norm here in Turkey. According to a recent study by Harvard University, which also happens to be the most comprehensive study done thus far on plant-based diets, any diet that places emphasis on the consumption of fruits, vegetables and whole grains can be as healthy as going full-time vegan. Therefore whether you are a part-time vegan, full-blown or not, there is no better time to jump on the healthy eating bandwagon and frequent the city's vegan establishments.
On that note, the following is a list of Istanbul's newest and longest standing vegan ventures, so you can enjoy some light and healthy fare that is compassionate in its nature in this heavy and hot summer.
Bi Nevi Deli
What started in Karaköy has now turned into the ultimate vegan culinary venue in Istanbul with Bi Nevi Deli opening their impressive location in Etiler. A true vegan gourmet experience, with seating among rarely found greenery, Bi Nevi Deli offers a spectacular rotating menu with specially crafted new age vegan burgers, cheesesteaks, zucchini pasta, coconut tofu bowls, stir-fries, tartines and a long list of dessert items including tofu pie and a chocolate hazelnut tart. They also offer an extensive vegan breakfast menu served every day until noon. Opened by two female entrepreneurs Özge and Belki, the latter of whom is a San Francisco native to Turkish parents, Bi Nevi Deli is in a league of its own and is definitely a must-stop for any vegan in the city, Bi Nevi Deli is open Monday through Saturday from 9:30 a.m. to 8:30 p.m. and from 10 a.m. to 4:30 p.m. on Sundays.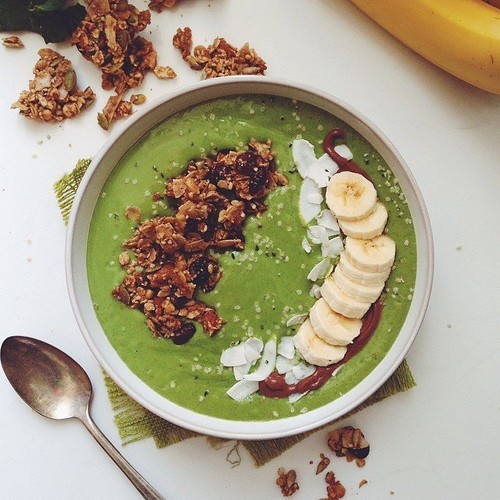 Ek Biç Ye İç
This café/urban garden has a rotating weekly menu of salads, wraps and burgers that although are vegan heavy they are not vegan exclusive. What makes this space remarkable is the in-house garden which creates the venue's décor as well as the fresh ingredients used in their refreshing menu. This venue, opened by a team that includes expat permaculture specialist Shaul Shaham, is located in Gümüşsuyu just off Taksim Square and is another must-stop spot for healthy eaters in the city. Open from 8:30 a.m. to 5:30 p.m. and closed on Sundays, they also hold workshops such as their upcoming summer pickle-making seminar this Saturday.
Community Kitchen
With its brick walls and comfortable seating rotating vegan specialties and theme nights, Community Kitchen, located on Kumbaracı Yokuşu in Beyoğlu, has become a flagship gathering space for vegans in Istanbul. Open every day except Mondays from noon to 11 p.m., in addition to enjoying vegan variations on comfort food classics such as burgers and lahmacun, Community Kitchen also holds regular vegan cooking workshops.
Veggiwich
One of the greatest eateries to come to the Asian side's most popular neighborhood Moda is Veggiwich, which as of this month has gone fully vegan. Enjoy a wide variety of healthy and delectable veggies and spreads on freshly baked bread on their tables of wood slabs or for take home or delivery. Open from 9 a.m. to 10:30 p.m., vegan or not, these are certainly some of the best sandwiches in the city.
Vegan Istanbul
Vegan Istanbul is a health food restaurant and specialty grocery store in Cihangir's Firuzağa neighborhood that has fast become a favorite locale among vegans both locals as well as those who visit the trendy neighborhood. Low-key, quaint and friendly, with a dozen or so tables both inside and outdoors, Vegan Istanbul serves Turkish homemade vegetable dishes as well as comfort food classics such as vegan lahmacun and döner, and also sells specialty products for takeaway including vegan cheese and sucuk.
Kale Vegan Kitchen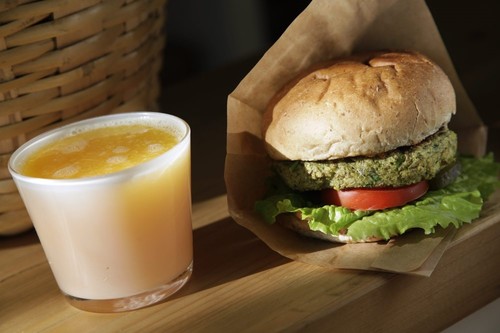 Kale Vegan Kitchen is a brand-new venture by Vegan Kitchen that is a cafe and bookshop where you can enjoy vegan food or sip on coffee or other refreshments as you enjoy a good read right in the center of the city. The kitchen is located on the third floor of the collective building on Kurabiye Sokak, parallel to İstiklal Avenue.
Vegan Bakkal
Located in the popular residential neighborhood of Moda, Vegan Bakkal is a quaint shop with a table or two serving vegan products and rotating dishes such as vegan karnıyarık and lentil-stuffed içli köfte as well as cakes and pastries to its growing loyal following of locals.
Tight Aggressive
Located in Kadiköy's bohemian and mural-laden Yeldeğirmeni neighborhood, Tight Aggressive is as much a vegan community space as it is a vegan restaurant. While they have been around in this space since 2015, just last month they launched a new menu serving fast-food favorites, such as vegan pancakes, burgers and hot dogs, which they will be serving from 11:30 a.m. to 7:30 p.m. five days a week. Occasionally, Tight Aggressive also turns into a trendy live music venue and exhibition space when they hold special theme nights and is always a fun place to check out.
kafeNAsanat
kafeNAsanat is a vegan and vegetarian café/art, ecology and recycle space in Beşiktaş. While they have a light menu of vegetarian and vegan breakfast and entrée options such as vegan kofte and pasta, this community venue's focus is on holding workshops on various music instruments and theme nights such as their Deutschcafe nights, in which German films and games in German are played.
Bella Vista Vegan Hostel and CafIstanbul has a new vegan hostel by the name of "Bella Vista Vegan Hostel and Café" located just behind Taksim in a six-floor building. With nine rooms and a sleeping capacity of 50, this hostel also operates a café that occasionally dishes up vegan Turkish specialties such as Iskender kebab, durum and döner.