While August being the heart of summer is probably the time when Istanbul is at its quietest, there are still plenty of events to take part in and enjoy the city with fellow expats. This month there will be pop-ups, pool parties and expats performing to list just a few of the many creative and entertaining events happening in Istanbul this summer.
The regulars: Expat public speaking and music groups

Aug. 1- Spoken Word at Arsen Lupen
​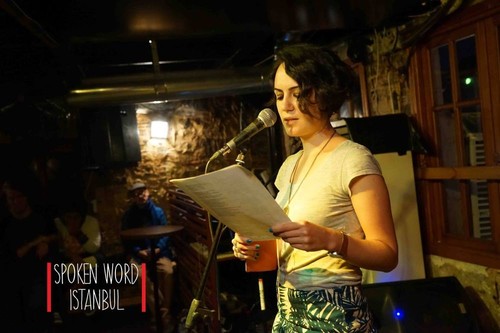 Istanbul's Spoken Word Community has fast become legendary, featured in magazines and highly visible on YouTube and is a fun and friendly event and opportunity to either try your skills at basically anything spoken, comedy, music, poetry in English or meet others doing so. Now a weekly event held on Tuesday's from 8:30 p.m. to 11 p.m. at Arsen Lüpen, located near Taksim, the next edition takes place Tuesday, Aug. 1 from 8:30 p.m. to 11 p.m.
Aug. 2- Istanbul Toastmaster's

Did you know Istanbul has two active Toastmasters Clubs in English, the Istanbul Toastmasters and the Bosphorus Toastmasters, respectively, in which people aiming to put their public speaking skills to the test have the opportunity to do so in a safe, friendly and welcoming environment. The next session, which will be the Istanbul Toastmaster's Club's 259th, will take place on Aug. 2 from 7:30 p.m. to 9:30 p.m. and will be centered around the subject of "Women's Rights." Both groups will have two meetings each this month, held on Wednesday evenings starting at 7:30 p.m. at Taksim Gönen Hotel. Guests are asked to send an email to the group they wish to attend. Check out www.istanbultoastmasters.org and www.bosphorustoastmasters.org for more info. In addition, the Anadolu Toastmasters are an organization that practice public speaking skills in Turkish.
Aug. 2- Cupboard Creek String Band
Cupboard Creek String Band at RedRock Istanbul's resident Irish-heavy musical collective, the Cupboard Creek String Band will be performing at RedRock, located off İstiklal Avenue for a concert of "Old-time" music with instruments such as the violin and banjo, on Wednesday, Aug. 2 starting at 10 p.m.
Aug. 5 & 11- Uninvited Jazz Band

Uninvited Jazz Band at Beykoz Kundura Silent Cinema Days is a film festival that will hold open-air screenings of recent restorations of some of the world's most iconic silent films accompanied by performances by local and international musicians held at Beykoz Kundura, a historical industrial building that spans back to the Ottoman Empire. Taking place on Aug. 5,6, 11, 12 and 13, the event kicks off on Saturday, Aug. 5 with a live musical performance by the Uninvited Jazz Band, an eclectic group of expat musicians from around the world that perform 1920s New Orleans jazz, who will also be performing at the screening held on Tuesday, Aug. 11.
Aug. 18- Country for Syria at Hangart
Country for Syria is an Istanbul-based band made up of Syrian, American, Czech and Turkish musicians that blends American country music classes with Middle Eastern melodies, who have also performed all over the world and recently released the third single off their new album, "Brave as a Pigeon." The band will donate a major portion of its proceeds from the album toward assisting the displaced in Istanbul. You can catch their unique performance at the equally special art space Hangart in Kadıköy's colorful Yeldeğirmeni neighborhood, where they will perform on Friday, Aug. 18 from 8 p.m. to 10 p.m.
Ottoman, Mexicana and French: Pop-ups galore!

Aug. 9- Istanbul Modern SF

Istanbul Modern SF at Nicole Restaurant Not to be confused with the museum, Istanbul Modern SF is a pop-up restaurant created by catering duo and couple, Laura and Sayat, that produces Ottoman pop-up diner experiences in San Francisco. On Wednesday, Aug. 9 from 7 p.m. to 11 p.m., they will take over Nicole Restaurant, located in Beyoğlu's Tom Tom neighborhood, to give Istanbul a taste of their modern renditions of dishes from the multiple cultures that were influenced by the Ottoman era.
Aug. 11 to 13- Pico Rica

Pico Rica takes over Hobo Kitchen From Friday, Aug. 11 to Sunday, Aug. 13, the stylish and eclectic Hobo Kitchen, which overlooks the Ortaköy pier, will be handing over the kitchen to Jennifer Herrera and Matt Pipe, the collaborative behind "Pico Rica," a series of Mexican pop-up restaurants that started in London and Berlin and have now made its way to Istanbul. Starting on Friday, Aug. 11 with their "Afterwork Aperitivo" there will be continuous Mexican snacks served while DJs spin from 8 p.m. to 11 p.m., with entrance costing TL 120 ($34). On Saturday, Aug. 12, a four-course Mexican dinner will be dished up from 7:30 p.m. to 11:30 p.m. for the price of TL 210 including three Mexican-themed drinks. On Sunday, Aug. 13, Hobo Kitchen will be offering a Mexican breakfast including huevos rancheros, Mexican sweets and refreshments, which will take place between 1 p.m. and 5 p.m. and costs TL 150. Reservations are required so contact Hobo Kitchen to take part in this special Mexican fiesta and feast.
Aug. 24- Cordon Bleu Gastro Show
​
Le Cordon Bleu Istanbul will be opening their doors on Aug. 24 for a free Open House Gastro Show by their expert chefs Christophe Bidault and Arnaud Declercq, who will be preparing Duck ala Orange and a dessert of dacquoise in a red wine chocolate sauce. Admission is free to this event, which take place on Thursday, Aug. 24 from 12:30 p.m. to 2:30 p.m., and it will be a great opportunity to learn about their short and long-term culinary programs. To reserve a spot and learn more abouto the Altunizade-Çekmeköy shuttle options, contact lecordonbleu@ozyegin.edu.tr.
Pools and Parties under the summer sun
​
Aug. 4- A Dip in the Night

A Dip in the Night at the Hilton The Hilton Istanbul Bosphorus will be opening their pool to nightswimming every Friday, starting Aug. 4 from 8 p.m. to midnight for an entrance fee of TL 120 plus a drink.
Aug. 18- Summer Sensation Party
​
Last, but certainly not least, Istanbul's resident party guru Senem Selimi is at it again, this time with a "Summer Sensation Party" to be held on Friday, Aug. 18 from 9 p.m. to 2 a.m. on the terrace of Mr. Cas Hotels located on İstiklal Avenue near the Çiçek Pasajı. Performing live will be metro singer sensation Mert Ulu, who is popular among expats, and Senem is also the founder of the Facebook group Istanbul Expats and Internationals. Her parties are always fun, like this one, most always free, have a smart dress code and always have a lottery drawing with appealing gifts such as hotel stays, dental work and hair care.