For the Turks, the "terlik," which in English is "slipper," is an integral part of the culture. Due much in part to the long-standing tradition of taking off your shoes when entering a home, not only does practically every single person in Turkey own a pair of slippers themselves, or even two or three, but also nearly every household also has multiple pairs of slippers on hand for the sole purpose of offering them to guests to wear.
In history, the terlik played many different roles beyond being simply indoor footwear, including being used in Turkish bathing ceremonies as well as to depict status. These days, their importance as an utmost necessity remains as many a Turk favors wearing their terlik at the beach or pools and even in the shower, basically anywhere the climate permits that happens to have contact with water.
'Tis the season of the terlik in Turkey
It should therefore come of no surprise that the terlik industry in Turkey is a $470 million market, one which sees a 20 percent rise in the summer months. There are brands such as Ceyo, Twigy and Sevil with shops in nearly every shopping center and major shopping district and aisles devoted to the item in weekly local open-air markets. There are regions in Turkey that specialize in their own style of terlik and in antique markets and tourist shops, you can come across historical examples of slippers from Turkey's past as well as colorful and characteristic remakes.
Turkey's legacy with the terlik
​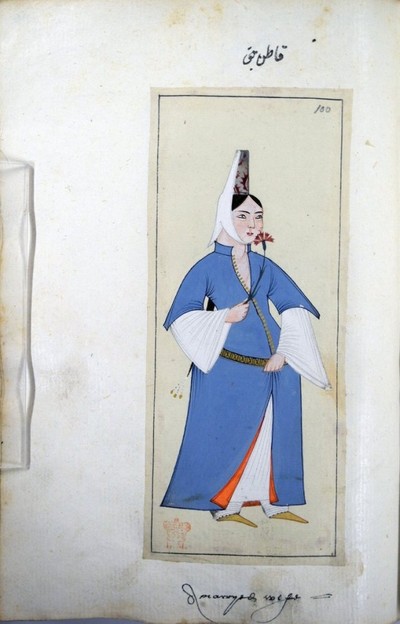 Ottoman women wore high heeled slippers called "takunya."

The importance of the terlik spans back to the 1900s and the Ottomans, who wore high-heeled slippers referred to as "Takunya"and "Nalın." Nalın were special footwear worn during various bathing ceremonies, rituals and daily cleansing activities during the Ottoman period and the early Turkish Republic. Crafted with wooden heels in order to protect feet from water, they were worn by women, men and children alike. True to tradition, the craftsmanship of the Nalın was truly exceptional. Made from ornamented wood, such as walnut or sandalwood, they were embellished with silver, gold filigree and mother-of-pearl. The strap, made from leather or fabric, which is attached to the wooden sole, would be equally decked out with precious stones, pearls, gilded thread and embroidery. They were regularly a part of a woman's dowry, But what was most significant about these shoes were that the heels, and more specifically the size of the heel carried important socio-economic significance in Ottoman culture as the taller the heel the better off the wearer's status was.
Another tradition in relation to nalın was that miniature versions were given as gifts to newborn babies.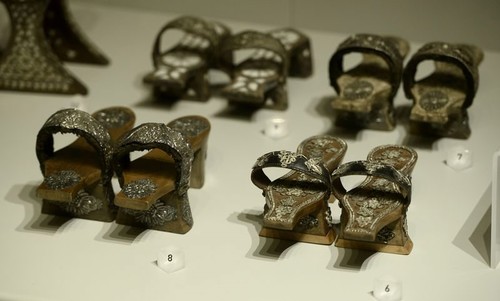 An example of "Ottoman takunya," displayed at the Sadberk Han›m Museum in Istanbul.

Now, collectors' items, the nalın lost their role to the less embellished, lower in height and more massively produced "takunya," a similar wooden bathing clog that became popular in the early 20th century . Nonetheless, the design of the two remains the same and was even the influence for similar European designs, such as the Venetian Chopine. These days, the Takunya and Nalın have been vastly overshadowed by more ergonomic slippers; however you can still come across examples in touristic areas. One of the last true Takunya makers is the Tolga brothers in Tire, who have been making the shoes for upwards of 70 years.
One of Turkey's most famous sandal and slipper makers and now also a family operation was undoubtedly Bodrum's master leather-worker Ali Güven. Leaving behind a legacy of half a century of shoemaking, Güven's unique designs may have surpassed any semblance of a traditional Turkish shoe in originality, however they have become icons in themselves representing the region regularly referred to as the Turkish Riviera.
These hand-worked leather sandals, each with one-of-a-kind straps and embellishments, have been worn by the likes of Donna Karan, Mick Jagger, Kate Moss, Bette Midler and Sezen Aksu. They were and continue to be, as his daughter is following in his footsteps, one of the most precious items to purchase or gift from Turkey.
The "Çarık" is another style of Ottoman shoe that has made its way to the tourist world and resembles a genie's slipper equipped with a characteristic pom-pom on its tip. Only for the brave, they are more for show than for wearing these days and you can see them in their colorful Turkish textiles in tourist shops.
The "Yemeni" on the other hand, has had the most dignified modern day transformation. I bet you did not know that many of the shoes that were used in the filming of blockbusters such as Lord of the Rings, Harry Potter and Troy were custom made by a shoemaker from Kahramanmaraş. Hüseyin Kopar's hand-sewn traditional Yemeni shoes are variations on leather slip-ons that are salt water resistant and adapt to the shape of feet while also being made out of completely natural materials. Similar in style to an espadrille, these shoes are painstakingly prepared from three pieces of naturally tanned Turkish leather that are hand-stitched. The top layer is cowhide, the inside of the shoe is lined with lambskin and water buffalo hide is used for the sole. Kopar has made 2,500 of these shoes for the Harry Potter series and about 312 custom boots in a similar style for the Lord of the Rings trilogy.
An American expat bringing back a lost art

Have you met Mickey Ashmore? If you had, I am sure you would remember as his tale with Turkish terliks is an epic one about a former American expat in Turkey who went home to quit the world of finance to sell Turkish slippers all over the U.S. It all started when this Texas native moved to Istanbul, where he spent two years working for Microsoft. During his time in Turkey, he "met a beautiful woman who gave me a pair of traditional Turkish leather slippers," he tells Fodors, adding, "I had no idea those slippers would change my life."
These traditional Turkish slippers, which were actually gifted by her grandmother, were a pair of handmade "Yemeni" from Gaziantep, the soles of which Mickey went on to wear thin in his travels all over the world and in New York, where he returned in 2012 to work for a hedge fund. Deciding he wanted a second pair, Mickey tracked down the very same cobbler from a 150-year-old workshop in Gaziantep, who made the original shoe he was gifted and who he still works with now.
Mickey made a few personal touches to the design of this traditional leather slip-on, including shortening the upturned toe and lowering the back, using a wide color palate of nubuck, suede and leather as well as adding a rubber sole and called them "Sabah" which in Turkish means morning, with the idea being that you put them on in the morning and never take them off.
At first, Mickey had a few dozen made which he distributed to friends and family, which led to more and more orders and his signature"Sabah Sundays" a pop-up socializing and shopping event where he would showcase Sabah shoes. Within a year he had left his job and was selling the shoes he continued to produce in Turkey full-time, which led to the opening of his flagship shop in New York City's East Village four years ago followed by the Sabah House in Dallas in December 2016 and just this summer in a Sabah House opened in the hip Abbot Kinney neighborhood of Los Angeles' Venice Beach. Over the years, Sabah has also held pop-ups in cities all over the U.S. and in countries even so far as Tokyo. This summer they will also be in the Hamptons until the first week of September.
Mickey and his craftsmen from Gaziantep and the colorful and comfortable shoes they produce have been written up in countless publications, referring to the former as the "Sabah Dealer" and his take on these classic Turkish slippers as the new "must-have" and an "it" shoe. They have been worn by people all over the world, for wedding parties, sailing and even flying as there is even an airline that outfits their crew in Sabahs, thus reclaiming Turkey's fame of making magic slippers.