Not so long a time ago, Alaçatı was a near-deserted village of Greek-style stone houses, located some 10 km southeast of Çeşme, which much outshined its neighbor in glamour and glory, boasting a castle, the buzzing tourist town was centered around. While Alaçatı, which shares a history spanning back to the Inonian era, in its historical heyday, was a town situated around the now-marina. However, the vicinity turned into swamp-lands in the mid-19th century and Greek workers came to the region to build a canal, while also establishing the village we now know as Alaçatı.Over the years these homes became deserted and it wasn't until about two decades ago, that life was brought back to them. It turns out, that the closest beach to the town of Alaçatı just so happened to have the perfect conditions to make it a windsurfer's paradise: a nearly fully enclosed cove that is predominantly shallow coupled by the most consistent winds in the country. At that time at the turning of the millennium, Alaçatı was simply a haven for windsurfers with a few simple accommodations and even budget camping options. But, as the windsurfing scene continued to grow in popularity among the Turks a number of high profile paparazzi favorites not only joined in the mix, but went on to become some of Turkey and the world's top windsurfers.
Parallel to this, the nearby town of Alaçatı with its quaint stone buildings and windy cobblestone walkways suddenly became a tourist stop in itself. Its streets were easily wanderable, there were tea gardens and a weekly antique market. One by one the former Greek homes were turned into the chicest of chic boutique hotels, restaurants and gallery-like shops with a rustic elegance of such a level only the Turks could truly acquire. Every nook and cranny where you looked, there would be some sort of decorative if not picturesque aspect. The time was the beginning of the millennium and suddenly this sleepy village whose main industry was olive production, was turning into a trendy hotspot for those in the know.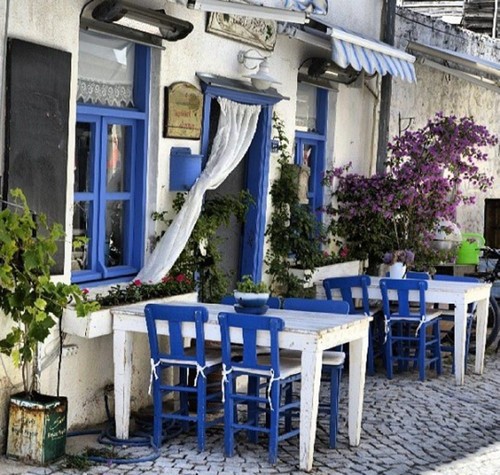 Taş Hotel and Sailor's Meydan were the first boutique hotels to open in 100-year-old-plus stone buildings located on the main drag and in the main square respectively. Agrilla, which has since moved to Hacımemiş, was a spectacular restaurant, at that time dishing up surprisingly eclectic fare. Köşe Kahve, once competed with the municipal tea garden as the prime people-watching spot and there were just a handful of windsurfing schools set on the cove past the port where the devoted would practice the sport.
What happened is over the past ten years, Alaçatı exploded in a way possibly unparalleled in the world. Suddenly remnants of run-down homes were transformed into the most stunning exhibitions of taste, elegance and artistry. Dry fields turned into luxurious boutique hotels equipped with pools and palm trees and the Port Alaçatı, designed by French architect Francois Spoerry, who was also responsible for the famous tourist spot Port Grimaud in the Cote d'Azur, created some of the most luxurious marina housing by way of colorful Mediterranean villas with boats docked to the canal-like sea that is their backyards.
The village of Alaçatı, located a few kilometers inland from the port and seaside action has expanded exponentially in itself lending to the development of a whole other touristic neighborhood by the name of Hacımemiş that now lies in the periphery of the winding streets of Alaçatı and has now far surpassed what Alaçatı once was with seemingly never-ending street after street of galleries, cafes, restaurants, bistros and you name it, with the one link in common being the ultimate in both elegance and creativity.

Tips for visitors
It must be said, Alaçatı is not for the budget traveler as the lesser expensive options in accommodation and dining are fewer and far between. You would be hard pressed to find a room for less than a couple hundred lira and most likely much more than that. Dining out can be infamously tricky with talk of bills turning up with prices for a single dish in the triple digits. However, the following venues are not only the best in their cuisine, but ones that also don't break the wallet.
Asma Yaprağı is a local favorite that serves up traditional and local specialties including all of the wonderful greens available in the area as well as tender meat dishes such as tandır and kebab in their courtyard cobblestone garden shaded, by you guessed it, vine leaves.
Pizza Locale is an utterly pleasant absolutely scrumptious venue to enjoy the best pizza in town, hands down. Seating is in a grassy garden or a crowded courtyard, so you're either people-watching or catching some rare respite in the center of town and the prices absolutely do not do the meal justice as some pizzas cost even less than TL 20 ($6) No. 7 Burger is situated just next to the aforementioned pizza place with seating in a buzzing courtyard square and is a relaxed spot to enjoy the Alaçatı scene and some specially crafted burgers including those stuffed with fried, shredded potatoes.
Alaçatı Tarla is actually a lovely garden space, located on the road to Çeşme that serves up a very special breakfast and also has open-air cinema nights in their garden, where they offer a reasonable open buffet of vegetable dishes and salads.
Alancha is certainly not a budget option, but it is an Alaçatı classic. Situated on a secluded hillside and serving unique fusion Anatolian food created by chef and former windsurf pro Kemal Demirasal.
For nightlife, Şamdan Lounge opened this year in town in a grand affair, however much of the nightlife in Alaçat› takes place at the trendy beach clubs that have nightly DJ performances such as Riders and MAIA. For live music, head south to Jolly Joker, located in another newer neighborhood south of the windsurfing and beach clubs, which brings out well-known Turkish performers such as Volkan Konak, Yıldız Tilbe and Duman.
But the true scene in Alaçatı will always be at the now spectacular windsurfing clubs and cafes that surround them where you can watch all the action that spurred this remarkable development and area that certainly rivals the most chic "rivieras" of the world. As Alaçatı rode the wave of popularity among the paparazzi-followed, Turkey's top windsurfers also began making a name for themselves. Çağla Kubat, who, in 2002 represented Turkey for the Miss Universe competition, now has her own Surf School as does Bora Kozanoğlu, another well-known windsurfer with a school in his own name. What was once the Alaçat› Surf Club is now the ultra-chic Alaçatı Beach Resort & Spa that will also be hosting the Chill-Out Festival on September 2-3, bringing out some of the world's biggest names in electronic music to the shore of this oh so special place.