Turkey has a long legacy with magic, making its own mark on art history but also by hosting festivals and performances with a variety of organizations that are teaching the country's youth and the inquisitive child in all of us how to do tricks.
Istanbul Magic Festival
The Istanbul Magic Festival will take place this weekend from Sept. 8-10 at Kats Sahne in Gayrettepe with a special Saturday night gala featuring international magicians at the Trump Show Center. During the day, there will be competitions, workshops, seminars and stands centered around the theme of magic. Every night, there will be performances and after parties.
The event kicks off on Friday, Sept. 8 with a welcome cocktail party at 7:00 p.m., followed by an "Istanbul Evening" with a buffet and an open session of magic performances as well as the opportunity to meet some of the magicians that will be performing over the weekend.
On Saturday, Sept. 9, registration and the Magic Market both open at 10:00 a.m. followed by an Opening Gala that starts at noon at Kats Sahne. After lunch, the official opening ceremony will take place at 2:30 p.m. followed by a Magic Seminar by Miguel Angel Gea, one of Spain's most popular close-up magicians, at 3:00 p.m. Then, at 4:30 p.m. there will be a panel on the future of the magic industry.
In the evening after dinner, the festival will head to the Trump Culture and Performance Center for the Grand Magic Gala that will begin at 8:30 p.m. with the following magicians performing: Viktor Voitko (Ukraine), Lee Alex (U.K.), Miguel Angel Gea (Spain), Lisa Mennas (U.S.), Wladimir (Slovenia), Dani Belev (Bulgaria), Piksi and Zeka (Serbia), Sabu (Turkey), Lady Ilkay (Turkey) and Kubilay "QB" Tunçer.
On Sunday, the General Stage Magic Competition will take place at noon with 10 magicians from a variety of countries showing their expertise in the art of illusion at Kats Sahne. In the afternoon on Sunday, there will be magic seminars and two sets of intensive workshops at 45 minutes each.
At 8:30 p.m. there will be the Close-Up Competition in which 10 magicians from all over the world will battle it out with decks of cards and other small-scale props for this category in front of a live jury. There will be after parties on both nights from 11:00 p.m. to 2:00 a.m.
Tickets for the two-day event cost TL 186 ($54), however, a number of events such as the Istanbul Evening, the Opening Show, the Grand Magic Gala Close-Up Competition and the General Stage Magician Competition are open to all and tickets are available on Biletix for entrance fees varying from TL 34 to TL 56, the latter being Saturday evening's event at the Trump Center. Check out www.istanbulmagicfestival.com to find out more.Magic LampOpened in April of 2017, Magic Lamp is a 14-seat, close-up theater located in Beyoğlu's Asmalı Mescit neighborhood and modeled after the Ottoman's Hünkar Lodge, where magicians take to the stage for intimate and elegant performances of the art of illusion, complete with finger foods and drinks, offering a comfortable evening in a cozy atmosphere.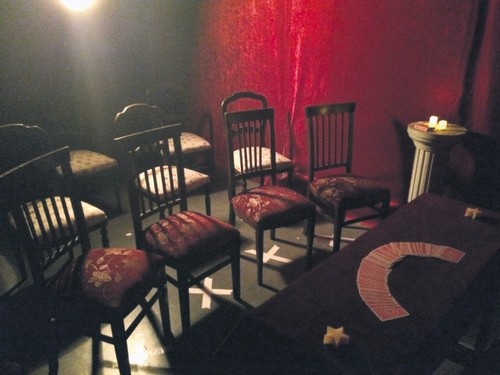 It serves as the home base for Genie Istanbul, an organization founded by a Belgian-German expat by the name of Boris Buchner, who has been in Turkey on and off for the past three decades. Boris does close-up and stand-up magic performances as well as gives lectures on Monozukuri magic.
Genie Istanbul aims to provide quality performances in the art of magic and coordinates magic shows as they have done at venues such as Leman Kültür and Creatölye in the past. Boris also provides coaching and helps young performers develop to become stars and enhance their skills, in both English and German.
Magic Lamp hosts a Wizards' Wednesday series on the third Wednesday of every month, which is held in both English and Turkish. During the series, five young performers get the chance to showcase their magic skills. Magic Lamp also hosts international visiting performers as well as the Magical Soiree series which will be held on Saturdays starting in November. To stay abreast of their events, visit the website, www.magic-lamp.club.
Magic Lamp is also closely related to an upcoming escape game called "Magic Star," which will open in November 2017. Boris's wife developed this game and runs the popular escape game series Crazy Aenigma in Istanbul and is expected to be in Cologne very soon. The premise of "Magic Star" is based on the true story of the first European magic superstar Bartholomeo Bosco, who also built the very first theater in Constantinople back in 1840, which was known as the Naum Theatre in those times. However, we now know that the location is located in the historical Çiçek Pasajı. Check out the website www.magic-star.club for more info.
Boris' Magic Lamp is also the monthly meeting point of the International Brotherhood of Magicians Bosporus Ring, Ring No. 368, of the world's largest global organization of magicians. "Unlike many magic clubs around the world, the IBM Bosporus Ring is not only open to professionals, amateurs and collectors but also to beginners or simply for lovers of magic, as there are many journalists, actors and actresses, comedians and theater professionals, so we can create a great learning environment together," Boris said, adding that they also have plans to open a magic museum.The Bosporus Ring is one of three IBM rings in Turkey, with Ring No. 367, actually being Turkey's first inclusion in the prestigious International Brotherhood of Magicians. Serving as Sihirevi, an illusion prop shop, which is situated in its new location in Gözcübaba on the Asian side of Istanbul, is run by illusionist Erdem Bulungiray who has set up illusion clubs in high schools such as Robert's College where he provides corporate magic coaching programs. Ring No. 369 is the Smyrna Ring and as the name suggests, is based in Izmir. Just last month the Smyrna Ring hosted the 18th Illusion Convention in Karşıyaka. Also, in 2018, these IBM rings aim to organize regular magic conventions in Istanbul.
Society of Turkish Magicians
Last, but certainly not least, the Society of Turkish Magicians (İllüzyonistler Derneği) is the longest-standing illusionist organization. First formed in 1985, it is a more exclusive organization with some of Turkey's most esteemed magicians on board, all of who have played a pivotal role in bringing magic to the forefront in the press and television programs. Located in Istanbul's Eyüp district, they occasionally host special performance evenings and prop sales.
Of honorable mention
Born in 1898, Zati Sungur is Turkey's most internationally recognized stage musician and is widely considered to be the leading innovative force behind the modern art of magic in Turkey. Hailing from Bursa, Zati Sungur made his way around the world performing throughout Europe and North and South America, traveling with a team of a dozen assistants and two truckloads full of props. In 1930, he made his mark on history by introducing the trick of thin-model sawing to the magic world; the infamous magic trick where a volunteer gets in a thin horizontal box to be sawed through alive, or so it would seem.