This Sept. 22 to Sept. 24, the lovely island of Bozcaada will be hosting the 8th annual International Bozcaada Taste Festival Yerel Tatlar Festivali, in the Local Tastes or/Flavors Festival. As the name suggests, the focus of this festival is on regional culinary specialties and throughout these three days restaurants and cafes will be showcasing the islands specialties, while on Saturday, Sept. 23, local chefs, a majority of which are local housewives, will prepare many of the region's traditional dishes, which they serve up on stands you can peruse, pick and choose from for an extremely reasonable fee. The system is; you purchase a token, which last year was just TL 1 ($0.29) each, with which you can then purchase one of the local dishes prepared.
There will also be a talk on the history of stuffed grape leaves and in the evening the festival will move to the island's stunning castle for a musical performance. Sunday is all about the island's breakfast, a decadent spread that will be on offer with loads of locally prepared products also available for purchase.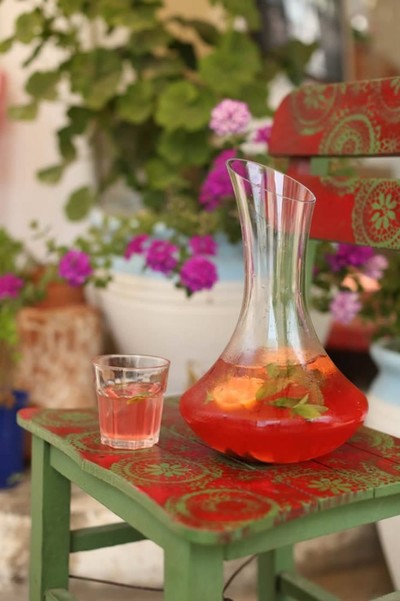 First held in 2010, the Bozcaada Local Tastes Festival has since become the island's steadfast tradition held in the second week of September, in which visitors flock to this island to taste their regional specialties. Once known as Tenedos, Bozcaada is situated in the Dardanelles strait where the Marmara and Aegean Seas meet off the western coast of Turkey. It is the third largest island in Turkey at just shy of 40-kilometers-squared and is known for its delicious and fresh local produce and the products they prepare with them. Bozcaada, offers a delicious glimpse into the culinary conjoining of the two cultures, of Turks and Greeks, who have shared a long heritage in this island, something which is also evident in its layout and architecture, plus it has one of the most well-preserved castles in the country. Part of Çanakkale Province, this picturesque island makes for a wonderful weekend getaway from Istanbul and Izmir as it is just a five-hour drive plus a short ferry-ride from Geyikli Pier.
What to try: The Island's unique mantı, which is a mince-filled dumpling, is a popular specialty as are a wide variety of seafood dishes such as calamari and grilled octopus, sea urchin while some slow-cooked specialties are favorites, such as goat tandır and rabbit stew. There will be fresh pressed-juices, specialty drinks, jams and molasses made from the islands four grape varieties that grow there, namely: Çavuş, Vasilaki, Kuntra and Karalahana. Meanwhile, the many cafes, bakeries and coffee shops will also be offering samples of the island's classic almond and mastic cookies, and coffee prepared with mastic.


Calamari Festival
Meanwhile, the following weekend, the island will also be hosting the first ever Bozcaada Kalamar Festival, in other words, a festival devoted to calamari, which will take place over the weekend from Sept. 29 to Oct. 1. However, there will of course be much, much more. Not only will Turkish rock star Teoman be taking the stage on Friday Sept. 29 for a performance with special guests in the Bozcaada Castle, but there will also be concerts at Salhane, a spectacular and historical venue located on a cove that offers top-notch performances. There will also be exhibitions and food stands as well as pilates and kite surfing lessons, the latter being something the island is also popular for.
Ayvalık Flavors Festival
Also coming up the following weekend will be Ayvalık Flavors, which will take place from Sept. 29 to Oct. 1 in this lovely seaside Aegean town, located in Balıkesir, with boutique hotels and quaint restaurants that become lively in the summer. This special weekend-long event is centered around the Mübadele, in other words, the population exchange, and the slogan for this festival is "Two Sides, One Story," which gives a hint to the wonderful intermingling of Turkish and Greek heritage.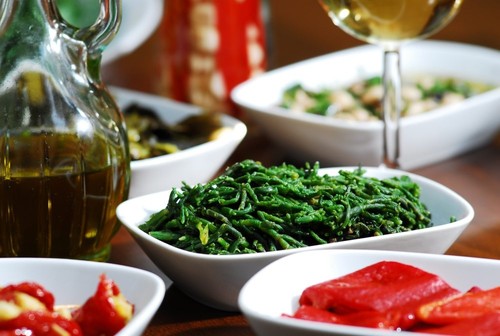 The program for the festival is as follows: On Friday, Sept. 29, the festival begins at 10 a.m., with the opening of a variety of stands selling local products and handcrafts. There will also be the opening of an exhibition centered on the theme by Jonathan Smith at Midi Cafe & Bistro. Starting at 5 p.m., there will be a book signing and introduction to the population exchange. At 6 p.m. panels will begin centered on the population exchange as well as a photograph exhibition will be opened to the public at the Sanat Fabrikası. Then, at 8:30 p.m., there will be a showing of a film focusing on the exchange, which will be held at the Kamyonetçiler Square.
On Saturday, Sept. 30, there will be a special serving of an herb-based soup at the Ayvalık Eski Köylü Pazarı starting at 12:30 p.m. At 2:30 p.m., there will be a talk presentation and signing for another book centered on Ayvalık that will take place at the Ayvalık Yeni Sahne, then at 4 p.m., there will be a poetry reading and musical performance in Turkish and English that will be held in front of the Şimdi Rum Meyhanesi.
At 5 p.m., the Midilli Folklore Team will be performing Sirtaki in the Cumhuriyet Square, followed by a performance at 7:30 p.m., by the Gençleşen Türküler Grubu. In between there will be a meeting of the "children" of the exchange in Midilli and Ayvalık, in which the hopes are that people will share their own personally stories in a meet-up that will take place at the Şeytanın Kahvesi from 5:30 p.m. to 8 p.m. A musical performance by Nikos Andrikos and his group in Cumhuriyet Square from 8:30 p.m. to 11 p.m., will close out the night.
The festival comes to a close on Sunday and will have but one event in which old photos of Ayvalık will be presented and their stories told held at the Çağdaş Yaşam Foundation Building at 2 p.m.