In the coming days, Istanbul's comedy stage, which is geared for an English-speaking audience, is to welcome comedians from different backgrounds worldwide. Professional and amateur stand-up comedians will help Istanbulites laugh their worries away with a number of shows throughout the city. Here are some of the comedy shows that are scheduled to take place for the English-speaking audience in Istanbul:An Evening of Improv with The Clap
Today, The Clap will be hosting an Evening of Improv at Yota Sahnesi in Beyoğlu for a show taking place from 8:30 p.m. to 10:30 p.m.
The Clap started out as somewhat of an extension to Ephemerata, a two-man group consisting of American expats Curtis Erhart and Tyler Denison, who would perform a completely improvised one-act play. Curtis, who has been improvising for 20 years getting his start at the Improv Olympic Theater in Chicago, went on to co-found The Clap with additional members, many of which are expats, who perform both short form and long form improv.
A programmer by day, Curtis has been coaching and performing improvisation in Istanbul for the past decade. In addition to improvising, you can see him directing and performing in musicals and pantos with Speech Bubbles. Tyler Denison, a teacher who also worked on a master's degree since arriving to Turkey 10 years ago, began doing theater with the now-defunct group called Square Peg Comedy Troupe, which is where he met Curtis and their Ephemerata adventure began.
A prominent figure to have joined The Clap crew is Kenny Laurie, who hails from Leicestershire and has been doing comedy for the past two-and-a-half-years now all of which have been spent in Istanbul. In fact, Kenny tells me that while it was always a thought it wasn't until he read about The Clap in an article I wrote for Daily Sabah that he thought about giving comedy a try. Now, he can be seen all over the place. He directs and performs in Speech Bubbles productions, he performs with The Clap and he takes the stage at Spoken Word Istanbul.


Michelle Deniz Rinehart is another popular addition to The Clap and hails from Florida although she is half-Turkish, half-American. With a bachelor's in acting from and having studied improvisation with the Upright Citizens Brigade Theatre in New York, Michelle is one of the most experienced improv actresses in town and regularly performs at Spoken Word Istanbul, she will be taking part in the IstanLaughs Comedy Show on Jan. 26 and with The Clap, which perform every other Friday at Yota Stage, including this Friday, Jan. 19 at 8:30 p.m. Check out www.improvinistanbul.com to learn more about upcoming shows and members.
Shawerma Wars: The Last Refugee Stand-Up Comedy
On Sunday, Jan. 21, Impact Hub will be hosting "Shawerma Wars: The Last Refugee Stand-Up Comedy" organized by Omar Mohammad, a Syrian refugee who also got his start in comedy while living here in Istanbul. For him it all began with Spoken Word Istanbul as he wanted to make new friends in town and improve on his English, but he ended up carving a new talent for himself and hosting events that showcase "unity through laughter." He and other up-and-coming comedians have been taking the stage at a number of similar events and you can catch them this Sunday, Jan. 21 at Impact Hub Istanbul for a show starting at 8 p.m. Tickets are TL 20 ($5) and all proceeds will go to charities and to support refugees. There is also an early-bird special, if you arrive between 7:30 and 7:45 p.m., entrance will be TL 10.
There will be more than half a dozen performers on the bill including Omar Mohammad and Arya Afshar, who hailing from Iran has also made a name for himself as a popular stand-up comedian. There will be Taha Ercoşkun, Begüm Çiçek and Londoner Bentley James Yaffe, also steadfast members of the comedy scene and a new and popular up-and-comer by the name of Ibrahim El Kazaz, an Egyptian American university student.
Speaking to Ibrahim, he tells me he also got his start in comedy at the popular Spoken Word Istanbul open mic events, where he had the opportunity to learn from veteran comedians such as Othmann Nahhas and Asli Akbay and perform at the events they organize such as Aslı's Take Me Up the Bosphorus comedy nights, where he has gained quite the reputation for making people laugh. He will be performing this Sunday at Shawerma Wars as well as in IstanLaughs, a comedy show held next Friday.
IstanLaughs Comedy Show
On Friday, Jan. 26, Yota Sahnesi in Beyoğlu will be hosting "IstanLaughs Comedy Show," which will take place from 8:30 p.m. to 10:30 p.m. and will include stand-up, sketches and improv. This event is organized by none other than Othman Nahhas, a Syrian national who has since lived in five different countries and settling in Istanbul, where he has made his mark on the comedy scene and also writes a blog and has a podcast. He has organized a number of events and hopes that "IstanLaughs" can become a new event series combining a number of different comedy performing genres. In addition to Othman, on the bill will be Ibrahim El Kazaz, Omar Mohammad and the improv groups The Clap and Barely Legal, of which Othman is also a member.
Take Me Up the Bosphorus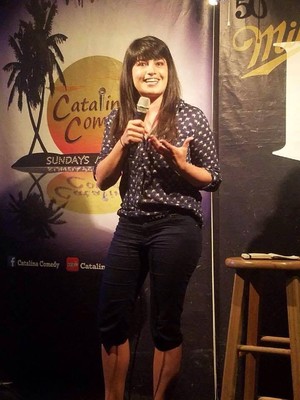 Last but certainly not least is Aslı Akbay and her "Take Me Up the Bosphorus" open mic stand-up comedy nights. Pretty much the pioneer of open mic stand-up comedy nights, in English and in Turkish, Aslı Akbay has paved the way for many promising comedians here in Turkey and regularly performs herself. You can catch her in Malignant Humour, her two-member English stand-up show with Erim Bilgin and in her all-female Turkish comedy group called "Çok Da Fifi Hatunlar."
Hailing from England, with Turkish and Cypriot heritage, that is where Aslı began her career in comedy, attending comedy workshops and taking part in the London open mic circuit. Certainly Istanbul's most experienced comedian, Aslı has even done five-run shows at the Edinburgh Fringe Festival. Since arriving to Istanbul nearly four years ago, she co-founded the Turkish open mic night series Komikrofon and then went on to start up the city's first-ever English stand-up comedy night series entitled "Take Me Up the Bosphorus." In addition to hosting international performers, such as being the first to bring out Naz Osmanoğlu, "Take Me Up the Bosphorus" is also an open mic stand-up comedy series that takes place every two weeks at Kaset Kadıköy.