Starting this Saturday, Feb. 17 and running until Saturday, Feb. 24, there will be ropes, similar to tightropes, set up at elevations of 15 to 100 meters on the mountains of Geyikbayırı, Antalya as skilled slackliners don costumes to demonstrate their skills crossing them. People from around the world take part with nearly as many coming to watch what is quite possibly Turkey's most breathtaking, colorful, entertaining and picturesque festival. Furthermore, it takes place at one of Turkey's top rock climbing spots.
Like the sport slackline, highline involves walking a rope, similar to a tightrope between two points, however, the latter is done at high elevations. In this case, the rope will be set up in the spectacular setting on the mountains of Geyikbayırı. Slacklining sportsmen, rock climbers and spectators alike come for this weeklong event that also has workshops. A number of relaxed accommodations geared to international climbers will open their doors for visiting highliners.
The event is organized by Can Şahin, Nuri Kayserilioğlu and Austrian national Raffael Thomale, who make up the team Slackline Turkey. All three double as rock climbers, as slackline is an interconnected sport, which is how they were introduced to it. Raffael discovered the potential for highlining in Geyikbayırı, considered one of Europe's most popular rock climbing spots, and in 2012, he invited sportsmen from all over the world to Turkey, which is how the first Highline Carnival took place with most participants being foreigners.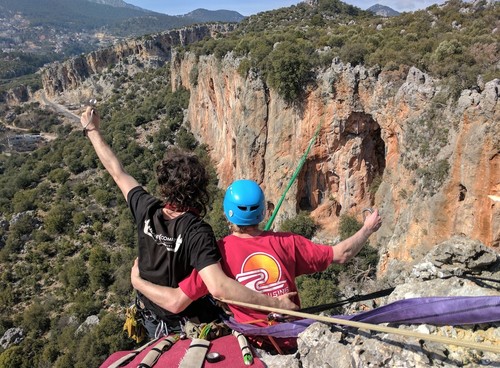 Over the years, the event has grown, with 300 participants at last year's carnival. This year, the numbers look to be the same with 200 participants already confirmed in a poll, co-organizer Can told me, however, adding that history has shown every year there have been many more arrivals than the initial poll reveals. Most participants still arrive from outside the country. Can said this means roughly 80 percent of attendees would be foreigners. In winter, Antalya is extremely favorable for the sport, which is why there is this interest in the area, which was the whole purpose of the carnival to begin with. The tradition has continued, and this will be the sixth year in a row in which hundreds of international slackliners, rock climbers and extreme sports enthusiasts will convene in Antalya's Geyikbayırı.
Fastly becoming one of the most popular global highlining events and certainly one of the most colorful, hundreds of international slackliners and enthusiasts will be coming out to traverse the tightropes set up between the spectacular mountains of Geyikbayırı
doing tricks, while donning costumes as others watch the spectacle. There will be slacklining pros and record breakers, rock climbers and newbies who can try out the sport during this eight-day event, which will also have workshops teaching rigging and safety practices.
The Slackline Turkey crew produced a video of last year's event in which 19 different slacklines were set up in the mountains of Geyikbayırı and participants from 33 different countries dressed up in costume as they performed tricks while walking a tightrope in the sky.
This year, Can said there will be participants involved in juggling and yoga and acro yoga and workshops and an opening party Sunday night, Feb. 18 and a closing party Friday, Feb. 23. If conditions are conducive, they hope to conduct a Hammock Caravan in which approximately 30 people will set up hammocks on a highline and just hang in the emptiness.
You can catch Slackline Turkey and the organizers behind the event practicing in parks, performances and rock climbing regions to promote the sport. In Istanbul, they practice slacklining in Maçka and Moda parks and regularly go to Şile over the weekends to practice.
This year they participated in many events related to the sport. In May, at the Malatya Extreme Mountaineering and Nature Sports Festival, they broke a world record by setting up one of the longest slacklines at a distance of 1,210 meters. This year, Can was invited be a trainer at Move Copenhagen and then set up one of the world's highest slacklines in Norway. Slackline Turkey took part in the Slackliners Union meeting In Switzerland where they were invited to take part in the Highline Extreme event. The Slackline Turkey team also went to neighboring Crete to assist in their festival.
Where to stay:
A popular destination for rock climbers and slackers alike, Geyikbayırı is located 25 kilometers from the city center of Antalya. Situated within the borders of the Sivri Dağ and Termessos national parks, Geyikbayırı boasts the largest crag in Turkey, 4 kilometers long, making it a haven for rock climbers and thus boasts a number of climber-oriented accommodation options with cabins nestled in the mountains and tents set up on their grassy grounds. Josito will serve as one of the main base camps as will Rido, which traditionally hosts the opening party, while Climbers Garden has more upscale accommodation options. All of the accommodation campgrounds, however, are located within walking distance of the lines.