This month, expats in Istanbul will be introducing and dishing up delectable delights from all over the world so the rest of us may have the lucky chance to get a taste. Check out the following events featuring fine flavors from destinations such as Thailand and Morocco.
Tastes of Southeast Asia: Thailand's Market #2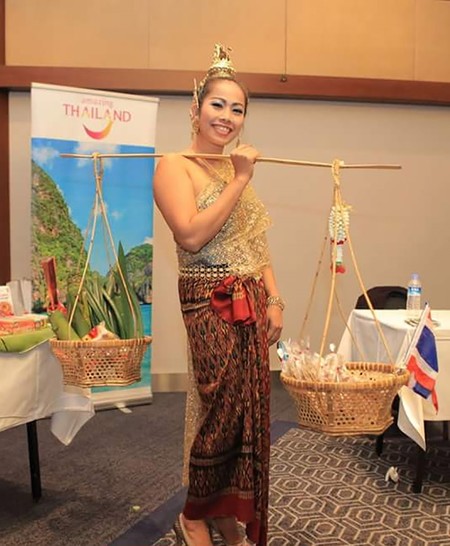 A Thai woman in traditional clothing at last year's Thailand's Market event.
This Sunday, March 25, the Thai Women in Turkey have organized the second edition of their Thailand's Market, which will take place at Mövenpick Hotel, located in 4. Levent from 10:30 a.m. to 6 p.m. I had the opportunity to catch up with Dolly, the organizer of this event and the Thai Women in Turkey organization, which was founded in 2014. Since then, they have been attending charity events and have hosted a handful of others, but nothing has reached the scope of their past Thailand's Market, which was held in November in Istanbul and saw 1,200 people attend.
The second edition of Thailand's Market, held to promote Thai cuisine and culture and to support fellow Thai women living in Turkey, is set to be even bigger. This will be a great opportunity to discover Thai delights such as bubble tea and enjoy homemade Thai street food. There will be ample ingredients on hand to purchase as well as Thai fruits and vegetables and other Southeast Asian food products from Indonesia and the Philippines.
There will also be Thai handicrafts on display as well as Thai spa products. If you are lucky, you may even get in a mini Thai massage, which will also be on offer throughout the day. There will be Thai music playing in the background and traditional Thai dances by the Thai expat community. Some of the highlights of the event include a Thai Spicy Food Eating Competition as well as a Lucky Draw Donation Charity. Entrance is free to this event so you can wander in and out and peruse as you like.
New pop-up dinner series: Casablanca Pop-Up Cuisine
There is a new pop-up dinner series in town by the name of Casablanca Pop-Up Cuisine, which dishes up Moroccan food. Run by Assia Amghar, a Moroccan expat who moved to Istanbul a year-and-a-half ago after visiting and becoming mesmerized by Turkey, this new Pop-Up Dinner series is becoming popular among the expat community and offers a unique opportunity to taste traditional dishes from North Africa.
Walking away from the world of finance, in Istanbul it is Amghar's culinary talents that have surfaced. One day, she prepared a series of traditional dishes from her country and left them as a surprise gift of gratitude in the home of one of her first friends in Turkey, Turkish-Spanish expat Alper Rozanes, and it was he who gave her the realization that she could share these delicacies with people who would greatly enjoy them in a setting that would complement the meal and make for a unique dining experience.
Since then, she has hosted a series of Pop-Up Dinners, mostly held in unique locations and some at private homes. On Thursday, March 29, Amghar will be making a special appearance for a Moroccan cooking class that will be held at the Circolo Roma Italian cultural center in Tepebaşı from 10:30 a.m. to 1 p.m. Participants will prepare a Moroccan pumpkin salad, apricots stuffed with meat and apples stuffed with dried fruit.
Then, on Saturday, March 31, Casablanca Pop-Up Cuisine will hold a dinner at the SG İmalathane cooking school in Sarıyer and on Saturday, April 7, there will be a Casablanca Pop-Up Cuisine Dinner held at Rozanes's home in Cihangir. Check out the Facebook page for further info.
Marking the end of fishing season: The Last Supper Pop-Up
Run by a Singaporean-Dutch expat and former restaurateur, Pop-Up Dinners Istanbul is a popular dining series frequented by the expat community that is held in Cihangir. On Saturday, March 31, starting at 8:30 p.m., Pop-Up Dinners Istanbul commemorates the close of fishing season with a special meal, "The Last Supper," which will incorporate as much fresh produce from the sea as possible with an Asian flavor profile. There will be three types of maki rolls, Singaporean noodles with calamari and shrimp, shark and basmati rice, and for dessert Eton mess with a salted caramel sauce. Check out the Facebook page to reserve your spot, as they fill up fast, and to find out further info.