Next Wednesday, April 25 will be the 103rd anniversary of the Australian and New Zealand Army Corps' (ANZAC) landing on the shores of Gallipoli peninsula in 1915 to fight for Allied forces against the Ottoman Empire in World War I.
Although the battle ended in hundreds of thousands of casualties and the Allied forces' eventual retreat, the date is commemorated every year as a holiday of remembrance by the nations who took part, who also refer to it as Anzac Day in reference to the Australian and New Zealand soldiers who fought in this battle so very far from their homes.
Since then, every year it has become a tradition and a rite of passage for citizens of Australia and New Zealand to once again travel to the other end of the world to commemorate the soldiers and lives lost in the Battle of Gallipoli, also referred to as the Dardanelles Campaign, which took place on the Dardanelles Straight located on Gallipoli peninsula in Çanakkale.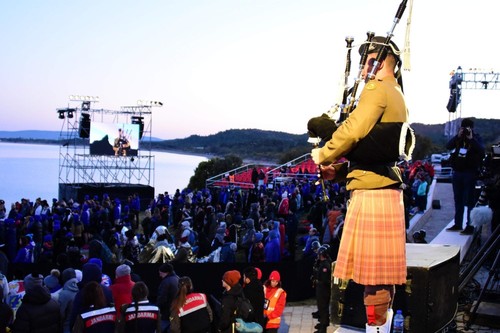 A bagpiper plays in memory of lost Anzac lives during the Allies' Gallipoli Campaign.
This year marks the 103rd anniversary of the ANZAC's heavy losses in the Battle of Gallipoli and as is the case every year, tens of thousands of ANZACs are expected to come out to take part in what many Australians and New Zealanders consider a once in a lifetime opportunity to pay homage to the thousands of lives lost.
The commemoration takes place in Gallipoli Peninsula Historical National Park and is of course only possible due to the cooperation and organization put forth by the Turkish government. Therefore, it is also crucial for visitors to understand and embrace the important security measures that will be in place. There is a lot of walking to do and not many amenities to be had, in addition to the fact that participants will be spending the evening in the elements. As a result, the widely accepted way to take part in the commemoration is with a tour, of which dozens are available from companies operating abroad and in Turkey. Not only does this ensure safe transportation to and from the site, but will also provide the required registration for this year's ceremonies as visitors will be required to carry attendance passes at all times. Based in Turkey, Fez Travel offers a variety of tours for Anzac Day commemoration.
Arriving by public transport, taxi or private car is also extremely risky as regular services and entrances may be closed. As a result, there may be no way to reconnect with a taxi and finding a parking spot may be nearly impossible. Furthermore, you must have an attendance pass to be admitted, which are limited, so securing one through a tour company is a wise move.
Upon arrival, coaches will be directed to a location several kilometers away from the site for registration. Keep in mind that both the coach registration process and pick-up may take hours due to the vast numbers of buses that need to be coordinated on site. Passengers will be given tote bags with their bus registration numbers to help facilitate pick-up the following day.
Celebrated on April 25, the commemoration on Gallipoli peninsula will begin on the evening of Tuesday, April 24, with the opening of the Anzac Commemorative Site at 10 p.m. A reflective service will begin at 11 p.m. followed by an overnight vigil with guest speakers giving addresses, telling folk stories and singing songs leading up to the Dawn Service at 5:30 a.m. Actor Russell Crowe, whose directorial debut just happened to be "The Water Diviner," a film chronicling the epic battle and its aftermath, is rumored to be one of this year's visiting guests.
Following the Dawn Service, there will be three services held by Australians, Turks and New Zealanders, respectively. All nationalities are welcome at every service. The Australians' Lone Pine Service will take place first at approximately 9:30 a.m., followed by a service held at the Turkish 57th Regiment Memorial at 10 a.m. and a service held by New Zealanders at Chunuk Bair starting at 11:30 a.m., concluding the event.
Keep in mind it may be difficult and nearly impossible to attend all four services as the sites are located a few kilometers from one another and require navigating rugged terrain and steep hills. For example, Lone Pine is approximately 3.5 kilometers from the Anzac Commemorative Site, while Chunuk Bair is an additional 3 kilometers further away.
Visitors will be required to wear their attendance passes throughout the entire event and security measures will be in place at all of the commemoration sites. The first site visited will be the Anzac Commemorative Site, located approximately 700 meters from the Beach Cemetery where buses will be dropping passengers off. There will also be shuttles available for those unable to walk the distance. Participants must also keep in mind that once they disembark, they will not be returning to the buses until the following day, which could mean a period of 24 hours or more. Therefore, it is vital that you take everything you could possibly need with you.
However, like flying internationally, there will be a number of security measures in place. There will be restrictions on liquids, aerosols and gels and separate screening requirements for electronics. All fluids must be kept in containers of 100 milliliters or less and placed in individual, clear zip-lock bags that must not exceed 20x20 centimeters. There will be no camping equipment allowed and all luggage brought along should not exceed the size of a carry-on bag. Water and limited food items will be available on site and alcohol is prohibited. Participants are advised to bring nonperishable snack items and protective clothing for the vast spectrum of weather conditions that could transpire and of course, sturdy and strong walking shoes for the trek.