The Bodrum peninsula has grown exponentially over the past decades and what those may remember as being a quaint holiday yachting town now has shopping malls with cinemas, great restaurants, nightlife and a number of upscale nightclubs. There is a well-run minibus system in place getting you to each of the various towns that line the peninsula as holiday destinations. Bodrum also serves as an excellent gateway to a number of Greek islands.
However, spending a holiday staying right smack in the center of Bodrum may not exactly be your cup of tea. Luckily the peninsula offers a vast variety of beachside towns, many of which are even more popular than staying in the center of Bodrum itself.
Veering out from the city center, the greater Bodrum peninsula is practically shaped like a circle with popular towns lining the shore. Each a former fishing town and many have historical significance with archaeological sites to prove it. The following is a description of the 10 most popular towns to stay in when visiting Bodrum starting from the west and making a loop around the peninsula.
Gümbet
Head west from the city center of Bodrum and the first town you come across is Gümbet, a famed destination for British holiday-goers and the all-inclusive hotels that accommodate them. Gümbet boasts a kilometer-long sandy beach that curves around the bay and has its very own "entertainment street" with arguably the most happening and boisterous nightlife on the entire peninsula. Think dancing on bars and a street party vibe until the wee hours of the night.
Bitez
Neighboring Bitez is a bit more well-established then Gümbet; in other words, it caters to a more reserved and older generation of vacationer. The hotels and restaurants are slightly more upscale, laid back and family-oriented and the most popular form of entertainment is feasting on a lavish breakfast buffet at one of the beachside cafes and enjoying the surprisingly shallow waters of the bay. With extensive mandarin orchards, olive trees and palm trees lining the sea, Bitez is one of the more relaxed areas to stay in Bodrum.
Ortakent - Yahşi
As the name implies, Ortakent sits in the center of the Bodrum peninsula making it slightly farther away from Bodrum's center but still offers famous beaches that make it a worthy option for accommodation. It used to be that this town was only known for its famous Camel Beach where visitors could watch camels hanging out and playing on the sand. Now, it has become Bodrum's camel-riding center, and the surrounding areas have developed significantly giving way to the municipality melding the two districts Ortakent and Yahşi. The homes and streets are bigger, more spacious and accommodating due to it being newer and the entire beach, on which you can walk from one end to the other, is the longest in Bodrum. The nightlife is near nil and is focused on enjoying relaxed traditional fish dishes and meze dinners.
Turgutreis - Akyarlar
If you continue past Ortakent you end up in Akyarlar, an area of Bodrum famed for having the most pristine waters, the best wind and some of Turkey's best beaches. Geared more toward the established summer house set, Akyarlar is a great place to go for the day to enjoy the spectacular sea and views of Kos as it is the closest point to the Greek island; however, there is not much going on in the way of nightlife. Meanwhile, neighboring Turgutreis is almost reminiscent of what Bodrum once was with its own marina, cafes, tea gardens and all of the full amenities the city center has to offer just located on the opposite end of the peninsula and unfortunately with a little less charm and appeal. Turgutreis is huge compared to other Bodrum towns with streets lined with summer and year-round homes and lots of accommodation options and can be a good place to make your base; however for a holiday, smaller towns tend to have more character.
Gümüşlük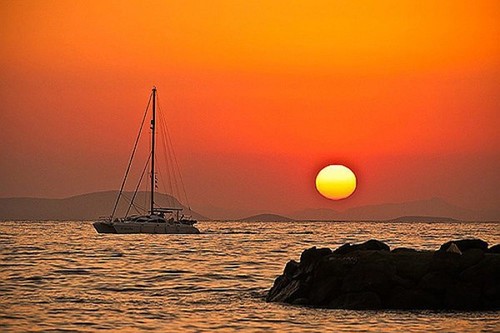 As for character, Gümüşlük is certainly becoming one of the most popular holiday destination spots in Bodrum. Known for having a more laid-back vibe with year-round residents, many of which are well-known artists, writers and actors, the accommodation and restaurants certainly reflect this and are more relaxed yet of higher quality in nature. It used to be that Gümüşlük was famed for its quaint fish restaurants overlooking the bay, however, in recent years its live music venues have been showcasing quality acts in a variety of genres, such as jazz, reggae and even pop. In summer Gümüşlük also hosts a classical music festival, which only adds to its charm. Meanwhile, Gümüşlük is also popular for having the best sunset, with local residents and visitors regularly gathering on the beach to watch it; unfortunately, however, the swimming is admittedly not the best on the peninsula as you have to contend with reef-like seaweed formations as you paddle.
Yalıkavak
Yalıkavak has become Bodrum's shining star. A popular destination for expats as well as anyone seeking one of the fanciest marinas in the world, this once small fishing town has turned into a chic, highly populated, functional city in its own right. While some of the fanciest restaurants are housed in Palmarina, Yalıkavak is also a joy to walk around with plenty of restaurants and stands selling handicrafts. The expansive area Yalıkavak encompasses also offers many different bays to stay near and swim in. Yalıkavak also houses two of the most popular beach clubs on the peninsula, Xuma and Dodo, which will be holding some of the biggest summer music festivals on the peninsula.
Gündoğan
A lesser known gem for making your base in Bodrum is Gündoğan. Situated between Bodrum's most popular resort towns Yalıkavak and Göltürkbükü, Gündoğan is a quieter, less expensive option for accommodation that is great for families, has nice beaches for swimming and is just a short distance away from more happening neighbors.
Göltürkbükü
Now referred to as Göltürkbükü but ingrained in our minds as Türkbükü, this area is undoubtedly known as Bodrum's chicest, most expensive and paparazzi-pleasing area as the rich and famous love to spend their summers here in the limelight. All of those stories of extortionate prices for ice cream or burgers undoubtedly come from this town and I cannot even imagine accommodation prices. However, it is definitely worth a visit to check out how the other half lives, although the beaches are predominantly based on platforms and restaurants are absurdly over-priced.
Torba
Heading east from Göltürkbükü is Torba, the last town before completing the loop that brings you back to Bodrum. Torba is another well-established summer destination that also boasts a number of luxurious hotels. The closest of these towns to the airport and Bodrum, Torba is a popular destination for those with less time to while away on a proper relaxing vacation.