Undoubtedly Turkey's greatest summer destination spot and a favorite residential area for foreigners, Bodrum; has something for everyone. If you have heard of the rumors of buying water in the double digits and consuming street food such as lahmacun for three figures, then don't fret, Bodrum has a number of tried and true venues that are comparative deals and offer great atmospheres and meals. The following is a list of this year's newcomers and expat favorites to discover during your holiday this summer.
Zai Bodrum
​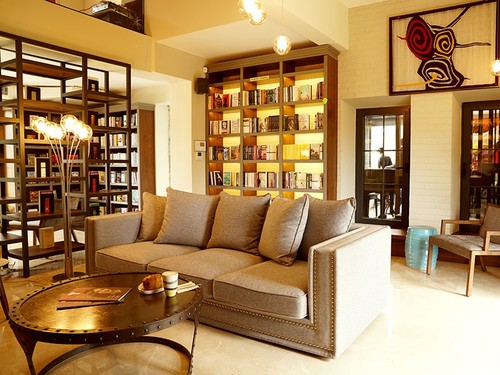 Dubbed "a new generation library" Zai Bodrum opened late last year Bodrum's Konacık neighborhood. The brainchild of the owner's of Casa Dell'Arte, a well-established beautiful boutique hotel and exhibition space in Torba, Zai Bodrum is in a league of its own. This is a stunning two-story venue with modern décor, thousands of books to peruse and lots of reading nooks from which to do so while you can also partake in new wave coffees, teas and delicious pastries. The outdoor space has a Zen garden interspersed with ancient olive trees, creating a sanctuary from the busy vibe of Bodrum just outside. Contributing to this perhaps is the fact that only children over the age of 15 are allowed.
Tudors Bodrum
The newest edition to Bodrum's live music scene is Tudors Bodrum, a concert hall venue located on the main drag across from the marina. Tudors, which opened in spring this year, is the Bodrum edition of Tudors Antalya, a popular live music venue that has a Hard Rock Cafe vibe, Tudors will be hosting top-notch acts such as tonight's Yeni Türkü and upcoming concerts by, Pinhani, Ayhan Sicimoğlu and his Latin All Stars and even MaNga. Make sure to check out their steakhouse on the second level overlooking the boats docked in the marina.
Campanella Italian
There's a new Italian restaurant in town called Campanella Italian that is located smack dab in the center of Bodrum's pedestrian "bar street." Opened in spring by a native Italian by the name of Fabio, Campanella dishes up all of the traditional classics of Italian cuisine and also prepares specialties such as fresh burrata and lasagna. The terrace also has spectacular views of Bodrum's bay.
Salt and Sugar
Salt and Sugar is a quaint restaurant and cafe located right off the main drag facing the marina that has fast become a favorite expat hangout spot. Both the picturesque casual decor in an authentic courtyard and the cuisine all devised by the female chef Çiğdem Atkins, have been drawing in the expat crowd. And why not, the menu offers up favorites dishes such as a variety of garlic breads, cheesy chips with bacon and jalapenos, crab cakes and king shrimp salad, a wide variety of pizzas, handmade pastas and risottos as well as curries and wok dishes never mind their mains menu, which has everything from chicken schnitzel and Parmesan cheese to pepper steak, pork chops and ribs and of course burgers. There is also a patisserie side to Sugar and Salt giving it the cafe vibe, which prepare amazing desserts and cakes such as oreo cheesecake, which you can eat in or take home. Not necessarily new as it has been around for a few years now, however since then it has become a staple for the expat crowd and thus definitely deserves an honorary mention.
Savra Bodrum
The chic and pleasant Savra Bodrum located where Bitez and Ortakent meet, has a new face this summer by joining forces with the culinary fusion artists Yoldaş and Elvan Sönmez of Ent restaurant and hosting a plethora of musical events. The proprietors of Ent suffered a great loss, when their entire kitchen was ripped off by burglars and thus, this summer they have brought their expertise to Savra Bodrum. Also doubling as a hotel, Savra has ample and pleasant seating outdoors where you can feast on dishes with Turkish twists while listening to favorite Turkish performers in a uniquely intimate sit-down setting. Tonight for example, Savra hosts Feridun Düzağaç on Wednesdays Evrencan Gündüz is joined by his band Uzaylılar and next week Teoman will be gracing the stage.
Ga'u Antique
A great new edition is Ga'u Antique, which is both a gourmet restaurant, at times live music venue and antique and jewelry store of sorts. They have their own in-house Latin band that play in a spectacular courtyard that neighbors Bodrum's fish restaurant alley which, if you haven't checked out yet is certainly a sight to see and enjoy. Ga'u has a huge courtyard, dishes up gourmet food and drinks and is an entertaining venue with stuff to look at in every nook and cranny.
Vegalini
Having just opened this summer by pop vocalist Zeynep Casalini, Vegalini has officially become Bodrum's vegan hangout spot. Conveniently located in the center's relatively calmer Eski Çeşme neighborhood just past the marina, Vegalini has comfortable outdoor seating and dishes up vegan burgers, noodles and salads as well as has baked goods and is open every day from 10 a.m. to midnight.
Hardal
Hardal, which in Turkish means mustard, has long been a favorite for world food from its main location in Istanbul in Nişantaşı. This year, Hardal has opened in the chic Türkbükü neighborhood and offers a more beach club vibe with DJs spinning, however they have also brought their tantalizing menu to this resort town. Just imagine their fried goat cheese salad, popcorn chicken, potatas bravas, nachos and fajitas and then you won't even think about the trek it takes to get there.
Churchill
A favorite hangout for the expat crowd in winter as they host events such as "Pub Story" and quiz nights, Churchill is a great place to stop for the quintessential Bodrum experience. As a cafe they serve up burgers, salads and international mains and in the evening it becomes more of a pub, but the great part is that at any time of day you can sit with your feet in the sand as it is located right off the beach and the main drag.