Currently the second-best female slalom windsurfer in the world, Lena Erdil was riding high last month when she arrived in Gran Canaria to compete in the Women's Wave category in the World Cup. However, a flat landing after a forward loop brought her dreams of a top five finish in this new category crashing down.
Suffering a serious injury at this stop of the PWA Championship tour in Pozo Izquierdo, Lena Erdil's plans of competing in the Wave category are now unfortunately waylaid as she can no longer be a contender in this summer's remaining events. Luckily, she already secured the 2018 Slalom Vice World Champion title with the slalom season coming to an early end in June this year which is just one of many first- and second-place titles the 29 year old has acquired in her career spanning a dozen years.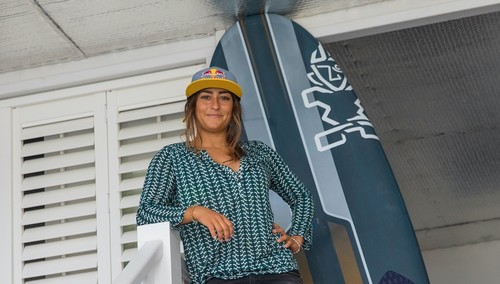 Erdil's success in the sport of windsurfing is one of Turkey's best kept secrets. For years now, she has been traversing the world's leading windsurfing competitions. She has racked up numerous titles, including being named world champion by the International Funboard Class Association (IFCA) ) in 2015 and 2016, holding the PWA indoor slalom World Champion title, and being crowned PWA vice world champion already for the third time this year. Lena has been a world cup podium regular for six years already. Taking on a new challenge, she had planned to place in the top five in the wave category. In addition to her PWA Slalom Vice World Champion title, just this summer alone, Erdil also placed second in competitions in Japan and Korea for slalom, she came in third in Slalom and sixth in the Freestyle category in Portugal and was amongst the top ten in the wave category that she competed in for the first time last year.
Born to a German mother and Turkish father in Izmir in 1989, Erdil spent much of her childhood in Germany and Belgium. She learned to windsurf in Turkey during summers spent in Alaçatı and later in Bodrum. By the time she was 18, she had her very own windsurf school in Bodrum's Ortakent district aptly named the Lena Erdil Windsurf School. Erdil is a Red Bull athlete and is amongst athletes that are sponsored by world's most prestigious brands.
However, it was in Pozo Izquierda competing in the Gran Canaria Wind & Waves Windsurf World Cup, which took place last month, that she broke three of her metatarsal bones and tore her lisfranc ligament in her foot, wiping her out of the competition for the remainder of the 2018 surfing season, which made waves in the standings and expectations for the wave category she was trying to tackle.
Erdil is just one of almost two dozen women who compete in this daunting sport as well as a pioneer for Turkey, which had never before entered a world cup in this category. The wave category is truly in a league of its own as it combines maneuvering among the waves as well as gaining great height with jumps, loops and turns, while managing to successfully land on the water all while battling strong winds. Erdil began competing in the wave category last year for the first time in the PWA Windsurf World Cup held in Tenerife and Sylt where she placed seventh and ninth, respectively. This year, there was a high chance she would place in the top five had she not suffered her injury on the first day of the competition.
I had the opportunity to catch up with Erdil during her recovery from what looked like a perfect landing for a forward loop: "Except that ... it was a little bit too flat. That is, the bottom of the board hit the water completely parallel, which means there was little to no shock absorption. Usually on landings, either the front or the back of the board needs to land first," she explained.
"Grand Canaria is extremely windy, so the level of control during jumps is greatly reduced," Erdil explained, telling me that she was sailing on a 7-meter board with a 3-meter sail, which is extremely small equipment compared to what she usually competes with, but the wind was epic at 40 to 50 knots.
"I guess I was a bit out of practice and also I was perhaps not 100 percent recovered from my last foot injury. I had a stress fracture during my last race of the 2017 slalom season in November, which I was still feeling at times. The new fracture is on the same foot in more or less the same location, so I have a feeling the previous injury added to this one," said Erdil.
I asked her how she made it back to the shore to which she explained that miraculously, she was able to sail back. "I felt it break on the landing, but the real pain always kicks in a bit later. In the moment and with all the adrenaline, you don't feel that much pain," she said.
I asked her if this was the worst accident she had ever had in windsurfing and she said: "Yes. I mean it's not such a big thing, but sometimes it is the small things that take the longest to heal. Ligaments are always crucial and in windsurfing, our feet are extremely important as it is how we transfer all the power from the sail to the board, and ultimately that is the key to the acceleration process."
She had to wait a week before getting surgery, which she has since successfully undergone. "I now have three screws in my foot, helping the healing of the metatarsal bones and especially their attachment point, the lisfranc ligament. I will be doing my rehabilitation in Istanbul at the PT Academy. They have a great team of professional physiotherapists who will help me stay fit while I can't use my foot and of course, especially afterwards to get my foot and ligament back to full strength." The PT Academy has several studios in Istanbul and Erdil recommends them wholeheartedly to all sports lovers out there.
I asked Erdil when she expects to get behind the sail again and she said it could be anywhere between four to six months from what she has heard of other peoples' similar experiences. "I am actually very lucky with the timing of my accident as we finished the 2018 slalom season in June," she said in reference to her top second title she claimed earlier in the season and prior to the accident. As for her plans for the future for returning to the sport, Erdil said, "My aim is to be ready for some training races as of February and hopefully I can be stronger than ever and ready to chase the title starting from the first world cup race of 2019, which will be in May."
The accident may have shaken the standings and outcome in the Windsurf World Cup in Gran Canaria, however, keep your eyes and ears peeled on Lena's comeback as she gets behind the sail and begins to chase storms again in the next few months, which like her entire career, will most likely be remarkable. You can follow Erdil's adventures on her Instagram account or watch her vlogs - video blog posts - on her YouTube channel, both called "Lena Erdil."