The 15th Istanbul 5 Days, a one-of-a-kind orienteering competition that involves map and terrain interpretation, will kick off in Istanbul on Tuesday, Oct. 30.
The five-day contest, also widely known as Ist5days, is the only orienteering competition in the world that involves two continents. The event will end Sunday, Nov. 4.Each day of the competition will feature different orienteering races held in courses set up all around Istanbul, including the Belgrade Forest, Maltepe, Büyükada, Sultanahmet and even in the Grand Bazaar.
This year's competition will welcome over 500 participants from in and outside Turkey.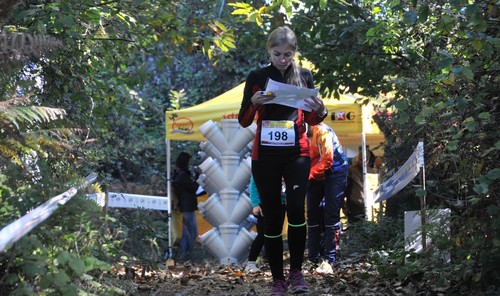 A participant checks a map during last year's competition at Maçka Park, Istanbul.
For many international enthusiasts, orienteering has become a popular activity to discover different countries because it does not just offer physical challenges but it also gives you an opportunity to meet other active, like-minded individuals.
Orienteering is a popular activity all over the world for its combination of mental and physical skills. It involves using a map as participants navigate from point to point in diverse terrain while moving quickly.Turkey also has an active orienteering community and the Istanbul 5 Days competition is the biggest annual event. Ist5days was first organized by the Istanbul Orienteering Sports Club in 2004.
The club is composed of volunteers and experts in orienteering that get together every week in Istanbul. The individuals behind the organization, some of who work in the IT sector or in textiles and many of whom are in management-level positions, are devoted orienteering enthusiasts. They designate their free time to organize Ist5Days, Turkey's largest annual orienteering event.
Coordinator for the Istanbul Orienteering Sports Club Alper Saydam said: "
Before Ist5days, we used to organize two competitions, a spring and an autumn cup. However, when we began competing in international races, we decided to combine the two events to make a longer event in Turkey. Thus, Ist5Days was born."
This year's competition consists of five different orienteering races with varying distances and styles. The first day of the races kicks off Wednesday, Oct. 31 with a medium-distance track in Belgrade Forest. On the second day, there will be a sprint in Maltepe's Orhangazi Şehir Parkı. On day three, the competition will go to the largest of the Princes' Islands, Büyükada; followed by a long-distance competition in the Belgrade Forest the next day. The final competition is called a "super sprint" and will take place in Çemberlitaş and the Grand Bazaar.
People from all over the world come to take part in this annual competition. This year there will be participants from 23 different countries. Of the total 500 competitors, around half will be foreigners.
"It is a great way for orienteering enthusiasts to meet fellow sportsmen and embark on a five-day adventure together," said Saydam. "At the end of these five days people may be tired, but they also begin happily planning how they will attend the next year's event," he added.
When asked whether beginners can join the event, Saydam said: "Ist5days is open to beginners as well as advanced orienteers. While advanced-level participants will compete in their own categories, newcomers can participate in the easier level 'open' category. This way, more experienced orienteering experts can share their wisdom with those who are trying the sport for the first time."
Replying to a question on a physical fitness, Saydam said: "You do not necessarily need to be that physically fit. Orienteering is half physical and half mental. What matters more than running fast is being able to pick the best path. Therefore, you basically just need to be able to walk to be able to do orienteering."
As for how to get started, the Istanbul Orienteering Sports Club holds regular orienteering training sessions, as well as courses for beginners every Sunday from September to June. There are approximately 150 participants each week and last year alone, they some 2,000 new participants to the sport of orienteering.
Saydam added that there are also other orienteering organizations in Turkey, like the "Oryantiring Akademi" and "Istanbul Oryantiring İl Temsilciliği." Both organize training and orienteering events.
"There are also orienteering clubs in provinces outside Istanbul. Some universities also have orienteering clubs," he said.
Head to www.ist5days.com to sign up for Istanbul 5 Days. There is a small fee participation fee. Transportation and hotels for international participants have also been arranged.
Besides for the competition, there will also be a number of activities for visiting participants that will include a tour of the historical city, a horse-carriage ride on the Princes' Islands, a Kadıköy tour, a boat trip on the Bosporus and even a visit to a historical Turkish bath.
To find out more about the Istanbul Orienteering Sports Club's activities throughout the year, visit https://www.iog.org.tr.