It is time to celebrate the long history of Turkish cuisine with a number of events focusing on the gastronomy and culinary arts of these fertile lands. Here are some festivals that will make your belly happy:
'Restaurant Week' takes over Istanbul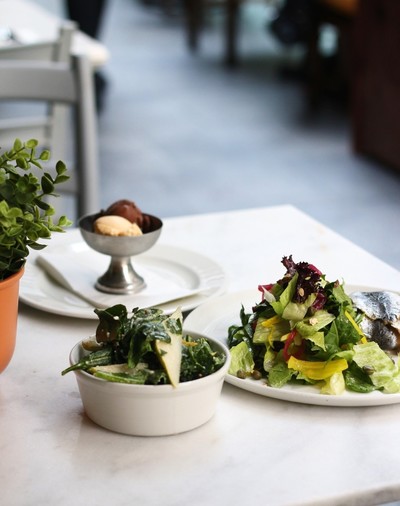 The ninth annual "Restaurant Week," a meeting of gastronomic-centered minds in prestigious and historical venues around town, descends upon Istanbul in the second week of October. Throughout the week and beyond, many of Istanbul's best restaurants will be preparing special tasting menus for affordable prices that will be heavily focused on showcasing Turkish cuisine. In addition to a full-week of catered breakfast, lunch and dinner menus at select restaurants around town, there will also be talks, tastings and cooking classes.
The idea of "Restaurant Week," from Oct. 15 to Oct. 31, is something like this: Approximately 100 restaurants will be serving special tasting menus for an exclusive price, as well as specially-catered menus in line with the theme of Turkish cuisine for breakfast lunch and dinner. The long list of restaurants includes the pinnacle in Ottoman cuisine Asitane and Feriye Palace as well as classic Turkish food purists Köşebaşı and Hünkar, joined by innovative fusion favorites such as Frankie Delimonti and Spago. Other restaurants offering tasting menus include Alaf, Kiva, Gram, The Steeve and the list goes on and on. While restaurants such as Midpoint, Plus Kitchen and Snob Street Food are just a selection of the wide variety of venues that will be offering special menus throughout the week.
In general, these special menus will cost TL 35 ($6) for lunch and breakfast and TL 55 for dinner however, there are occasional exceptions and the tasting menus vary in price and style according to venue. Luckily, all of the menus are available to peruse on the website www.restoranhaftasi.com and participants are advised to reserve any menu they choose.
There will also be a number of gastronomy-centered events such as talks with well-known bloggers such as Alper Kırdal, who pens "Beyaz Yakalı Gurme," which will be held at Gram in Kanyon. Gezmelerdeyim blogger Kenan Yıldırım will be at Welldone Kanyon for a talk over breakfast and "Plaza Gurmesi" author Yolaç Özcan will be at Escale.
On Oct. 20, from 2 p.m. to 6 p.m., Kanyon will also be hosting a special tasting event for restaurant week called"Restoran Haftası Tek Lokmada Türk Mutfağı" where participating restaurants will be serving single bite samples of the food they will prepare for this special week. Then, on Oct. 23, İntema Yaşam will be hosting a Turkish cuisine workshop from 7 p.m. to 10:30 p.m. where participants will prepare traditional Turkish dishes including "Wedding Soup" (düğün çorbası), "Kebab with Yogurt" (yoğurtlu kebap) and "Pudding with Mastic" (damla sakızlı muhallebi).
İzmir GastroFest focuses on migration's influences
On Sunday, Oct. 21, the İzmir Alsancak Historical Train Station will be the sight of İzmir's first-ever GastroFest, which will be centered on the theme of "Cuisine Formed by Immigration." The event will take place from 10 a.m. to 9 p.m. with a full schedule of workshops, panels and film screenings as well as dozens of Turkey's best restaurants offering tasters.
Some of the highlights of the event include a panel, which will take place at 11:40 a.m., where a number of well-known chefs such as Vedat Başaran and Ahmet Güzelyağdöken will be joined by writers and food critics to discuss how the cuisine in İzmir has been shaped by the recent flow of immigration.
Dozens of restaurants from Istanbul such as Neolokal, Franie and Cantinery as well as popular restaurants from İzmir, and well-known regional gourmet's such as Hiç restaurant from Urla and Ent from Bodrum will be taking part in the festival with presentations and samples.
There will also be a number of talks and workshops by leading figures in gastronomy. For example chef and cookbook author Jale Balcı, who specializes in Antakya cuisine, will be giving a workshop. Historian Saffet Emre Tonguç will be discussing the migratory route of coffee and Moche Basson, owner and chef of the famous Jerusalem-based restaurant Eucalyptus will be sharing his own culinary journey. Greek chef Ari Vezene will also be discussing the shared flavors between the two neighbors.
There will also be two short-length documentaries screened at this one-day event. "Turkish Way" is a film depicting the Roca brothers, who own the three-Michelin-starred Spanish restaurant El Celler De Can Roca on their discovery of the country's cuisine, which they use as culinary inspiration to create their own Turkish-influenced dishes.
"A Fading Language, a Fading Cuisine," will also be screened, it is a documentary that spotlights the Ladino language spoken by Turkey's Sephardic Jews and their cuisine, both of which nowadays are almost extinct.
Leading into the evening, American saxophonist legend Ricky Ford will be performing with pianist Ali Perret, trumpet player İmer Demirer, bassist Owen Hart and upright bass player Kaan Yıldız in a concert. The event will come to a close with an after party featuring a surprise guest. Tickets are TL 180 and available on Biletix. To find out more about İzmir's first GastroFest, check out www.izmirgastrofest.com.