This weekend, expats and Istanbul locals will be organizing four cleanup events in the city including plogging, the new environment-friendly trend that combines jogging with picking up litter. Cleanups, which are events held for people to meet up to pick up litter, have become popular worldwide, and Istanbul is certainly no exception. There are a number of groups that regularly get together in various locations in Istanbul to collect litter while also getting the chance to socialize.
A great opportunity to discover different parts of Istanbul, get some exercise, meet like-minded people and to help beautify the surroundings of our adopted home, many an expat as well as Istanbul residents have embraced these cleanup events and are even involved in organizing them. Tidy Turkey or, in Turkish "Türkiye'yi Temizle," is a group with a blog started by Australian expat Lucy Tooze that meets up for cleanup events, after which they usually continue socializing and then detail the events of the event in the entertaining blog https://turkiyeyitemizle.wordpress.com, where along with its Facebook group, those interested can learn more about upcoming events.
​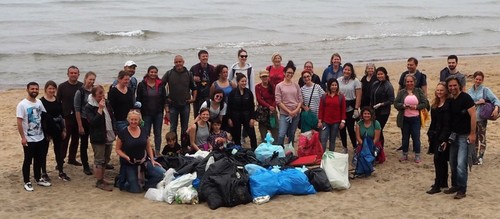 Tidy Turkey is a group started by Australian expat Lucy Tooze that gathers to hold cleanup events around Istanbul and other cities.
Belgrade Forest cleanup and plogging event
On Saturday, Oct. 20, Tidy Turkey will be gathering at Belgrade Forest for an autumn cleanup event that will take place from noon to 4 p.m. Participants will meet at Belgrade Park's entrance to walk or "plog" in the forest while collecting trash. A number of Istanbul running groups will also be joining in. Participants are asked to wear green or blue to be identified as part of the group. After the cleanup there will either be a potluck picnic in the park or the group will head to a restaurant, depending on the weather, so check the Facebook event page for the final details.
Büyükada cleanup
On Saturday, Oct. 20, Tidy Turkey will also be holding a cleanup on Büyükada, the largest of the picturesque Princes' Islands, from 12:30 p.m. to 4 p.m. Easily accessible by ferries departing from all over the city, this island serves as a great escape into nature for many Istanbul residents. Once again, participants are advised to wear blue or green and the meeting spot will be the clock tower in town; gloves and trash bags will be provided.
Crash the Trash in Suadiye
Taking it a step - or stroke - further, this version of the "Crash the Trash" cleanup event series will actually be collecting litter from the sea and off the coast of Suadiye. Participants will be meeting up at 7 a.m. on Sunday, Oct. 22 to brave the water along the coast in Suadiye to pick up floating trash as well as any plastic stuck in the seabed near the shore. It's a great opportunity to get in that final fall swim, plus participants will be heading off for breakfast together nearby after the satisfying dive.
Eminönü to Sultanahmet cleanup
On Sunday, Oct. 22, from 2 p.m. to 4 p.m., there will also be a cleanup event held in Istanbul's most historical and touristic region, starting from Eminönü and ending in Sultanahmet. Participants will be following the tramline all the way to Sultanahmet Square, picking up litter as they go. After the event, the plan is to pay a visit to Hagia Sophia Museum and the Blue Mosque as well as to have tea or coffee in a nearby cafe for everyone to mingle. Once again, gloves and trash bags will be provided.
Expat Spotlight focuses on technology
On Tuesday, Oct. 23, the monthly talk series Expat Spotlight will resume with the theme "Technology." Hosted by Yabangee, a community platform and website run by and geared toward foreigners in the city, and held at ATÖLYE, an interdisciplinary innovative event and coworking space located in bomontiada, this is one of the best outlets for foreigners in Istanbul to learn more about the expat community from expats themselves. As at this event, expats are the guest speakers, who take the stage to share their experiences and personal stories connected to the designated theme and their lives in Istanbul.
The guest speakers at this month's Expat Spotlight focusing on technology will include a long-term Istanbul resident, U.S. expat Michael Barngrover, who is a graduate of Boğaziçi University's management program with prior degrees in psychology and game programming as well as a designer and developer of immersive experiences.
Erin O'Brien is the culture developer at Gram Games and has lived in Istanbul for just over two years. A graduate of Princeton's Near Eastern Studies Department, O'Brien first came to Istanbul through an exchange program with Boğaziçi in the fall of 2014. On top of her studies and research focused on gender and cultural theory in the Middle East, she has also worked to advocate for diversity and cultural change in the games and technology industries in her time at Gram.
Hailing from Cape Town, Jason Smythe is a proponent of the Blockchain Revolution and a software engineer. He contributed as an engineer to Project Khokha, an Ethereum-based real-time gross settlement system for the South African Reserve Bank (SARB), and on a number of other Ethereum projects, including Crypto20. He is the founder of the Istanbul Ethereum Meetup and now works at Adhara.io, a ConsenSys-backed project working to connect banks via a shared ledger to create new payment rails to be used in treasury management.
Originally from India, Shivam Arora is an IT professional spearheading CRM solutions for one of Turkey's leading private banks. Serving as a solutions architect from SoftTech, Arora has also worked with IBM. His current project involves transforming legacy systems to event-based architecture for building responsive application. Designing and implementing solutions for data in motion to help get meaningful insights, behavior and trends.
There is no need to RSVP to this free event, which starts at 7:30 p.m. with doors opening at 7 p.m.