Bet you did not know that some of the best tribute bands of favorite legendary groups have come out of Turkey. Not only are a number of skilled Turkish musicians playing the music of legends like the Beatles and Pink Floyd, but there are also a number of bands from Turkey and abroad that are reviving music from Turkey's favorite musical genres.
Turkey's Pink Floyd revival band
The group 7 Pink Floydlar ve 2 Prenses is Turkey's very own Pink Floyd tribute band. They have been playing the band's famous songs to near absolute perfection - their sole mission since the band was founded over a decade ago.
Presenting a very special opportunity to hear the legendary band's songs performed live, 7 Pink Floydlar ve 2 Prenses originally consisted of nine members, including two female vocalists. Though its lineup has changed over the years, its current members include vocalist and guitarist Tolga Baloğlu, guitarist Barış Kıran, Okan Koşun on bass, Özkan Özsoy on drums, vocalist Damla Topcu, Emir Urunsal playing saxophone and British Expat James Taylor on the keyboard. You can watch them perform Pink Floyd favorites such as "Wish You Were Here," "Another Brick in the Wall" and "Hey You" at their upcoming show this Thursday, Nov. 8 at Dorock XL in Kadıköy.
A Kind of Vision: A Turkish tribute to Queen
A Kind of Vision is an Ankara-based Queen revival band led by Yunuscan Kaya on vocals and piano, who interestingly bears quite a resemblance to Queen's front man, Freddie Mercury. You can catch A Kind of Vision, a four-man band which also includes Orçun Büker on electric guitar, Ulaş Tercan on bass and Gökhan Çimen on drums, for a special "Freddie Mercury Show" at Dorock XL Kadıköy on Thursday, Nov. 22.
Have you met 'Meat the Beetles'?
It would be completely remiss to write about cover bands in Turkey and not talk about Meat the Beetles as they are Turkey's well-deserving resident Beatles cover band. Not only are they extremely popular in Istanbul - where they play frequently - Meat the Beetles has also achieved international recognition, being invited to play a dozen gigs at the 2012 international Beatleweek festival in Liverpool as well as playing a 2014 revival of the Beatle's famous rooftop concert on Gothenburg Terrace.
The band consists of vocalist Emre Çötelioğlu, Görkem Baharoğlu on lead guitar and vocals, Selçuk Tüzel on acoustic guitar and vocals, İlker Göçmen on rhythm guitar, keyboards and vocals, Arif Ortakmaç on bass and Canberk Emir on drums. Their repertoire includes 70-plus Beatles songs, and you can easily hear them perform at least half that number at every concert they play.
A brief on Turkish pop culture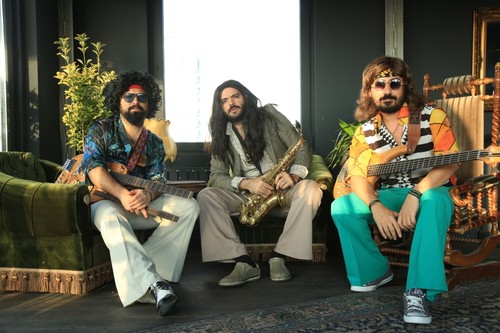 If you have not seen Retrobüs perform yet, you are in for a treat. Retrobüs is a revival band of Turkish popular and cult songs spanning from the 70s, 80s and 90s. Rather than an Akbil, theirs is a "rockbill," vocalist Firat Şahverdi tells me in which they take their audience on a flashback tour through the popular culture in Turkey during those decades. Decked out in full costumes fitting the time, Retrobüs performs a wide variety of genres spanning from psychedelic, arabesque, rock and pop, while also screening in the background iconic scenes from Turkey's cinematic golden age, the Yeşilcam era.
Frontman Şahverdi is also famed for his skilled impersonations of Turkish musical icons Barış Manço, Cem Karaca, Erkin Koray and İlhan Irem. They play at least nine different instruments, including a hybrid double-neck bağlama and guitar created by the band's guitarist Murat Yerden, who also happens to be a kemenche maker.
Other members include a psychologist and even a ship captain. While they regularly play in Istanbul, this month they will be on tour throughout Turkey in November with shows lined up in Lüleburgaz at Lydia on Fri, Nov. 9.
They will be in Denizli at Downtown House on Saturday, Nov. 10. On Wednesday, Nov. 21 Retrobüs will play in Mersin at Hayal Kahvesi and on Nov. 23 and 24, they will play in Niğde at the Casablanca Bistro Pub.
A Dutch-Anatolian rock group comes to town
Altın Gün is a Dutch Anatolian rock group based in Amsterdam that will be performing in Istanbul on Nov. 23 at Salon İKSV. As the story goes, it was during a trip to Istanbul for a concert when bassist Jasper Verhulst was first introduced to some of Turkey's most famous psychedelic folk music performances by the likes of Selda Bağcan, Barış Manço and Erkin Koray. Since then, the bassist has formed his own Turkish psychedelic folk tribute band, which has captured the spirit of Turkish music in the 70s and includes Merve Daşdemir on vocals, Erdinç Ecevit Yildiz on saz, Ben Rider on guitar, Gino Groeneveld on percussion and Nic Mauskovic on drums, and they are currently touring Europe.
Another great opportunity to watch this beloved genre in Turkey brought back to life by skilled musicians. Tickets are TL 70 ($13) for adults and TL 50 for students and are available on Biletix.