Istanbul has now reconciled with what it didn't even know it was missing: An authentic Latin restaurant and bar by the name of Azùcar Latin Bar & Food. In retrospect, it is quite interesting that there has been a lack of a venue devoted entirely to the Latin world and its spirit, with the wide Latin dance community that exists in the city. However, situated in the beloved and bohemian neighborhood of Cihangir, the newly opened Azùcar delivers just that and has already become a regular haunt for the city's foreign, especially Latin, community. Opened by a fellow expat, Azùcar has also teamed up tonight with Yabangee to host the event "Taco Tuesday: Return of the Tacos."
I had the opportunity to catch up with the bright and beautiful Yohenys Flores, the 28-year-old native Venezuelan who opened her first Latin restaurant and bar in Istanbul Azùcar, which is located on a top terrace floor in a building off Sıraselviler Street.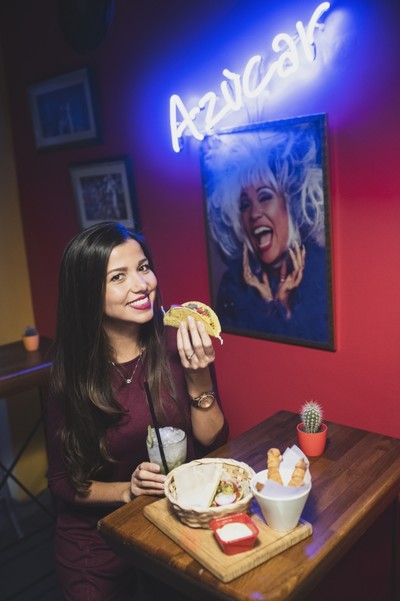 Azùcar owner Venezuelan expat Yohenys Flores.
Flores has quite a diverse background having moved to Catalonia, Spain at the age of 16, where she studied English philology. She later went on to get a master's degree in international business and logistics and has an ongoing career in the oil industry as a logistic operator for tanker vessels for an international company based in Switzerland. But before that, she worked as a model and in 2015 represented Lleida, a province of Catalonia, in the Miss World Spain beauty contest.
I asked Flores what brought her to Istanbul to which she explained she had spent her holidays over the past three years in Istanbul, but for two weeks maximum each time and then this summer decided to make the permanent move to Turkey. "I spent last summer in Bodrum and in September I moved to Istanbul," she tells me, adding, "The reason I came here was because of my boyfriend, who is Turkish."
As for why she decided to open her first Latin American venue, Flores said: "I decided to open a Latin bar in Istanbul because since I moved here, I had the feeling Istanbul needs a real Latino place. Since I've been visiting this city, I felt it has mostly everything, a very rich culture and a mix of religions, but it was still missing the 'Latin touch.'" She then proposed the idea to her boyfriend, saying, "Why don't we open a Latin bar, since there aren't any?" and he answered "Yes, why not," she explained, adding: "He loves Latin culture even more than me! We made the decision on that very day and it took us around two weeks to open it."
For Flores, it was her first restaurant, but she got a lot of help from her boyfriend, she said. She also added that he also happens to own the popular nightclub Roxy, which is located close by as well as the bar Yan, which is in the same building as Azùcar, which opened on the fourth floor rooftop terrace.
Together, they opened Azùcar on Nov. 2 with a "La Noche de Los Muertos" traditional Mexican celebration. What is unique about Azùcar is that not only is it the first fully Latin American restaurant in Istanbul but also most of the staff are South American and Spanish speakers. In addition to the owner Flores, the chef is from Venezuela, their waitress is from Argentina, the DJ is from Columbia and there are regularly performing Cuban musicians constantly circulating through.
It has filled a missing niche in Istanbul by bringing authentic Latin food and music dished up by the city's Latin American expat community. "Most of the comments I hear from our clients is that when they are in Azùcar they say they feel like they are at home [in South America], and that's what expats from there are looking for here, to feel like they are in their home countries," said Flores. For the Turks and other expats, Azùcar also offers the opportunity to experience and be immersed in Latin culture. "Latin Americans are always happy, dancing, laughing and smiling, and I think that is what makes us unique as a culture," Flores added.
The menu has both a mix of Latin American and Mexican items, including the classic nachos, tacos, fajitas, quesadillas and burrito varieties. But there are also some snack food favorites from Venezuela, such as their tequeños y pastelitos, a delicious combination of fried bread cheese sticks. Another traditional dish are the Colombian croquettes Papa rellena. "I also wanted to add a Spanish touch," adds Flores, sharing that they also serve up patatas bravas and chorizo.
From time to time they do make special Venezuelan dishes such as arepa, which Flores describes as a bread made with corn and filled with meat, and pabellon criollo, which is a typical Venezuelan dish with rice, black beans, carne mechada (meat), avocado, white cheese and a fried egg. For Christmas, Azùcar will also be serving hallaca, a typical holiday dish from Venezuela and all its accompaniments as well as pan de jamon, a special type of Venezuelan Christmas bread.
In addition to tonight's Taco Tuesday, Azùcar has live music nearly every night of the week played by musicians from south of the equator. Every Wednesday is "Salsa Night" and every Friday is "Rumba Latina," which means a "Latin party," as Flores kindly explained. On Dec. 24, Azùcar will also be hosting a special Christmas Eve dinner with some of the aforementioned traditional flavors as well as a special Venezuelan menu for the night.
Although Azùcar aspires to add breakfast to its repertoire in the spring and to take full advantage of their terrace location with a view, for now the focus is on dinner, music and dancing. It opens at 5:30 p.m. every day and is closed on Sunday and Monday. While they are open until 1 a.m. on weekdays, on Fridays and Saturdays their doors remain open until 4 a.m. Taco Tuesdays takes place tonight starting at 7 p.m. and is an initiative by Yabangee, the volunteer-driven website and community for foreigners residing in Turkey.