It can be hard for any new arrival to adjust to life in a new country as an expat, and foreigners who move to Turkey are certainly no exception. Navigating through complex bureaucratic requirements coupled by language barriers can admittedly be quite challenging. Luckily for expats in Turkey however, there is YellAli, an English-language website and consultancy company started by expats to help expats wade through the necessities of relocating.
I had the opportunity to speak with Georgina Oates, the British expat whose idea it was to start YellAli. Hailing from the U.K., Georgina came up with the idea to serve as a consultant for fellow foreigners after the hurdles she had to go through moving to Turkey over 10 years ago.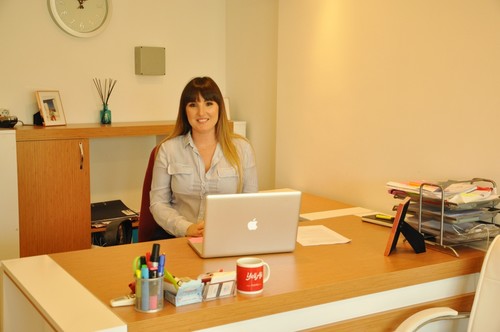 Georgina Oates
At that time she was a 24-year-old women, who moved to Turkey from the U.K. with her sister and mother, who had bought a villa in Fethiye, "With the aim of building a new life in Turkey," Georgina explains. "Turkey is a dynamic and fast-changing country in terms of information, legislation and regulations, which can change overnight," she said, explaining how she arrived in Turkey not being able to speak the language and faced challenges as a result of settling in a foreign country.
"I looked on the internet and spoke with many people and it was very difficult to find a single place I could go to as a foreigner for information and services that could be trusted," Georgina said, sharing that she saw this as an opportunity to assist others in the same predicament and she along with a New Zealand expat set up YellAli.com in 2012.
As for what brought them here to begin with, she explains, "We visited on holiday a number of times and loved Turkey so much we decided to leave our jobs and move here permanently."
A registered Turkish company, YellAli is not only an extremely informative website that provides information, advice and guidelines on a wide variety of topics such as obtaining residence and work permits, starting up a company, buying property and when that time comes preparing a will of testament, but they also will physically do the footwork for you as part of their consultancy services. The website also has an entertaining blog including exclusive interviews with members of the expat community and their Facebook page constantly updates new amendments to legislation or procedures involving anything having to do with Turkey's foreign residents. They also have offices in Fethiye, Bodrum and Istanbul where foreigners can meet with someone face to face for their inquiries with half of their approximately dozen or so employees are also expats.
I asked Georgina to describe some of the services YellAli provides, "YellAli is a consultancy company based in Turkey. We are a company set up by foreigners living in Turkey, so we know firsthand what it is like to move here and needing someone to trust. Our mantra as a company is based on truth, reliability, and professionalism," she emphasized. "We offer free advice and regular updates on our website and via our weekly newsletter. There is over 40,000 pages of content on the YellAli website and topics of interest include, immigration regulations, laws which impact foreigners living in Turkey, work permits and setting up companies as well as general life in Turkey."
Georgina told me that they have assisted over 2,000 fellow expats up until now and some of the most frequent topics people come to them with are residence and work permits and insurance. However other subjects have included legal services covering real estate, wills, property disputes and condominium regulations.
YellAli's newsletter goes out to 12,000 subscribers, explains Georgina, "We communicate weekly with our members and have built a significant community we interact with. We provide them with content and they provide us with feedback."
I asked who was involved in writing the blog and Georgina explained that there are a number of expats penning the blogs including one of their consultants Annette Hanisch who has lived in Turkey for over 20 years and is experienced in immigration issues, inheritance laws and wills, who writes about legal issues, while the light-hearted fun articles are written by expat content writers, including Nicola Wilson and Simon Lazarus. There are also interviews with well-known figures in Turkey and those linked to Turkey.
Last year, YellAli also launched "Find a Trader" in which via the website, individuals can be connected with trusted professional tradesmen signed up with YellAli. There is a detailed form in which you explain the services needed after which you are given quotes by trusted and verified tradesmen.