Next week, EMITT and GIST, two of the most entertaining, inspiring and thrilling fairs will be held in Istanbul. While EMITT is the region's biggest fair in the travel industry, Gaming Istanbul, or GIST in short, is the country's top meeting ground for all things involving computer gaming and cosplay. Both are open to professionals in the fields as well as to the layman and anyone dreaming of traveling or wanting to learn more about the gaming industry is welcome to attend.
Turkey's biggest and one of the top four tourism fairs worldwide, the East Mediterranean International Travel and Tourism exhibition, or EMITT for short, will be taking place at the TUYAP Fair and Exhibition Center from Jan. 31 to Feb. 3. What is special about this fair is that there is such a wide variety of activities and exhibitions that it is just as interesting for tourists and anyone who likes to travel as it is for those employed in the tourism industry themselves. Not only are there promoters from vacation destinations all over the world, but there are also a wide number of interesting destinations, activities and opportunities in Turkey that are showcased at this four-day event that attracts nearly 60,000 visitors annually. In addition to hundreds of stands, there will also be a comprehensive conference program with speakers ranging from travel bloggers from all over the world, to ministers and travel association presidents and industry experts sharing their insights and perspectives on the global travel market.
At the EMITT Forum, which will take place on Jan. 31 and Feb.1, opinion leaders will discuss the steps needed to ensure Turkey's tourism revival is sustained and how to extend the tourism season to 12 months. Other topics tackled will include the future of tourism and the question; "Where will travel agents be in five years' time?"
There will be an entire conference devoted to Gastronomy that will take place on Feb. 2 from 11:30 a.m. to 1:30 p.m., which will include dietitian Dilara Koçak, President of the Gastronomy Tourism Association Gürkan Boztepe, social media consultant Cem Karakuş and Ali Akgün, whose Afiyet Olsun project aims to curtail food waste.
This year's EMITT will also be holding a conference on "The Art of Story-telling with Influencers" entitled "#instatravel," which will take place on Feb. 2 in the afternoon and will host half a dozen international bloggers and influencers as guest speakers including Janicke Hansen, the President of the Professional Travel Bloggers Association. Also on board will be the couples behind the popular Turkish travel blogs "Biz Evde Yokuz" and "Gezimanya." This will be a great opportunity to network with others and share and learn tips and tricks for the travel blogging world.
There will also be an introduction of the latest trends in technology in the tourism industry and how to make an effective entry into the online world of tourism in a conference entitled EMITT Market Me as well as a seminar devoted to how to access "Generation Y," which includes Barkın Laçin Özdemir, dubbed "The Youngest Turk To Set Foot On Seven Continents." Meanwhile, China is this year's country of focus at the fair and there will also be a seminar on "How to Attract the Asian Market."
The stands set up in multiple rooms, with areas devoted to different regions of Turkey and the world are certainly the main highlight of this four-day event and this year, EMITT is launching a new and free networking app called ITE Connect, which will be available to all exhibitors and visitors to facilitate matchmaking between travel companies and travel industry professionals and tourists attending the show. This will make it easier to locate companies, the app will make recommendations and matches can correspond to presenters throughout the fair, which will allow for visitors and exhibitors to streamline their time and networking more efficiently.
Entrance to the fair is free for visitors if they register for an online invitation. Visitors will also get to participate in EMITT's famous draw, which delivers luxury gifts to the lucky ones who are picked. Getting to the fair is easy, located in Büyükçekmece, it is accessible by Metrobus and there will be buses for exhibitors and professional visitors taking off from Taksim.
Turkey's first adventure tourism fair
For those who love a little adrenaline in their travels, mark your calendars as Adventure Turkey is Turkey's first-ever adventure tourism and sports fair and it will be taking place between Feb. 14 and 17 at the Istanbul Exhibition Center in Yeşilköy.
Cosplay phenomenon at Gaming Istanbul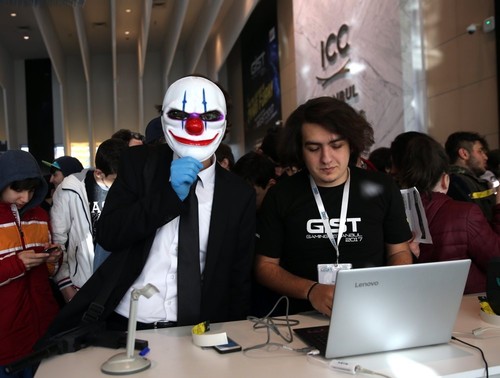 Gaming Istanbul will gather video game enthusiasts and game developers under the same roof on Jan. 31.
Gaming Istanbul is Turkey's largest international digital entertainment and game fair and will also be taking place from Jan. 31 to Feb. 3 at the Yenikapı Eurasia Performance and Arts Center. For four days there will be tournaments and competitions in online gaming, a conference on game developing, a children's and retro games area and countless stands introducing and selling anything and everything from the vast world of gaming.
All that aside, one of the most fascinating features of this event is the intense interest in cosplay, in which people create and dress up in costumes resembling their favorite animated, or otherwise, character. In addition to cosplay competitions, expect to see many of the participants enjoying the fair in character. Tickets start as low as TL 16 for daily entry and are available from Biletino.
Meanwhile on Jan. 26, the Yenikapı Eurasia Performance and Arts Center will also be hosting the Multiplayer Chapter VII: Esports and Games Festival, which will have live tournaments for the games Fortnite, PS4, Forza Horizon and Casper Excalibur as well as trial gaming areas.