Starting on March 2, the 7th Turkish Highline Carnival will be taking place in Antalya's Geyikbayırı region for what will be a week-long festival in which slackliners from all over the world will be coming to test their skills on a dozen or so highlines set up in limestone crags with views of the Mediterranean. For slackliners, rock climbers and spectators, it couldn't get any better. But wait, it does! That is because as tradition goes, many of the highliners will also be performing in costume.
This year's Turkish Highline Carnival will be the seventh edition and will take place from Saturday, March 2 to Saturday, March 9 at the crags located in Geyikbayırı, which is a village located less than 30 kilometers from Antalya's city center. Highlining is slacklining done at elevated levels, while slacklining is similar to the art of walking a tightrope. At this festival, organized by the Turkish Slackline Association, there will be 20 to 24 highlines set up between 15 to 100 meters in elevation.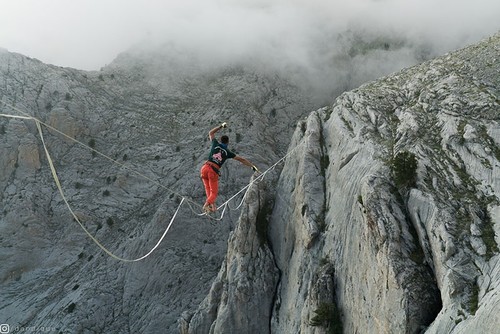 The base camp and sponsor is Josito Camp, but there are a number of camp sites that service the rock climbing crowd, as Geyikbayırı is easily considered Turkey's top rock climbing destination and is well known worldwide in the climbing scene. As many highliners also tend to be rock climbers, there will also be rock climbing taking place on the sidelines. As for the accommodation options, don't be swayed by the venues being referred to as camp grounds because they also offer bungalows, guesthouses and even chalet options. All the lines are within walking distance of all camps, so once you are in Geyikbayırı you will not need to use a car.
I had the opportunity to catch up with Nuri Kayserilioğlu, the chairman of the Turkish Slackline Association, to talk about what the Turkish Highline Carnival will be like this year. During the festival, participants will have the opportunity to try out the highlines, while there will also be a variety of slackline, trickline and highline workshops for those newer to the sport, he told me, adding that there will also be a number of yoga and juggling workshops as well as opening and closing parties, which will feature fire dancing and trick lines.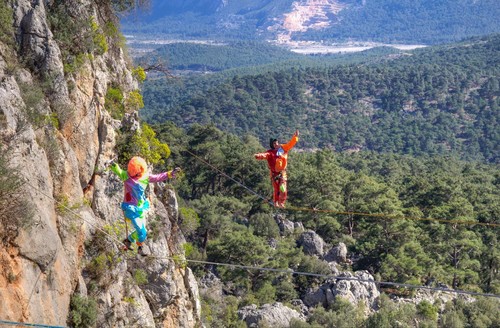 One of the standing traditions of this festival has always been to host an annual International Slackline Association (ISA) meeting, which will be taking place on Tuesday, March 5 at the Rido Camp at 8 p.m. There will be a dinner served at 7 p.m., followed by the 8 p.m. open meeting of the ISA, which will also be attended by members of the board and the safety commission.
While the majority of attendants already have some sort of background in slackling, for those newer to the sport, this is a great opportunity to be introduced to it. However, keep in mind, Kayserilioğlu points out that those who have never done slacklining before will most likely not have the opportunity to try out the highlines until they are more skilled; however by taking part in all of the workshops that will be offered and learning from the experiences of professional athletes will allow for many gains in the sport.
I asked Kayserilioğlu what sort of attendance they were expecting at this year's highline carnival, to which he said that on average this year they are expecting to host approximately 400 people from 30 different countries. As for some of the main draws for the many foreign participants, he said, "It is the friendship, fun, the region's geography and climate, and of course Turkey's wonderful food."
What was started seven years ago by a group of close knit friends and slackliners, including Kayserilioğlu and other Turks and expats, has now turned into an annual festival and is in fact one of the biggest and most well-known highlining events in the world. I asked him why Geyikbayırı is special as a location for slacklining, to which he said that despite its proximity to the city center of Antalya, it is a region in which you suddenly find yourself immersed in spectacular nature. "Therefore, while up there on the highline in the horizon there are views of the city center and the Mediterranean, while at the same time witnessing the curious stares from the local public and the tourists passing by the region is truly a wonderful feeling." I also asked Nuri where else in addition to Geyikbayırı he had the opportunity to highline this year, and he listed Ballıkayalar, Malatya Levent Valley, Boyabat and the Isparta Dedegöl mountains.
Formed last spring, the Turkish Slackline Association holds regular meet ups in Istanbul's Yoğurtçu Park in Kadıköy and Maçka's Demokrasi Park and aims to create an environment in which professional slacklining athletes can meet and impart their wisdom to those wanting to try the sport, Kayserilioğlu tells me. When I asked Nuri how many people he would say are involved with this lesser-known sport in Turkey, he said that they believe there are over 2,000 people in Turkey who are either amateurs or have tried slacklining as a hobby.
Check out the Turkish Slackline Association website www.slackline.org.tr or the Slackline Derneği, Slackline Istanbul and Slackline Turkey Facebook pages for more info on future meet ups and the upcoming colorful carnival in Antalya.