It should come of no surprise that Nişantaşı; the Champs-Élysées of Istanbul, the equivalent of L.A.'s Rodeo Drive, and what could be New York's Upper East side, is the ultimate neighborhood to satisfy your fancy fashion and foodie fix for a taste from home in Turkey.
This posh residential district on the European side of Istanbul is known for being one of the classiest neighborhoods in the city. Nişantaşı has the best of the best when it comes to fashion brands and restaurants, and its vast selection of comforting surroundings offers a perfect escape to get a taste of home away from home.
Located in Şişli and nestled in between Istanbul's high-rise district, Taksim and Beşiktaş; Nişantaşı is one of the city's most exclusive residential, shopping and entertainment neighborhoods. It is also home to the largest community of expats following Taksim and Cihangir. Its paved side-walked streets and six-story Art Nouveau apartments have kept the 'kapıcı' (doorman) tradition alive and have served as the background for Nobel-laureate Orhan Pamuk's novels, as well as the inspiration behind the hilarious Turkish sitcom 'Avrupa Yakası'.
Historically, this neighborhood has always housed the cream of the crop, whether it be restaurants, fashion brands, yoga studios, attorney's and doctor's offices and of course the impressive Amerikan Hospital. But, let's get to the fun stuff and how you can spend the day in this neighborhood that shows you the European side of Turkey at its finest.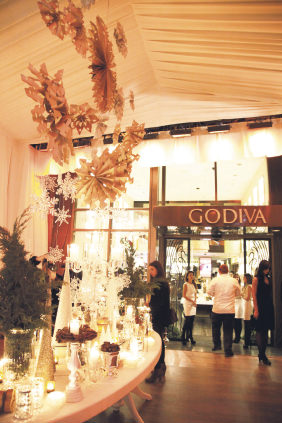 It goes without saying that the streets are lined with the world's top designer boutiques, ranging from Prada, Cartier, Louis Vuitton, Alexander Mc Queen, Michael Kors, Tiffany's, Burberry and even Godiva Chocolate. Turkey's top designers such as Urart, Yargıcı and Faik Sönmez also have shops lining the equally beautifully decorated streets. There are also a number of more reasonable fashion favorites from home, such as Topshop, Miss Selfridge, Marks and Spencers, H&M, Banana Republic and The Gap.
One of the best things to do before, during, and after a fun shopping frenzy is to dine on the wonderful delights on at hand in this delectable neighborhood. The majority of the restaurants in this neighborhood just happen to serve up international fare, so it's the perfect foodie fix for any craving from home.
For us American expats, "Kırıntı" is the top pick for Mexican fare, such as nachos and fajitas as well as burgers and classic sausage, steak and chicken dishes. It's live and colorful U.S. -paraphernalia filled surroundings offer a somewhat more reasonable opportunity to experience Nişantaşı's happening scene day or night.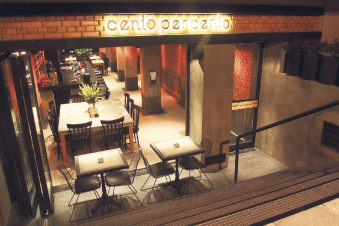 For classic French dining and the best authentic onion soup around, head to "Beymen Brasserie", a Nişantaşı landmark that although pricey is well worth the experience of feeling transported to a café in Paris, equipped with paparazzi waiting around the corner to catch the rich and famous in action. For classic Italian fare, the top selection stands at "Cento Per Cento", which although on the pricey side, offers pasta and pizza classics by acclaimed chef Maurizio Morelli. "Carluccio's", owned by Antonio Carluccio, one half of the Two Greedy Italian hosts of the BBC series, while "Pipa" has DJs playing while you dine, and "400 Derece" is the approachable option for oven-baked pizza.
The ultimate international dining experience is to be had at possibly the world's best chef, Wolfgang Puck's "Spago" restaurant, housed in the St. Regis Hotel and serving up my own personal favorite California cuisine. However, if you want to impress with Turkish fare then head to "Hünkar" one of the city's most popular venues for classy authentic Turkish and Ottoman dining, or to "Park Şamdan" for the ultimate Turkish fine dining experience.
For casual Turkish fare, "Tatbak" is where Anthony Bourdain tried Lahmacun for his "No Reservations" TV show shot in Istanbul, however "Ar-ruha" is a more trendy option that also offers a vegetarian variation. "Pare Baklava" has a wide variety of this sweet Turkish delicacy brought in from Gaziantep daily and also serves up the much-loved Antep answer to a croissant, katmer.
If however, its croissants and pastries you crave, then head to "Delicatessen", which doubles as a bakery and cafe or to "Backhaus" which has a wide selection of German pastries as well as a full menu on offer and seating overlooking a park. "Cafe Wien" in the Milli Reasürans Çarşısı serves authentic Austrian fare such as gulash, schnitzel and sausages as well as desserts, including apple strudel. "Tribeca" is Turkey's answer for bagel-lovers and has relaxed spacious seating indoors and out in an inner courtyard garden and serves up an extensive menu of breakfast items, burgers, pastas and delicious desserts as well as offering a wide selection of bagels with schmears in- house or to go.
"City's," Nişantaşı's very own shopping center has an innovative upscale top-floor courtyard named "Mahalle" devoted to high caliber gourmet vendors such as "Sosa" serving fresh Italian pizza and pasta, and "Wagamama" with delicious Asian fare. Other hard-hitters for fusion and western classics on the cobblestoned side streets of the posh Nişantaşı neighborhood also include "Hardal," "Juno" and "Kantin." Meanwhile, it must not go without mention that "Boff," a small shop in the Milli Reasürans Çarşısı caters to expats' most secret desires by importing American goodies such as specialty cereals, candies and sauces as well as beauty products.
The "House Café" phenomenon deserves its own special mention. What started up as a buzzing funky café in Teşvikiye is now a chain of hotels and restaurants located throughout the city. However, it all started here, in a quaint set of rooms with chalkboards as menus, dictating fresh fusion fare with many of the waitresses being expats themselves. Now, there are two House Café locations, both being well worth a visit and are certainly some of the neighborhood's trendiest spots to see and be seen.
Nişantaşı has also joined the gourmet coffee shop bandwagon with its own landmark location every coffee-lover should know of. "Ministry of Coffee" (MOC), opened by a Turk who grew up in Sydney, serves up specialty micro brews in an impressive setting of distillation systems. Not only do they dish up the Australian 'flat white' coffee drink, but they also sell beans to go and unique noshes, such as Vegemite toasts and croissants. A close second in ambiance is "Gravite" coffee, while "Sunday" serves and sells the delectable Julius Meinl coffee hailing from Vienna.
With all roads in essence leading to Nişantaşı, this neighborhood is the perfect place to visit at any hour of the day, however the neighborhood comes alive on Sundays as Istanbulites flock out to enjoy brunch and a day in the sun as the summer months approach. "Divine Brasserie and Jazz Club" is a fun option for brunch as they usually have different speakers and performers lined up, while the extensive buffet selection at "On Numara" in Macka Park is a favorite for those wanting to fill up, and then end up, lying out on the grass with the locals in the sun. Nişantaşı is also a stone's throw away from the concert venue KüçükÇiftlik Park, which has wide line ups ongoing through the summer. Mark a day on your calendar for this exciting and classy Istanbul district that has so much to offer for an expat seeking a taste of the high life or a flavor from home.