The Speech Bubbles School of Performing Arts is a unique Istanbul-based drama group consisting of musicians, actors and performers of all varieties, ages and nationalities that perform musical productions and teach theatrical skills in courses held year-round. Not just a family affair, this troupe welcomes all speakers and learners of the English language to take part, volunteer, teach or learn the wonderful skills of the art of theater, by a group of expat-heavy enthusiasts sharing their time for a great cause. Speech Bubbles has been staging annual performances, for over two decades, to which proceeds have always gone to education and underprivileged children in Turkey.
Established by Tom Godfrey in 1989, with a mixture of professional and amateur actors, singers and musicians from the international and Turkish community, this English-language drama school originally consisted of English and Drama teachers who wrote material especially designed for English language learners. Originally, they performed sketches in schools to learners of English and toured schools in Turkey and Hungary.In 1992, Speech Bubbles performed their first musical "Grease" and have gone on to perform a musical in June every year since then. This year's summer performance by the Speech Bubbles Theater Group will be "Sweet Charity" with showings on Friday June 12, at 7:30 pm and on Saturday, June 13, at 3:00 pm and 7:30 pm at the Profilo shopping center in Mecidiyeköy. This lighthearted comedy penned by Neil Simon includes some of the genre's most popular song and dance numbers such as "Big Spender." Performances are top-notch and take place after months of auditions with everyone in the group donating their time, services and expertise to raise money for charity as all proceeds from the show will go to a good cause.
Speech Bubbles, which currently has performers from 16 different nationalities, has grown into a large multicultural group of professional and amateur actors, singers and musicians of all ages who perform seasonal musical productions to raise money for charities that support underprivileged children and education. I had the opportunity to speak with founder Tom Godfrey, who hails from the UK and doubles as the Director of the International Training Institute (ITI) about Speech Bubbles' upcoming performance and theater school summer program.
Tom explains that there are essentially two parts to Speech Bubbles; the first being the theater group founded in 1992, which are predominantly adults who perform two shows a year to raise money for charity and the School of Performing Arts founded in October 2013, which consistently holds weekly three hour classes on Saturdays for children and adults who want to develop their performance skills. In addition, later this month Speech Bubbles will be offering a three-week summer intensive course from June 22 to July 12 for students aged 6-15 to learn to act, dance and sing.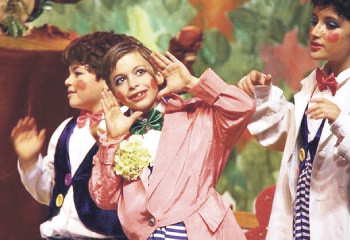 This summer school will run from Monday through Friday 9:00 a.m. to 3:00 p.m. and will provide students the opportunity to work in groups and to gain confidence and self-esteem as well as to develop performance and language skills in a disciplined and creative environment, Tom explains. Classes will be held at the Tarabya Torch Tennis Club, a facility that has spacious green gardens for games and even a large swimming pool and will be dishing up a healthy lunch for students. "All classes are run by professional teachers who are passionate about what they do," Tom emphasizes. In addition to their summer intensive, Speech Bubbles also holds three-hour classes every Saturday from 9:30 am to 12:30 pm.
I asked Tom to describe what students should expect from one of their classes and what sort of level of talent was needed, to which he said, "The Speech Bubbles ethos is to enable children to grow gradually, and at their own speed, and to fulfill their personal potential. The curriculum is broad to enable students to experience a wide range of styles and skills. Each week (on Saturday sessions), there will be one hour of dancing, singing and acting. The dance class will improve coordination and technique and give the opportunity to learn popular pop dance routines and musical theatre ensemble pieces while keeping fit. In drama, young people will explore their creativity through improvisation and role-play, improving vocabulary, social awareness and communication skills. The singing class will introduce students to different rhythms and tempos in music allowing them to challenge themselves with a wide range of songs while improving technique and vocal ability."Tom also adds, "Fun is an essential element and Speech Bubbles has learned one truth over many years: children love to achieve and flourish in a disciplined, trusting environment." Like the performances, training and auditions at the School of Performing Arts are held in English and the students are a mixture of expat and Turkish children. Although they hope to have adult classes on offer in the future, for now the pupils are mainly youngsters who prepare to put on at least two full shows a year.
Instructors are also from a mix of nationalities and disciplines. There is also a training course for teachers interested in teaching in the school called the Certificate in Teaching Performing Arts and is a unique teaching qualification. "Speech Bubbles sets the highest standards for their shows," Tom tells me, adding, "For the musicals, we hold auditions in September for the Christmas pantomime (a traditional British comedy Christmas show for all the family) and in February for the summer musical. All performers volunteer their time onstage and for auditions and all funds raised from the shows are donated to charities for underprivileged Turkish children."
So, whether you want to take part in any way, Tom says they are always interested in new members, or if you know someone who would greatly enjoy this intensive summer session or one of their Saturday classes, know that while gaining skills and socializing with Istanbul's expat theatrical scene, it will all be for a good cause.
Check out this weekend's performance of "Sweet Charity," staged at the Profilo shopping center in Mecidiyeköy, to watch our resident expats of all ages put on this classic tale of a girl who just wanted to be loved. As for the summer intensive, this is a unique opportunity for children to break new barriers, and build new skills, while taking part in any capacity for anyone of any age or skill level will be an excellent chance to make new friends all while being active and mindful of giving back!
For more info, visit: www.speechbubbles.org or email: tom@speechbubbles.org