The following is an end-of-summer events round up to make sure you enjoy life to the fullest and end the summer right.
Open-air Cinema at Sait Halim Paşa, Yeniköy – Aug. 23 to Aug. 30
This open-air cinema set up at the Sait Halim Paşa Yalı is the perfect date combination of dining on the Bosporus with an open buffet that starts at 7:30 p.m. followed by a film screening this summer's latest releases under the stars starting at 9:30 p.m. The screenings will be "Kingsman: The Secret Service on Sunday" on Aug. 23, "Entourage" on Aug. 25 and the series comes to a close with "Mad Max: Fury Road" on Sunday, Aug. 30.
Pianist Tuluyhan Uğurlu at Galata Mevlevihane, Beyoğlu – Aug. 21 to Aug. 22


Pianist Tuluyhan Uğurlu will perform a very special two-concert series on Friday and Saturday, Aug. 21 and Aug. 22, respectively. Performances will begin at 8:00 p.m. and will be held in the garden courtyard of the Galata Mevlevihane, which also has Whirling Dervish ceremonies open to visitors every Sunday at 5:00 p.m.
16 Days and 16 Nights of Sema, Yalova – ends Aug. 23


Catch the tail end of Tümata's (Turkish Music Research and Promotion Group) 16 Days and 16 Nights of Sema, held at the Mehmet Rasim Mutlu in Gökçedere, Yalova, this weekend. Or join Tümata's Konya Sufi Tour, which will take off from Yalova and will run from Aug. 24 to Aug. 27 in Konya.
Traditional Folk Music Workshops, Fethiye - Aug. 25 to Aug. 30


Turkey's first-ever music village, Fethiye Müzik Köyü, situated in Yanıklar village, will be hosting a six-day series of talks, workshops and performances focusing on traditional Turkish instruments.
Persian Music Camp, Düzce – Aug. 25 to Aug. 28


The Khonya music camp includes four days of learning Persian music fundamentals and instruments and Rumi's mystical poems. Workshops will be held in English and participants can buy or rent instruments on site, which just happens to be a rural village farmhouse in Sazköy.
100% Metal Fest, Küçükçiftlik Park – Aug. 29 to Aug. 31 On the opposite spectrum, the 100% Metal Fest is a three-day head bangers ball, held on August 29-31 at Küçükçiftlik Park with a long list of international heavies taking the stage all day and all night long.
Culture, Arts and Grape Harvest Festival, Bozcaada – Sept. 4 to Sept. 6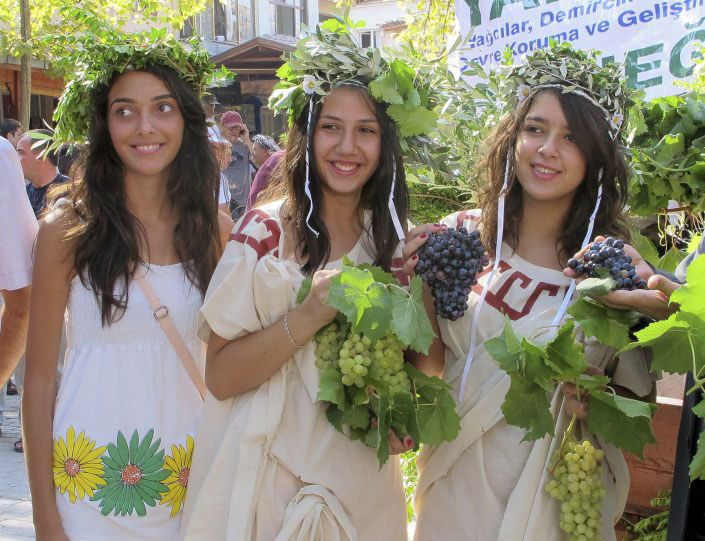 Bozcaada's annual Culture, Arts and Grape Harvest Festival (Kültür Sanat ve Bağbozumu Festivali), which is a wonderful opportunity to check out this quaint island located in the Çanakkale precinct on the northeastern part of the Aegean. Also known as Tenedos, the island is famous for its grape vineyards, and during this time of peak harvest visitors are taken by tractor to the island's vineyards to learn about grape harvesting, after which they return with the harvested grapes brought in by donkey to the main square where the grapes are enjoyed and the festival officially begins. It includes panels, entertaining performances and tournaments with evening concerts scheduled for the castle. If you should happen to stay the week, the following weekend of Sept. 12-13, Bozcaada hosts its International Local Taste Festival (Uluslararasi Yerel Lezzetler Festival) in which food tasting stands will be set up in the main square with a concert held in the castle Saturday evening.
Prep for Winter, Adatepe Taşmektep – Sept. 17 to Sept. 20


While Adatepe Taşmektep has a busy program throughout the summer of a series of three-day workshops, including Music and Physics from Sept. 3 to Sept. 6 and The Phenomenology of Photography from Sept. 10 to Sept. 13, and my own personal favorite, the Preparation for Winter course (Kışa Hazırlık). Held Sept. 17 to Sept. 20 at this former elementary school restored into a picturesque stone building workshop space in Adatepe, a tourist village along the Aegean coastline near Küçükkuyu, this particular course teaches the intricacies of prepping the pantry for winter, including learning how to make tarhana, noodles, tomato paste, pickles, cheese and bread.
Saying Goodbye to the Summer, Şirince – Sept. 23 to Sept. 27


This five-day retreat is a Dream Yoga event held at the Tiyatro Medresesi in Şirince, İzmir and will include daily yoga, raw food and family constellation sessions. The space, credited as Turkey's first performance research center has stunning brickwork arches surrounding a grassy courtyard where a busy schedule of workshops have been taking place all summer. Some of the remaining programs on the schedule are the International Monodrama Festival from Aug. 25 to Aug. 30, Basic Acting from Aug. 31 to Sept. 5 and a Ceramics Workshop from Sept. 5 to Sept. 10.
The 10th Turkish Juggling Convention, Tekirova – Oct. 5 to Oct. 11


Every year Turkey's juggling community continues to grow as does this annual festival that brings them together in one of the most peaceful nature retreats in Turkey. In Tekirova, a small summer resort town in Antalya to be exact, and just one cove over from Phaselis, the ancient Lycian spa town, lies Sundance Camp, a small tree house oasis on the Mediterranean coast that will be hosting this week-long juggling extravaganza filled with workshops, renegade shows, film screenings and fire nights.
Kayaköy Art Camp, Fethiye – Sundays to Saturdays throughout October


The Kayaköy Art Camp is hosting weeklong retreats held in this creative camp space in Kayaköy, the newest popular village stop in the Fethiye region. Each weeklong session kicks off on Sunday and includes photography, wood carving, pottery, salsa, Go kilim making, Ebru, batik and leather mask workshops.
Istanbul Running Festival, Intercity Park Sept. 12 to Sept. 13


Held on the Formula 1 course, Intercity Istanbul Park will be hosting the Istanbul Running Festival, two days of running, competitions, training workshops, talks and DJ music.
Performance Artist Ulay on display throughout Turkey from Sept. 3 to Oct. 10


The legendary performance artist Uwe Laysiepen, aka Ulay, will be showing a selection of his early works from the 1970s on screen 24 hours a day at nine different Şekerbank branches in eight different provinces.
Mural-Ist, Yeldeğirmeni – throughout September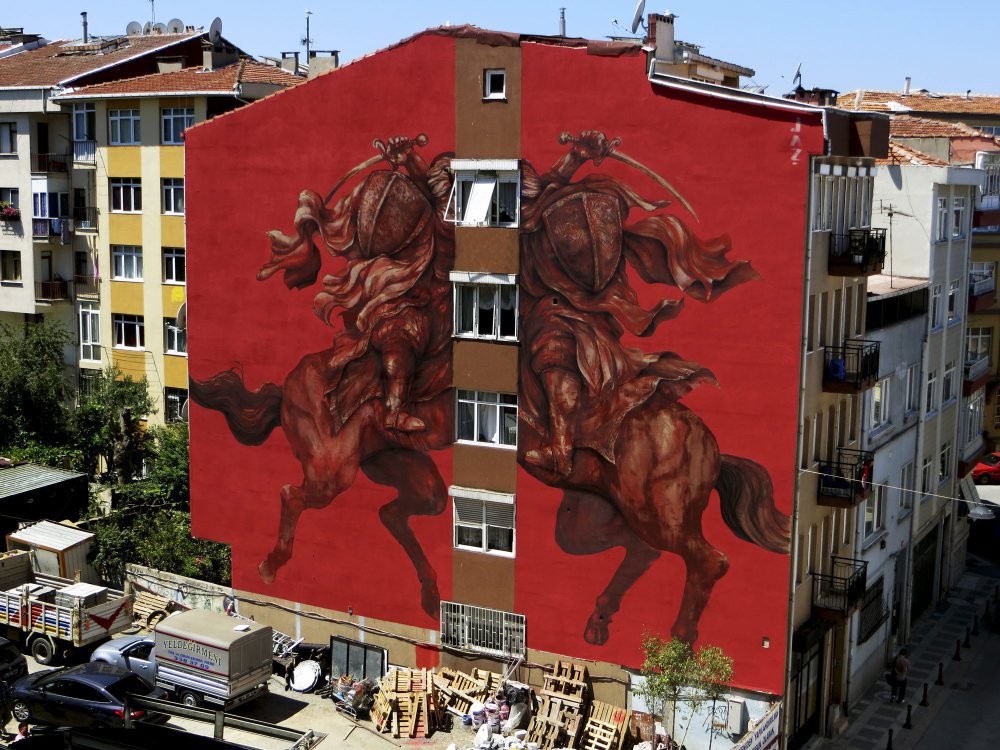 The graffiti fest known as Mural-Ist, which has contributed to painting the streets of Kadıköy's colorful Yeldeğirmeni neighborhood with mega murals resumes this summer. You can watch graffiti artists painting murals live during the month started with Istanbul native Canavar who will be in action at the Acıbadem Campus of Marmara University until Aug. 24. From Sept. 2 to Sept. 9, Barcelona-based artist Aryz will be making a mural masterpiece on Sarraf Ali Sokak, while graffiti artists Wicx, Nuka and Esk Reyn eskreyn.tumblr.com/ will be at the Kadıköy Municipality between Sept. 23 and Sept. 30.