Once named Smyrna, İzmir has nearly 4,000 years of recorded urban history and was a major trading center in the old world as well as a center of early Christianity. Coupled by its later infusion of Levantine and Jewish heritage, the city is the perfect example of multicultural and religious diversity living in harmony.

Reminiscent of Istanbul's Beyoğlu, Alsancak is attached to the Konak municipality and connected to neighboring Basmane and its active train system, which makes the ideal jumping off point to explore İzmir's cultural offerings and a plethora of sights while enjoying its cozy cafes and active nightlife. With a number of hostels and budget accommodation options, Alsancak is a backpacker's paradise, and the perfect place for explores to experience this great city and serve as a starting point for all that İzmir has to offer.

Arriving in this neighborhood, which parallels the coast and the beginning stretch of the Kordon - the pedestrian strip of coastline with jogging paths and rental bikes that is lined with cafes and restaurants - Alsancak is centered on its other famous pedestrian strip, Kıbrıs Şehitleri Caddesi. İzmir's answer to İstiklal, the main thoroughfare is lined with shops and traditional Turkish eateries, but when you delve into the side streets a whole different colorful side of İzmir comes to life. In these alleyways leading to the sea, there are cafes, restaurants and music venues that are buzzing every night of the week.

But İzmir is so much more than a young and fun town, founded in the first millennium B.C., the city has an impressive history and has been ruled by the Lydians, Greeks, Romans and Ottomans. Moreover, Homer is also said to have been born there. In addition, although predominantly Muslim now, İzmir was not always so; in fact, it was predominantly non-Muslim up until the first quarter of the 20th century. Housing Turkey's second-largest Jewish population following Istanbul, this demographic reality was also due to İzmir becoming home to the Ottoman Empire's largest population of Levantines and thus having a rich historical community of Italian, Greek, French and British expats residing in the city. As a result, there are now cultural centers and diverse places of worship, representing this melding of cultures and belief systems, which contributes greatly to the charm of the city. The Old Gas Factory, for example, built by French residents more than 150 years ago, has been preserved, its brick buildings restored and now serves as an impressive cultural and exhibition center.

In fact, a number of İzmir's most significant sights are a result of its historical expat population. Another example is Asansör, a historical elevator that bypasses 155 steps up a hill in Konak, which was built in 1907 by wealthy Jewish businessman Nesim Levi who resided in İzmir. This elevator, which offers captivating views of the city, also has a restaurant on its top-level well worth visiting. İzmir's other greatest site is the İzmir Clock Tower. Located in Konak and built in 1901 by a French architect, the clock itself was a gift from German Emperor Wilhelm II.

İzmir's history of diversity is also evident in the vast array of places of worship and even has a street nicknamed "Synagogue Street" for once housing nine synagogues alone, three of which still operate. However, the city's biggest synagogue is Bet Israel located next to Asansör. İzmir's biggest church is the St. John Anglican Church, built in 1907 and located on the main thoroughfare in Alsancak; however, St. Polycarp Church is the most impressive yet difficult to access when not traveling with an organized group. İzmir's biggest and oldest mosque dating back to 1592 is Hisar Camii. Located in the Kemeraltı bazaar, which is situated between the agora and the seashore, the mosque is İzmir's version of Istanbul's Grand Bazaar.

İzmir also has a number of impressive museums such as the Archaeology and Ethnography museums, located side-by-side in Bahri Baba Park, and The Museum of History and Art in Kültürpark, all of which provide great insight into the cultural history, artistry and customs of this region. The park itself is a refreshing expanse of green to stroll or jog in the center of the city, and also includes attractions such as a 50 meter parachute jumping tower and a Ferris wheel in addition to a cafe and exhibition halls to host the International İzmir Festival. Also worth mentioning is the Mask Museum in Alsancak, which houses ceremonial and decorative masks from all over the world.

Cuisine and nightlife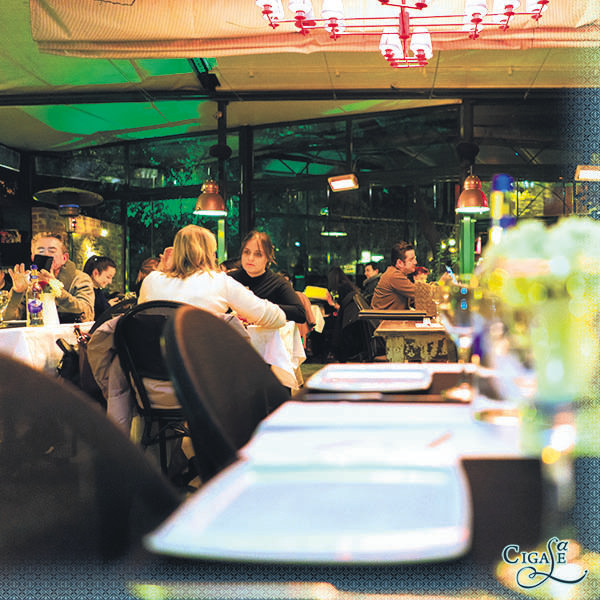 Izmir's diverse cultural history is also evident in its wonderful selection of innovative restaurants and cafes, most of which offer European fare, perfect for the weary traveler craving a taste from home. The new Varuna Gezgin and its Cafe Del Mundo are fun and popular cafes that serve dishes from all over the world. Run by an organization of Turkish travelers, they learn to prepare dishes such as pad Thai in the country the cuisine originates from. La Puerta is another popular travelers' cafe that is bustling into the night. Another restaurant, 100%, is located in the Konak Pier and offers an Italian and French-heavy menu with a view overlooking the sea. Cafe La Cigale, located in the French Cultural Center, has an excellent atmosphere with a plant-filled courtyard and an excellent meze-salad bar on weekdays. At night, it turns into a fine dining and bumping music affair. Jackson's is Alsancak's longest standing nightclub housed in the former British Consulate, while Sir Winston Tea House offers teas, coffees, salads and pastas with in a courtyard sitting in the center of the city. Melo has perfected their trademark cheesecakes and cookies, and the inexpensive and cheerful Alavara only has one type of spiced up marinara on their menu. The classy neighborhood locale Pizza Venedik has classical Italian fare, and Pepe Rosso, on the Kordon, serves a mouth-watering buffet brunch on Sundays.

Where to stay
One of the main reasons Izmir is the ideal stop for travelers is its wide-variety of budget accommodations and more recently the sprouting of a number of hostels. All offering private as well as shared rooms, these hostels make a great starting off point to visit the city and share the experience with other international backpackers who call these hostels "home." In-House Hostel, located in the heart of Alsancak in a new building on 1460 street, has a terrace and communal room; however, beware: They do not offer breakfast. Just up the street is the family-run Rooster Hostel. A few streets over is Shantihome, a true "home away from home." This quaint and colorful hostel, which also offers longer-term stays but with no en suite options, dishes up a communal breakfast where everyone digs into a variety of salads all together in their living room space. In the same neighborhood, La Puerta offers accommodation above their popular bar.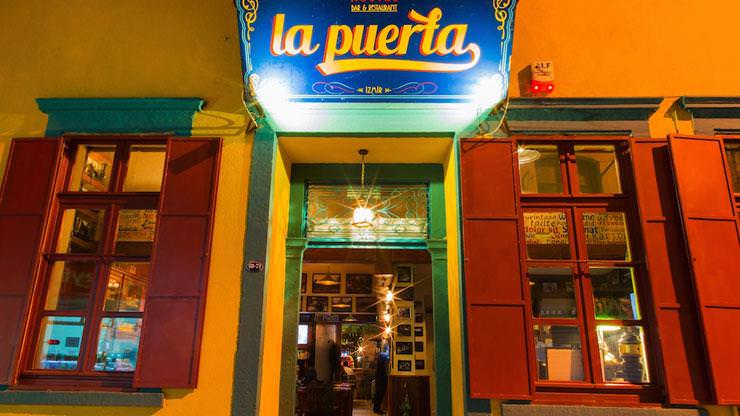 La Casa Del Mundo, run by Varuna Gezgin, a network of Turkish world travelers that also run two cafes in Izmir alone, is their excellent hostel venture located on Bornova Street. Moving on to neighboring Konak is Lotus Garden Hostel, set in a restored antique building, with a leafy garden, a communal kitchen, buffet breakfast and bikes to rent.

Get outta town

Izmir is one of those provinces where you could ski in the snow and swim in the sea all in the same day. Not only that, but it also boasts some of Turkey's most exquisite archaeological sites such as Ephesus and Bergama. It is also home to the popular resort towns of Çeflme and the windsurfing haven Alaçatı as well as the ski resort town of Boztepe. Meanwhile, there are other popular summer resort towns such as Foça and Kuşadası as well as Slow Food villages such as Seferihisar and Urla. In other words, the day-trip and road trip potential in Izmir using Alsancak as your base is pretty much endless!