Kitesurfing has quickly become the world and Turkey's most popular new extreme sport. With the ideal wind and sea conditions to allow excellent flight under safe conditions and in stunning settings, Turkey is becoming an important destination for this sport, one that is exciting but also accessible to learning for the newcomer.
The following is a list of Turkey's top destinations and where to best learn this trending and adrenaline-filled new sport:
Alaçatı
It could easily be said that Alaçatı is Turkey's if not Europe's windsurfing capital. Discovered in the 1970s for being a surfers' paradise by German campers, every year thousands come out to test the pristine and idyllic waters from all over the world. With a constant northerly breeze at between 16 to 17 knots and a long sandy beach that is both shallow and calm, Alaçatı offers the perfect conditions to learn how to windsurf and kitesurf. In addition, the quaint town of windy roads among stone houses has been transformed into Turkey's most chic boutique hotels and restaurants thus becoming the most in demand spot where the rich and famous come out to see and be seen.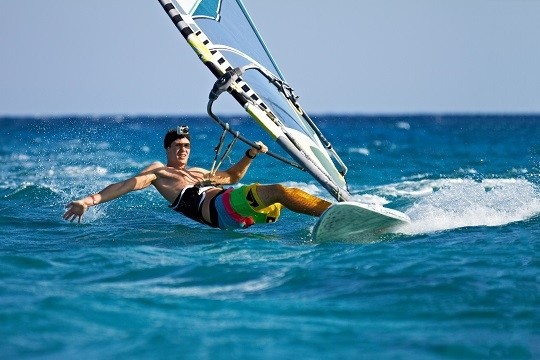 From Aug. 15 to 21, Alaçatı will also be hosting the Professional Windsurfers Association's annual Windsurfing World Cup in which windsurfers from all over the world will be coming out to compete. In recent years however, Alaçatı has also fast become a Kitesurfing center with a half dozen or so schools offering lessons on the main beach, aptly named Alaçatı Surf Paradise. The most popular school to take lessons in wind water sports is called Alaçatı Surf Paradise Club and is a Turkish-German establishment. Training, both private and in groups, is taught in conjunction with Kite-Turkey and based on the International Kiteboarding Organization (IKO) training program. Lessons are offered daily in English, German, Russian and Turkish and when completed, students receive an internationally recognized IKO card. Other schools in Alaçatı also offering Kitesuring training are Myga Surf City and Active Alaçatı Windsurf Center.
Moving on from Alaçatı to nearby neighboring Çeşme is Pırlanta Beach, which in English means diamond beach and is a good area popular with the foreign pros for Kitesurfing and windsurfing. Adrenaline Sports rents equipment and offers training.
Urla
Kite-Turkey, which has the aficionados and leading trainers in Turkey, also operates in schools in nearby Urla and Gökova. Located just 30 kilometers from Alaçatı in Gülbahçe, the Urla Surf House is a more mellow and secluded area to hone your skills in this exciting sport. With winds up to 20 to 25 knots and a shallow sea with a sandy and in parts muddy bottom, this is also a safe and conducive area to kite surf and is fast gaining popularity amongst international kite surfers.
Gökova
This summer resort town neighboring the seaside town of Akyaka, where Bodrum meets Marmaris is fast becoming one of the most popular summer getaway spots for those who want to beat the crowds and have a more mellow and authentic experience. With a three kilometer-long beach that is also shallow and calm, once again Turkey's coast offers the ideal conditions to learn this extreme sport. In addition, with a few inlets from nearby creeks the saline level is less than that of other beaches. Now, a gathering spot for surfers all over the world, Akyaka has one of the highest concentrations of water sports schools in a close vicinity. There are many options to choose from including the Kite-Turkey team.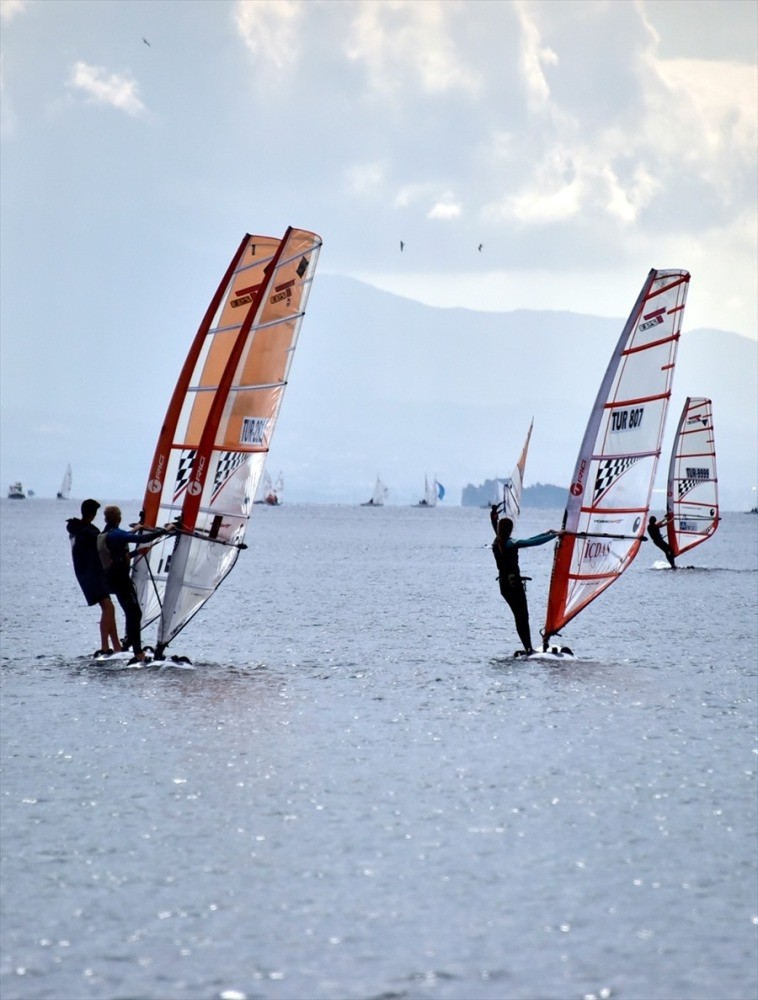 Kiteboard Turkey is famed for being the biggest Kitesurfing school in the country with leading pros from all over the world making this their destination of choice to practice. Turkey's first kite surf school, which opened in 2001, they have also held a number of international competitions as well as Turkey's Kite Surf Championships. With a secluded beach a 20-minute walk away from the town center, their beach is exclusively devoted to Kitesurfing.
Kite Academy is another popular venue to learn from the pros, with nearly 20 trainers on staff. There is also Kiteboard Gökova, which has 12 trainers on hand and can help organize accommodation at some of the neighboring hostels and is located on Akçapınar Beach, also referred to as Kitesurf Beach. Meanwhile, KiteBase Gökova is another option to choose from and is also located on Akçapınar Beach.
Bodrum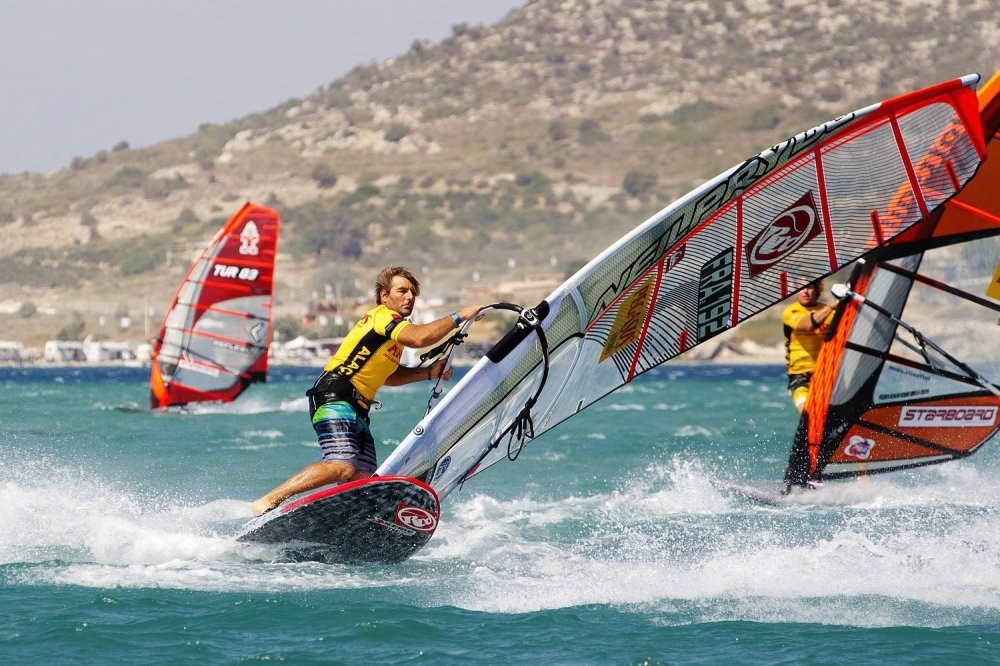 Always a popular summer destination, Bodrum also has a number of kite surf schools to learn the sport at. Although not as exclusively devoted to wind water sports as Gökova and Alaçatı on the whole, Bodrum is a place many have on their bucket list to visit in summer and adding a Kitesurfing lesson would be a great way to spice up your stay. The top five Kite Surf schools in Bodrum are Kiteboard Bodrum in Bitez, Fener Windsurf Club located in the city center, VIP Windsurf Center in Ortakent, Rush Windsurf in Bitez and Bodrum Windsurf in Kadıkalesi.
Gökçeada
The largest island in Turkey and located in Çanakkale's Aegean Sea, Gökçeada is also a relaxed kite surfing paradise for those in the know. There are two schools located on two beaches, the Gökçeada Sörf Eğitim Oteli (Surf School Hotel) on Aydıncık and the Volkite Kitesurf School on Kefaloz Beach, known for being a wavier sea.
Ayvalık
Ayvalık is becoming a new popular destination for kite surfers with slightly higher winds and a fun summer resort town to enjoy your stay in. Kite Zone Ayvalık and Surf Kite Center are two schools that offer lessons.
Fethiye
Located on Çalış Beach, you may remember the Fethiye Surf Center or its role in "Skyfall" the latest James Bond film shot in Turkey. A popular training center that organizes special Kite surfing camps and tours, there are great teachers and good learning conditions making it a wonderful opportunity to experience this significant city on the Aegean.