Picture yourself in a castle-like stone complex on a hill overlooking the sea under a marshmallow sky. That is the Bodrum Design Village, a spectacular venue to hone in on the arts and enjoy the summer at its finest, in the popular and picturesque district of Yalıkavak. With impressive accommodation set among inspirational workshops, the Karya Academy's new venue, which opened last summer, is an excellent place to learn and experience art with a Turkish twist. From kilim weaving to glass making, wood work to leather, a variety of mediums will be explored by leaders in their craft this summer and fall at Bodrum's Design Village.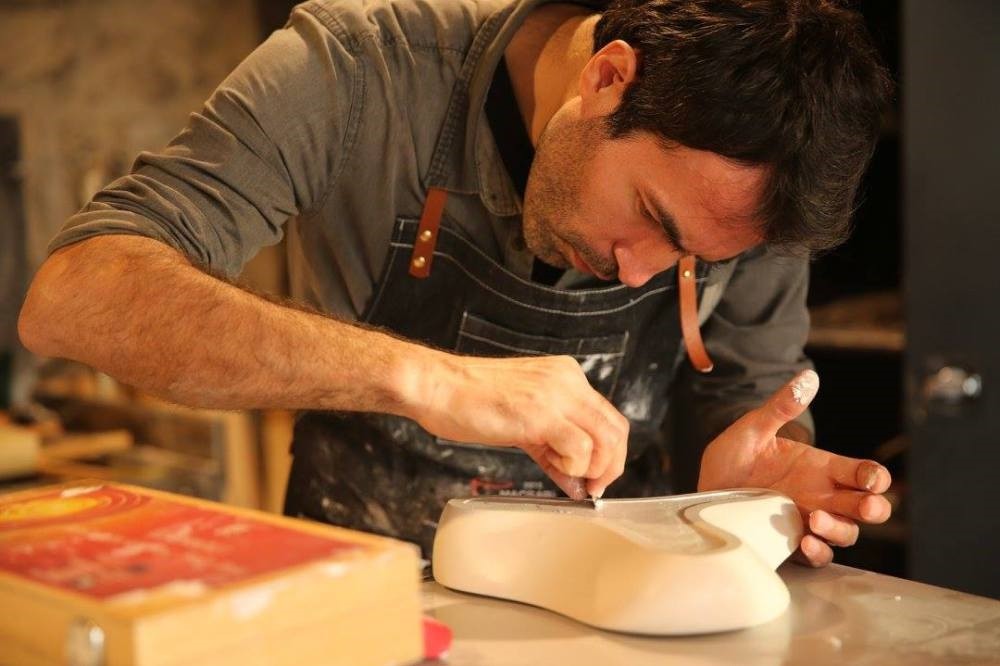 The workshops are open to international participants who want to hone themselves a new craft.
Karya Academy, also known as the Tasarım Vakfı, or Design Foundation, is an organization that focuses on a spectrum of design-based creative disciplines and offers workshops for professionals and amateurs on a wide variety of processes. The Bodrum Design Village, which came to life last year is an extension of the Design Foundation Istanbul, founded four years ago by Faruk Malhan, an architect and designer, and creator of Koleksiyon Mobilya, an internationally renowned furniture company with over 20 branches all over the world, including three in the U.S. alone.
Karya Design Academy's mission is to not only establish design workshops for Turkey's up and coming artists, but also to operate an online design store where works from the design workshops will be sold all for the aim of transporting the artists and designers in Turkey into the international platform.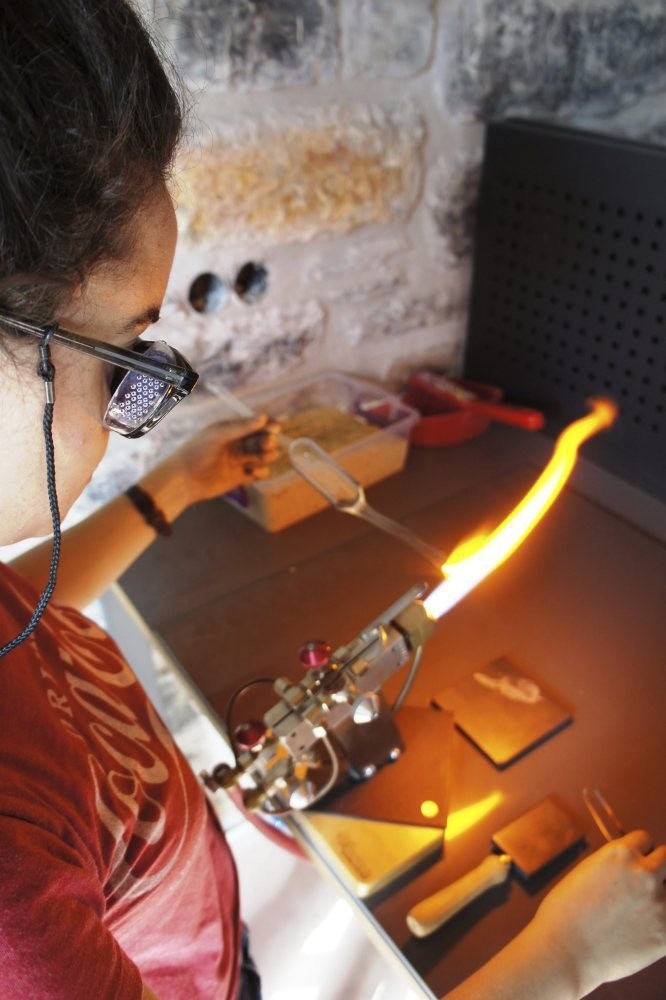 The name Karya Design Academy refers to the historical and geographical region where the fields of philosophy, arts, culture and design flourished and many of the courses offered including traditional Turkish techniques or challenge them. Built on seven acres of land, with classrooms and a designer guesthouse, the venue is reminiscent of a show room itself. Meanwhile, the fully equipped ceramic, glass, felt, rug, weaving, jewelry and multi-purpose workshops are all dedicated to "design thinking and design production." Participants are usually students of design or artists themselves however the for the most part these workshops are open to international participants who want to hone themselves a new craft. In workshops with broad-based participation, design students are offered the opportunity to participate with up to an 80 percent scholarship. Otherwise there is the option to solely attend the workshops or for a slight increase in the fee to stay on at the site in comfortable and creative accommodation.
Set among the hills above Yalıkavak and paralleling the deserted Greek town of Sandima, the Bodrum Design Center is the perfect getaway for anyone with an artistic inclination and a great opportunity to meet other like-minded souls. They will be offering a series of creative workshops throughout the summer with leading artisans in their craft, sharing their skills with others in a spectacular setting. As this goes to print, fashion designer Arzu Kaprol is offering a five-day intensive course on fashion design with a focus on originality, respect for humans, nature and sustainability.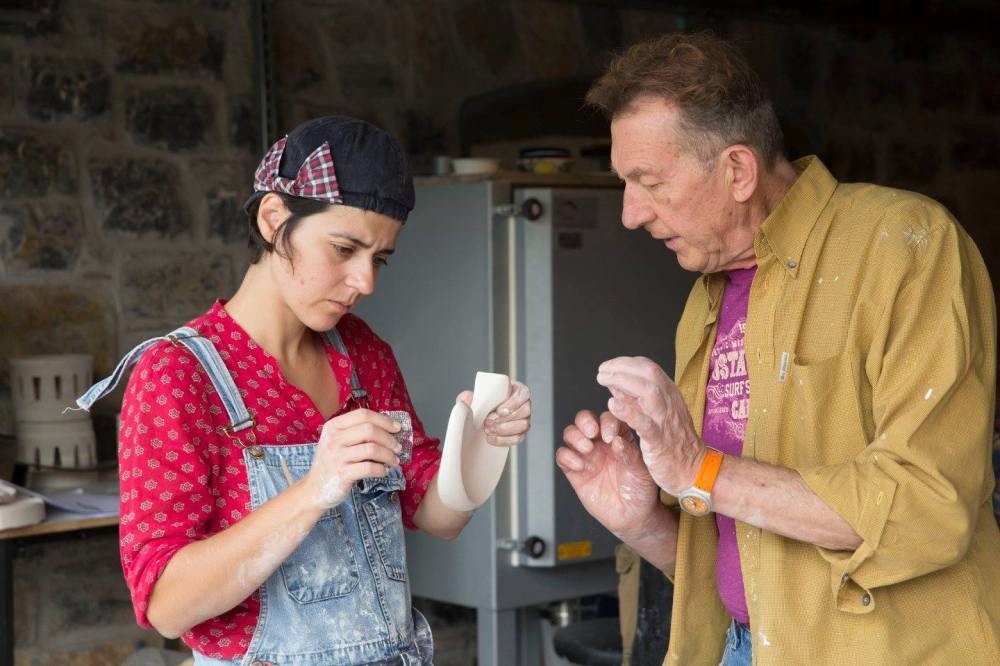 The next workshop coming up will be a Papier Mache tutorial by the founders of "Kikkula Mostly Paper" Uta and Tuna Çiner, held from Aug. 1 to 6. Not only will participants learn all of the techniques involved in creating papier mache artwork but they will also learn how to best market the pieces they produce. Open to design students and anyone interested in learning the craft, this is a unique opportunity to learn the ins and outs of papier mache.
The following week, Europe's leading design textiles manufacturers Kvadrat's weaving expert Asa Parson will be leading a textile design workshop from Aug. 15-20. Participants will learn traditional Turkish techniques such as "kilim" rug weaving and knots as well as how to implement them into the color schemes inspired by Scandinavian textiles.
From Aug. 22 to 27 the focus will be entirely on kilim carpet weaving techniques. Taught by Belkıs Balpınar, author of numerous books on Anatolian carpet weaving and the pioneer of the "artkilim," a style of hers in which one example is currently on display at the World Bank in Washington D.C.
Leather in design will be the focus of a workshop held from Aug. 29 to Sept. 3. A material used since the dawn of man, this workshop will provide participants with the opportunity to learn hands-on how to make daily accessories such as wallets, bags and sandals, Taught by master leather worker Koray Ariş, who also happens to be the mask maker for Turkey's famous dance troupe Anatolian Fire, he will also be sharing his experiences having had studios in Rome and Italy and an exhibition of his work at Istanbul Modern.
An industrial design workshop focusing on metal will take place from Sept. 5 to 10, taught by none other than architect and designer and founder of both Koleksiyon Furniture and the Design Foundation Faruk Malhan himself. This will be a unique opportunity to learn first-hand from one of Turkey's most famous and successful designers. The focus will be on metalwork in home and kitchen appliances. This course is more geared towards professional designers and students of design.
The following week, from Sept. 19-25, ceramics artist Vilma Villaverde, hailing from Buenos Aires, will be teaching about industrial ceramic elements in design and ceramics products for reuse. Finnish glass designer Anu Penttinen, known for her products designed for Littala, will be offering a glass fusion workshop from Sept. 26 to Oct. 1. Geared towards more professional designers and students, this workshop will focus on ceramics in kitchenware and more specifically plate design.
A textile design workshop that will delve into recreating some of the original textiles that hail from historical regions throughout Turkey will be held between Oct. 3-8 and taught by Marmara University Fine Arts Professor Günay Atalayer. Meanwhile, internationally renowned German glass fusion artist Gabriele Küstner will be sharing her fusion techniques for design students and anyone interested in learning more about glasswork from Nov. 5-13. The final workshop schedule for this summer and fall season will be a Sagar Ceramics Workshop held between Nov. 21-27. The course will focus on utilizing the Sagar firing technique and will be led by ceramics artist Mehmet Tüzüm Kızılcan and open to students of all levels. Check out tasarimvakfi.org to find out more about upcoming workshops.