As the sun's scorching heat begins to die down, and the winter chill is still weeks away, the sport of fishing becomes one of the most popular pastimes and one of the best ways to enjoy Turkey's bounteous nature. From sea and saltwater fishing to freshwater fishing, Turkey has a lot to offer for this enjoyable pastime. Seeking to learn more about this sport from my home in Assos as I watch more and more amateur fisherman come out with rods or go out on boats seeking that elusive catch, it just so happened that I was introduced to one of the country's leading amateur fishermen, an aficionado on all things fishing-related and in fact a published scholar on the matter who happens to live in a village on the Aegean neighboring Assos. This jolly red-faced, white-bearded man, who even has a parrot, is the legendary Vedat Albayoğlu and he welcomed me to his wood cabin with a strong brew of tea and a view of the Aegean where he sets out to sea daily.
Constantly interrupted by telephone calls from his fans seeking to go out fishing with him, he tells them he only has room for four and already has fishing trips planned each weekend for the next few months. "People come out from Izmir, from Bodrum, from all over to go fishing with me here," because as he explains the area around Assos, Babakale, the islands of Gökçeada and Bozcaada and the Dardanelles Strait, have some of the best sea fishing in the country.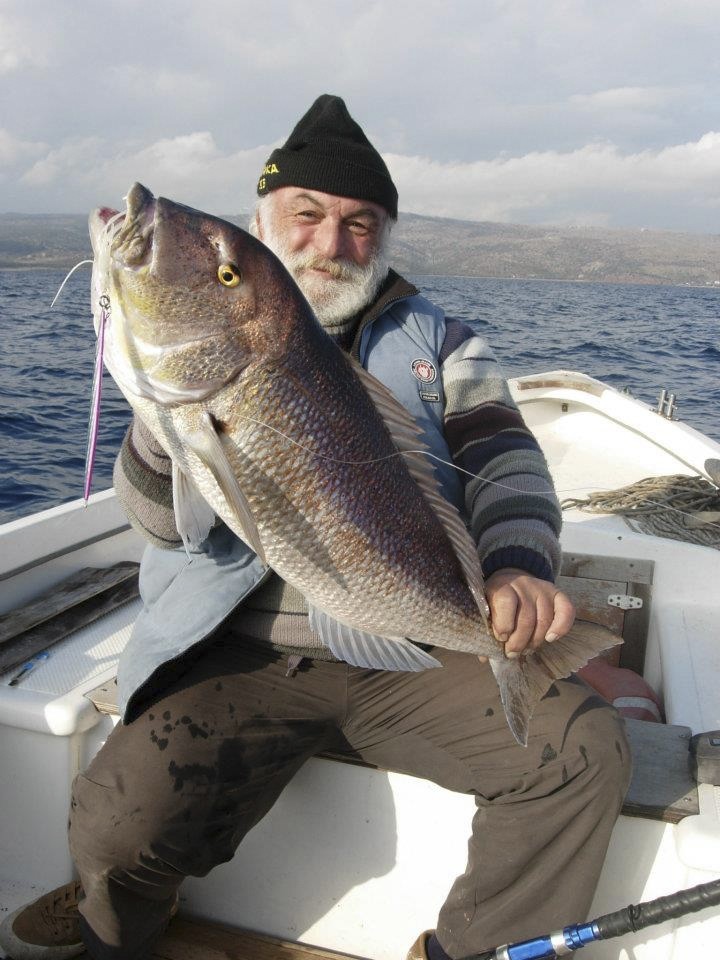 "There is also the Gulf of Saros in the Northern Aegean" he tells me, explaining that this is also one of the best areas in the country for saltwater fishing. "The straits, such as the Dardanelles and the Bosporus Strait are excellent fishing areas, while the Black Sea is a different story with breeds indigenous to the area and fishing in the freshwater of the Eastern Anatolian Kaçkar mountainous regions can be reminiscent of Alaska or Scandinavia, he tells me.
"Angling is a passion," he tells me, adding, "it is something you can't teach another, either you feel a flutter in your heart when you see a fish swim by or you don't," he said as his eyes twinkled and gleamed. He began pulling out his just as colorful and shiny boxes of tackle and artificial bait, "It's all about the bait," he says, sharing his collection of over 2,000 pieces that he has kept for nearly 40 years, each a work of art in their own right as distinct replicas of smaller fish, sea creatures and insects. Vedat took out box after box that we looked over in awe; each one geared towards catching its own specific fish and many to be used for catch and release.
Vedat began fishing when he was just ten years old living in Bahçelievler in Ankara alongside many foreign and American diplomats. In fact, it was an American that gifted him his first fishing rod at the age of 11 sending him spiraling into this sport that would become his way of life. "I fish every day, when I went to school I would skip class to fish, when I worked I would play sick to fish," he tells me. Now he freely goes out daily on his fishing boat with friends or without. Known as the "fishing professor," he has read maybe 500 or 1,000 books on fishing, and has also written a book on the sport himself. He is also the most widely followed fisherman in Turkey with a number of Facebook pages devoted to the different areas and types of bodies of water he fishes in.
The most popular style of recreational fishing in Turkey is angling, in other words rod fishing, which Vedat says "is a passion." Out of his wide collection of fishing poles, he explains that the larger rods are used for sea fishing and lighter rods for Sweetwater, both of which can be used on shore or on from boats. Hand gathering fish on a line fish he explains, but he lights up when talking about the growing community of young fisherman bringing fly fishing to the country and says that even ice fishing in Erzurum Anatolia is becoming a more popular pastime.
All in all, Turkey is a spectacular place to fish; after all it is surrounded by four seas and thus has a wide variety of beautiful and delicious fish. To name a few, this month is çupra season, in other words bream, and for the next month and a half, the Aegean will be where to find them. The government establishes regulations every four years on white types, how many and how large the fish caught by amateur fisherman should be. Turkey is especially fruitful; when it comes to finding big fish as well as having a number of endemic types not seen anywhere else. The dentex, in Turkish sinarit, can grow up to 14 kilos and the snapper, bream, mackerel and sea bass found in the Marmara and Aegean are wonderful, he says.
The Çanakkale strait is especially bountiful with big fish because of the vast number of sunken ships that still remain. A haven for small fish seeking shelter and big fish seeking their nourishment, rocks and sunken ships are important landmarks for fishing, Vedat tells me, adding that this is not the case for spear fishing, which is strictly forbidden to do at night including in many historical areas.
Alaçatı, Kuşadası, Ildır: these are some of the best places to fish in the Aegean with İzmir's tranche fish being famous for its taste and a great honor to those who are able to make a catch. Going east, Bodrum, Datça and Marmaris are also wonderful places to find huge fish such as snapper and swordfish is prevalent in Seferihisar and Fethiye.
As for freshwater fishing, Vedat explains that where there is cold water, lots of oxygen and the water is clear, there will be trout and even balleye and perch, which referred to in Turkish as "American Levrek", is reminiscent of a Sweetwater bass. While in other warmer lakes that aren't as iridescent, which include carp and pike in the bigger streams and creeks, Turkey has a very important fish that reaches epic sizes and that is the catfish. A species that only grows up to 30 kilos in America, can reach 100 kilos in size here. Just the other day someone caught a 120-kilo catfish, which became all the frenzy.
Turkey also has a number of endemic fish found in Southeastern Anatolia in huge dams built near the Fırat River. There are fish such as şabut, caner and bezir that can grow from 5 to 100 kilos large. Vedat's favorite area to fish is in the primitive wilderness of Eastern Anatolia, which has its own version of salmon fish referred to as the East Black Sea Alabalik, and rainbow trout.
The most delicious fish, however, comes from the Black Sea, such as lüfer (blue fish), palamut, levrek, istavrit and hamsi, and if they pass through the Bosporus Strait and head towards Çanakkale, these are the most delicious, Vedat tells me, sharing that sea fish are more delicious when caught in salty and cold waters. As for his favorite fish, "Lüfer" he says!