Yeşilyurt has long been considered one of Turkey's most beautiful and reclusive boutique villages with many of its historical stone buildings renovated and transformed into stylish accommodation. It is situated in the forests of Mount Ida, a spot where legends say the first beauty pageant for the goddesses Aphrodite, Hera and Athena was held. Zeus is believed to have been born here and it is believed it was from these peaks that the Gods witnessed the Trojan War unfold. This is the nature and oxygen-laden backdrop to the village of Yeşilyurt, located above Küçükkuyu in Çanakkale's Ayvacık district. With a local population of less than 200,000 and less than half that number in homes, Yeşilyurt is a lesser known paradise for those seeking an alternative type of holiday, one which focuses more on village life and traditions, culture and customs and breathtaking mountains as well as uphill climbs historical windy roads. In other words, it's a blast from the past and a different tempo and style of living that offers a unique peek into an authentic Aegean Village.Once serving as an open studio of sorts for the filming of the television series Karadağlar, a Turkish television drama loosely based on the Brothers Karamazov by Fyodor Dostoyevsky, Yeşilyurt quickly became famous for its original and ever so picturesque stone houses and cobblestone streets set among stunning views of the sea and mountains dressed in green, hence its name in Turkish means "The land of Green" or "Greenland" as it were. Not for the budget traveler, although there are a wide variety of accommodation options, Yeşilyurt has become a popular stomping ground for those traveling between Çanakkale and Ayvalık, and in the summer season, rooms and restaurants can easily be fully booked.
Where to stay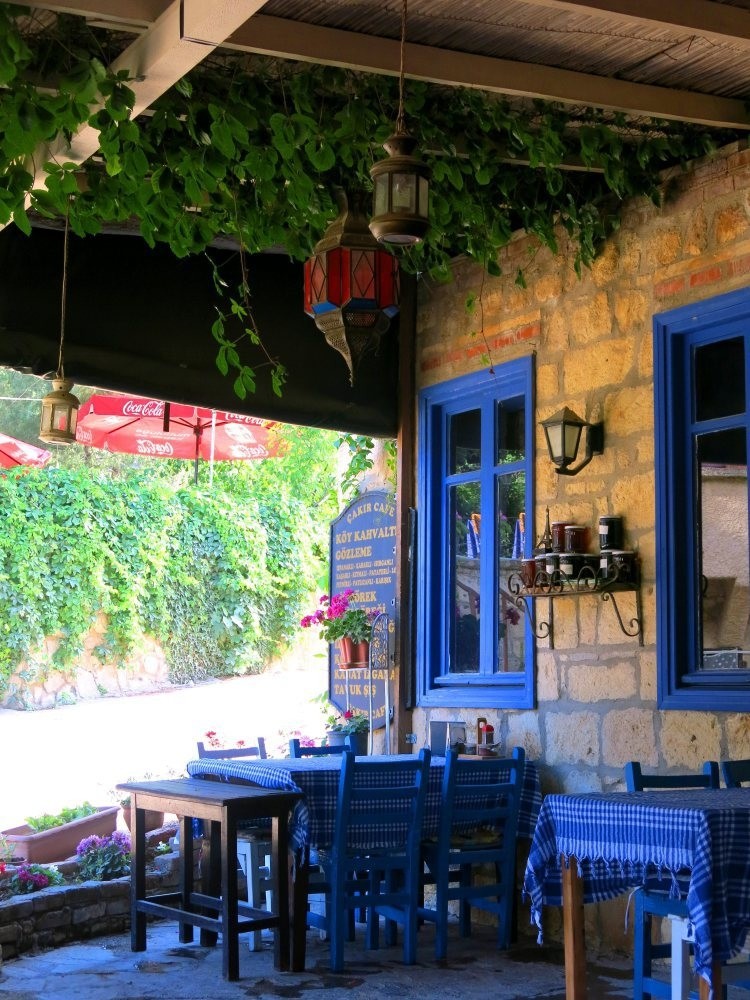 The area is popular because this village is a rare example of tradition, history and nature blended with chic and colorful hotels and their restaurants. Upon entering the village, the statuesque Çetmihan greets you with its attractive yellow stone work. This 16-room hotel, each spacious and comfortably decorated with elegantly upholstered furniture and marble bathrooms, is even more impressive as a restaurant. Hands-down the most colorful venue I've seen this side of the Dardanelles, Çetmihan's various dining halls and terraces are decked out with colorful and creative retro, gothic and bohemian style furniture and fittings, definitely a departure from the typical Turkish village inn. The outdoor seating area also has a fire pit and stunning views of the Bay of Edremit, making it a great place to escape and watch the world turn.
One of the longest-standing hotels in Yeşilyurt is Manici Kasrı, Manici Pavilion in English, a stately collection of interconnected buildings constructed from the ancient stones of an olive oil factory. Each of its 16 rooms is individually decorated with glamorously repurposed vintage furniture and equipped with a fireplace, while the scenic terrace decked out with pine, olive almond and fig trees is the most high-demand location in the village to dine and enjoy the view. Indoors there is a cozy bar area with brick walls and elegant yet colorful furnishings. Equipped with koi ponds and wooden bridges, Manici Pavilion is like it's own little boutique complex situated in the foothills of Mount Ida, and even has an outdoor pool area and thatched cabana as well as a private beach on the Aegean Sea, located just four kilometers away.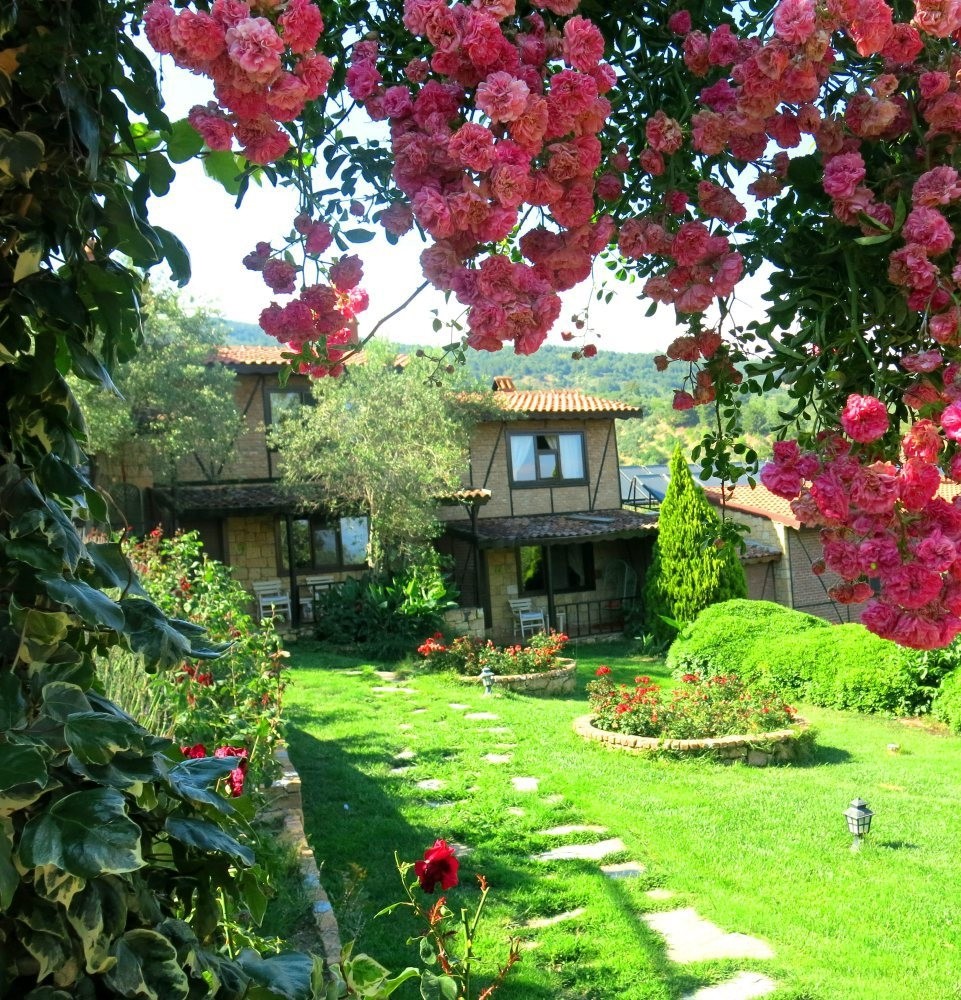 Ida Taş Konak is the newest addition to luxury accommodation in Yeşilyurt and is in a league of its own. Doubling as a spa as well as a business hotel, this venue has it all. A luxuriously decorated lounge area surrounding a huge fireplace, dining on exquisite food on its grassy terrace, a pristine pool, a fully-equipped sauna and gym as well as professional conference rooms are just some of the added benefits Ida Taş Konak has to offer. Consisting of two impressive buildings, each with their own elevator, an unprecedented thing for the village, this hotel is located in a pine forest on the edge of the village, adding to making it the most reclusive, luxurious and comfortable accommodation option in town. But the spa, equipped with an authentic Turkish hamam, sauna, steam room and even a meditation area, is definitely one of the biggest draws of this luxury hotel. Many of its 26 rooms have a fireplace, each has balcony and views of the Aegean as well as a bathtub and well all of the accoutrements one would expect from a top-notch hotel.
What to do
The Kazdağları Karye Technology Museum also referred to as the "Köyden Kente" (From Village to City) Technology Museum is a rare treat as a sight to visit in this interesting little village. Set in an authentic stone building, this museum has a unique collection of technological gadgets from the 18th and 19th century, which depicts the development of technology through the ages. Think bicycle collections, typewriters, gramophones telephones and even the first model of washing machine as being just some of the highlights of this museum, which also doubles as a hotel, each room resembling a mini museum on its own. There is also a unique collection of first edition publications as well as newspaper headlines of important historical events. A fun activity for everyone, this is a must-see if you visit Yeşilyurt.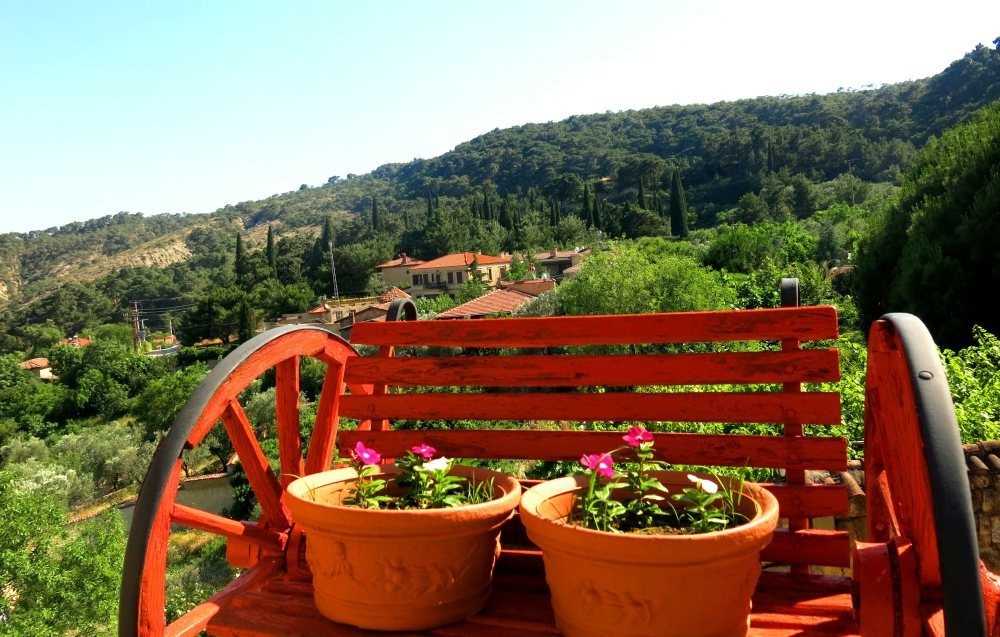 There is also the Adatepe Olive Oil Museum, located just a few kilometers away in Küçükkuyu, that is a fun stop for all. In its impressive stone building there is housed a wide variety of historical presses and machinery used to extract olive oil that is an informative introduction to the craft the region is famed for. The gift shop not only has everything imaginable in relation to olive oil but also has expertly carved olive wood products such as cutlery, trays and bowls. Bir Tohum Dükkan is another shop onsite that sells organic products and a wide variety of ecologically-living related products as well as freshly-baked bread and serves up tea and coffee in the museum courtyard.
What to buy
It should come of no surprise that olives and olive oil products are a big seller in Yeşilyurt, after all this is one of the highest olive producing regions in the country, but there are also a number of unique local treasures that are also great to take home as gifts or souvenirs such as capers, sun dried tomatoes, thyme, mint, stinging nettle tomato paste and a wide variety of jams.
Where to eat
You can enjoy many of these items in the leisurely breakfasts that Yeşilyurt is famed for. While each hotel mentioned offers over-the-top breakfasts, there are also a number of quaint dining options that specialize in breakfast with Şahmeran Konukevi and Çakır Kahvaltı Evi, which sit at the entrance to the village square, being the most frequented venues. Think basic wooden chairs and tables with views of the village and its on goings and samplings of some of the finest products ranging from locally-produced cheeses, butter and clotted cream to olives, the tomatoes the region is famed for, its wild greens, which are prepared in special pastries such as gözleme and if you're lucky even pişi, a fried dough that serves as bread and is absolutely divine. Meanwhile, as all the signs will point out, Turkish coffee cooked over sand will be one of the classic local specialties you absolutely must try when visiting this ever-so-special village.