Mercedes-Benz Fashion Week Istanbul (MBFWI) has kicked off at Zorlu Performing Arts Center (PSM) today. To be held for the eighth time for the Spring / Summer 2017 season, Mercedes-Benz Fashion Week Istanbul is still Turkey's biggest international fashion event. Organized every year in spring and fall in accordance with the international fashion calendar, the event aims to have Turkey's fashion design power take the world by storm.
Among the prominent names of Turkish fashion whose collections will be displayed in Istanbul, Arzu Kaprol, Atıl Kutoğlu, Bahar Korçan, Dilek Hanif, Lug Von Siga (Gül Ağış), Özgür Masur, Özlem Kaya and Özlem Süer will be included. As in the previous year, Bora Aksu will feature his Spring/Summer 2017 collection, accompanied by DICE KAYEK, expected to make a fashion speech with the Istanbul Moda Academy (IMA). The event will display Bahar Korçan's "Toz" (Dust) collection under the title, "Mercedes-Benz celebrates Bahar Korçan."
The Core Istanbul, the fashion week's commercial branch that unites the Spring/Summer 2017 collections of brands and designers with national and international buyers, recently opened gates at Zorlu PSM from Sept. 12-13.
Stressing the importance of The Core Istanbul, Istanbul Apparel Exporters' Association (IHKIB) Vice Chairman Volkan Atik said, "Serving as a meeting point for our designers to meet global buyers, Core Istanbul proved its worth. With this event held under the scope of MPFWI, we expect an additional increase of $500 million in apparel exports within the next five years. The Core Istanbul serves as a locomotive that gradually increases its power each season for us, as apparel exporters, to reach our 2023 goals." Fashion Designers' Association (MTD) President and fashion designer Mehtap Elaidi said the establishment of MTD is an important turning point for Turkey to crown its already powerful textile industry with a designing process. "I think, in terms of the unity within the Turkish fashion sector, it's very valuable for MTD to move in unity by going beyond their individual efforts and serves as a driving force for the creation of a fashion culture in Turkey, to celebrate its 10th anniversary at Turkey's most important international fashion event, MBFWI."
Mercedes-Benz Fashion Week Istanbul is supported by the Istanbul Apparel Exporters' Association (IHKIB), Fashion Designers Association of Turkey (MTD), United Brands Association of Turkey (BMD) and Istanbul Moda Academy (IMA). The fashion week will end on Oct. 15. Here are some higlights from the participating designers:
Mehtap Elaidi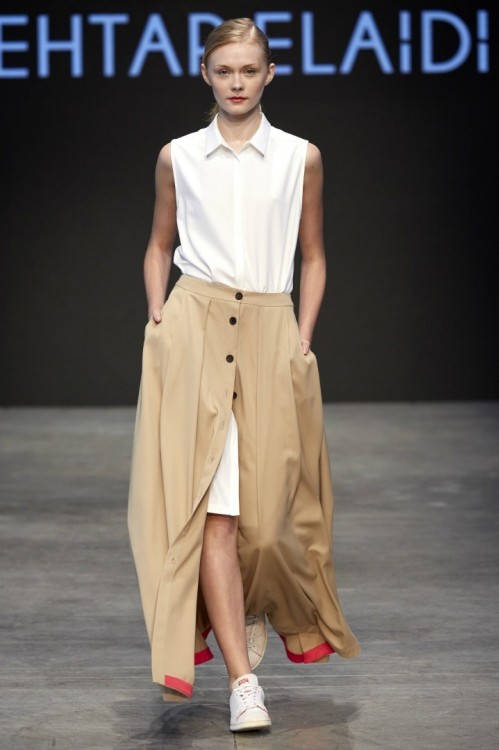 Having opened her first shop in 2000, fashion designer Mehtap Elaidi created a long list of loyal clients in a very short time. Her trendy designs along with experimental cuts became the brand's trademark. In 2003, she opened her second shop in Istanbul's high-end Nişantaşı neighborhood and started showing her collections at international fairs. Her collections are sold in Istanbul, including her Gizia Gate, Beymen, Brandroom and Midnight Express collection and at various sales points around the world. Elaidi's latest collection will be on state at Mercedes Benz Fashion Week on Oct. 13 at 08:00 p.m.
Özgür Masur
Another successful name Özgür Masur has done various collaborations with prestigious brands like Magnum, L'Oreal Paris, Batik and Zen Diamond, just to name a few. Since 2009, Masur has had a strong presence at Istanbul Fashion Week (IFW) with collections he creates with a solid understanding of luxury fashion. After having garnered much attention in Europe and the Middle East, in 2014 Masur was invited to perform the closing show of Los Angeles Fashion Week, one of America's biggest fashion events. Masur's universe is positioned between tradition and modernity. Sophisticated lines with highly feminine glam, soul and elegant silhouettes represent his unique take on classical fitting techniques that exude originality. His runway show will be tomorrow, at 9:30 p.m.
Atıl Kutoğlu
Born in Istanbul in 1968, Atıl Kutoğlu was already freelancing for the country's leading fashion companies Vakko and Beymen by the time he was in high school. He designed a special silk scarf collection for the Archduchess of Austria, Francesca von Habsburg, whose ARCH Foundation organized the exhibition "The St. Petersburg Muraqqa" which featured oriental miniatures and examples of calligraphy from past centuries. Since 1999, Kutoğlu has been presenting his collections at New York Fashion Week. His favorite materials to work with are silk, cotton, wool and cashmere blends as well as leather. His collection will be presented at IWF on Oct. 13 after Elaidi's studio presentation.
Bahar Korçan
Korçan's collection is full of colors with hidden meanings, such as greens which symbolize hope and deep blacks that portray the pessimism of the world. Geometric accessories and frock coats are used for decoration, transforming garments into fun, retro pieces. Korçan had an interest in fashion when she was a middle school student and after finishing high school, she went to Paris to study fashion. Korçan continues to create her collections at her own boutique in Galata, Istanbul.