A fashion designer, painter, decorator and entrepreneur, Emre Ertürk is undoubtedly a diverse artist. For him, every form of art is somehow related to the other, and he loves doing it all. Daily Sabah sat with Ertürk in his lovely office to discuss his line, projects and his new website for online sales. We wanted to know what inspires him in general.
Most people know Ertürk as a world-renowned fashion designer specializing in handbags, sunglasses, shirts, skirts and "mostly anything that adds style to people's daily lives," as he says himself. However, there is much more to him than that. "I am also a recognized painter and a professional decorator for home and hotel owners. After opening several art shows in Istanbul, Ankara, London and New York, my yearning to reach out to more people give me the drive to create my own fashion company," Ertürk said.
Fashion world welcomes Ertürk
Ertürk stepped into the fashion world as a handbag designer. In fact, he is the creator of the first airline-approved line of luxury leather pet carriers in the U.S. After moving to New York to pursue a career as a painter, Ertürk started his own fashion company which specializes in pet carriers, becoming the first, most talked about piece in the luxury market. "[The carriers] became popular in a very short time and other brands were greatly inspired by my design. Back then, many celebrities found out about my pet carriers and owned at least one of the Emre New York pet carriers."
At the age of 24, in Turkey, Ertürk was approached by the famous Turkish fashion house Vakko to feature his paintings on their t-shirts and his famous horseshoe and evil eye symbols on Emre Ertürk handbags and belts. Through such collaborations, Ertürk gained experience in fashion operations and manufacturing.
Ertürk's pet carriers became a huge hit when they were introduced and celebrities rushed to purchase one of these iconic bags.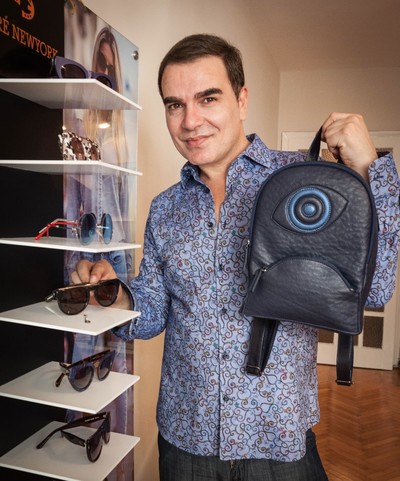 "My first celebrity client was Milla Jovovich, who purchased several Emre New York pet carriers from the stores located in Miami Beach and Toronto, Canada," Ertürk recalled. In fact, Ertürk is kind of living the "American Dream," but to him, the dream faded out in time. When asked how it feels to be a Turk who is capitalizing on his success in a city like New York, Ertürk says he was lucky to be caught in the fashion wind of the late 1990s. "Many trendsetters and editors-in-chiefs were saying that creative brands that emerged before 2000 would get the chance to stay in the market. I never understood them back then; however, now I see their point of view clearly."
New ideas, new collections In addition to his bag designs, Ertürk also designs t-shirts and organic sunglasses. Organic sunglasses is a curious term but it turns out that it has always been on Ertürk's mind." My passion was to design sunglasses and I decided to work with the organic materials of well-known Italian Mazzucchelli. Even the paints used on the materials are organic and all the colors have a natural matte finish. The fiber and cotton seeds used in the acetate make the whole design skin-friendly. It doesn't irritate skin like other sunglasses on the market. Their styles are also timeless with a touch of fashion."
Sunglasses are not the only thing that Ertürk likes to get his hands on. He designs button-up shirts as well. Ertürk collaborates with Kali Textile, a company which specializes in manufacturing men's and women's shirts for various American and French brands. "I designed shirts for both men and women for my first collection, using 100 percent Italian and Turkish cotton fabrics. They have timeless cuts with small and trendy, detailed attachments. They can be worn at work, meetings, at chic events and parties. They basically fit all occasions," Ertürk said as he described his latest passion. Moreover, Ertürk is also using his signature symbol the "evil eye" in the details of his shirts, as well.
"Turkish evil eye symbols which are believed to protect one against the gaze of ill-intentioned people and for those who like to wear them, this detail adds some spice to fashion for art lovers. People worldwide are becoming more and more interested in the evil eye symbol. I would be even happier to add more segments to the Emre New York lines including the evil eye symbol."
What makes Ertürk's shirts even greater is that although they are a luxury line, they will be sold at affordable prices so that many more people can experience the top-quality fabrics, designs and excellent craftsmanship at affordable prices.
Whatever Ertürk does, he does it with style. He describes his brand Emre New York as "timeless, sleek and attractive."
Competition in fashion
What makes Emre Ertürk different from other figures in the industry is that he tells a unique story with amazing energy. Ertürk uses his art and the symbols he features in his paintings as a way to tell a story in his fashion lines. "The touch of romantic details that I use in my designs has a strong meaning. Everything that I design has the energy that I reflect in my work. I sometimes concentrate diligently and design handbags with that energy. I receive positive feedback regarding the bags, as customers say my bags are full of energy that gives their households abundance," Ertürk says.
From Ertürk's enthusiasm, one can understand that he is lucky enough to be doing his dream job. "I truly love designing," Ertürk said, noting: "On the other hand, I also love to be in front of the camera since I feel comfortable talking and sharing my experiences in front of an audience, adding a touch of my sense of humor that makes the sharing part more enjoyable. I would love to be one of the jury members on a TV show that focuses on fashion. I believe I will be a source of inspiration and motivation for new talent with my Hollywood stories and experiences, my relationship with celebrities and the time I have spent attending international award ceremonies."
Online store Before launching his TV host project, Ertürk seems to be stepping up his sales game. Soon, he will be launching his new online store at www.emrenewyork.com. The store will feature Emre New York handbags, sunglasses, hair accessories, button-up shirts and more. Also, the Turkish designer will have a chance to provide fashion advice to his customers via the "Design Corner" of his online store.
"It is easier to manage cash flow when compared to retail sales via the online store. One of the reasons that I am pushing into the online sales market is so that I can build more brand awareness," Ertürk said about his new venture.
However, Ertürk is not pulling out of stores entirely. "I had some previous agreements with the stores which are already selling my collections and now the Emre Ertürk Collection will be available both online and in actual stores, for a while.
However, he plans to put all his efforts into his online store in the future, as online shopping is, nowadays, the first step to becoming a global brand.
"Social media has made online shopping grow more than ever. When people see various products on social media, they tend to buy them if they have easy access to the products. The shopping habits of people have recently changed, especially in cosmopolitan cities. You can live in Paris but you can shop online and receive shipments from other countries, like India. As long as the return policies of prestigious brands are convincing and reliable with secure web systems, I encourage everyone to shop online."
Finally, Ertürk has a message for all young people out there who are considering to start their own business: "They should definitely go ahead with their ideas. I strongly believe that the best thing for young people in this life is to produce something new and good."
Instagram: @senemselimi
Mail: senemselimi@gmail.com