Russian street style might not conjure up images of high glamor, but the look is making its mark on the global fashion industry, from the catwalk to the high street.
In-demand Muscovite designers such as Gosha Rubchinskiy and Andrey Artyomov have brought "post-Soviet" style to Paris, London and New York fashion weeks.
Western chains like Urban Outfitters and Topman have picked up on this contemporary take on 1990s Russian wear, selling T-shirts with Cyrillic slogans.
The post-Soviet look also includes graphic T-shirts, football scarves, cropped jeans and sportswear brands, worn together with higher-end items.


Largely appropriated from the Russian working class, it also draws on the suburban "gopnik" subculture that appeared 25 years ago at the collapse of the USSR.
For years after the Soviet Union's breakup, Russians were "students" of global fashion and their tastes imitated those of the West, said cultural commentator and entrepreneur Ilya Oskolkov-Tsentsiper.
"But step by step, as the customer became more sophisticated, well traveled, with more access to information, pictures, clothes and so on, we started to see the emergence of Russian street style," he told AFP.
With his sartorial "glorification of the suburban hooligan," Rubchinskiy has explored the previously ignored style possibilities of the "underprivileged," added Oskolkov-Tsentsiper, founder of the Strelka design institute who splits his time between Moscow and New York.
He believes Western shoppers' enthusiasm for the post-Soviet trend could be tied to perceptions of Russia's increasing global reach, from Syria and the annexation of Crimea to accusations Moscow interfered in last year's U.S. presidential election.
'Ai dont laik yu'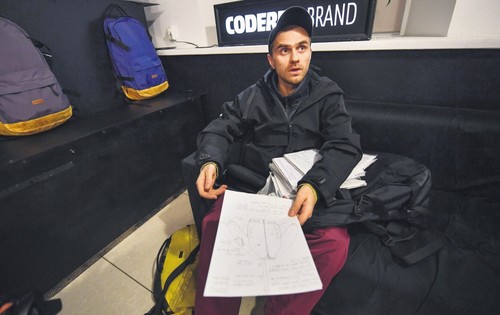 Sergei Pakhotin, the 32-year-old founder of clothes brand Sputnik 1985, agrees the political climate could be a factor in Russia's fashion resurgence in the West.
"Before you had to study Chinese, now everyone wants to learn Russian," he said, half-jokingly, in Sputnik's store in a fashionable downtown Moscow shopping street.
Despite it being set back in a courtyard, making it invisible from Pokrovka Street, full of shops and bars, the clothes store attracts a number of foreign visitors who have heard about the brand online.
Sputnik's garments feature Soviet imagery with an occasional punk twist.
A T-shirt with an image of Swan Lake ballerinas and the numbers 1991 - in a reference to the ballet played continuously on television during the attempted coup that year - sells for 1,500 rubles ($25, 22 euros), while a badge with the phrase "Ai dont laik yu" spelled out in Cyrillic letters costs 300 rubles.
Radiation symbols also feature in the designs of Pakhotin, who grew up in western Belarus, an area heavily affected by the 1986 Chernobyl nuclear disaster.
'Russian irony'
Whether foreign or Russian, few Sputnik customers will have had firsthand experience of the Soviet Union as most are in their mid-20s or younger.
"There are people, who, even if they didn't necessarily grow up in Russia or the Soviet Union, they understand the Russian type of irony, the Russian type of cynicism, the Russian type of humor," said Oskolkov-Tsentsiper.
He points to the internationally sought-after stylist Lotta Volkova from Russia's Far Eastern Vladivostok as another example of someone who has expanded the look's global reach.
At the central Moscow bar and clothes shop Denis Simachev, an $85 T-shirt adorned with the face of oligarch Roman Abramovich and the Russian-language slogan "My happiness depends on your success" hangs on the sales rack.
Standing outside, Why Not events company co-founder Zhenya Popova says Muscovites are now more stylish than urbanites in Europe.
"Everyone's moved on from wearing just one brand," says the 32-year-old, who is dressed in a green trouser suit from the homegrown Studio Nebo and a jacket from Italian label, No. 21.
"Everyone's stopped thinking: If I wear Chanel now, that's really cool. They've started to dress in a more contemporary way, to mix things up, to combine something mass market with something more designer."
Tie-ups with Western labels
But Alexander Selivanov, the designer at the Russian street style store Codered, insists Western style still has a far greater influence on Russia than vice versa.
Russian designers come to prominence abroad by allying themselves with foreign brands, he said, as was the case with Rubchinskiy's 2016 collaboration with Japan's Comme des Garcons.
"Because of [Rubchinskiy], the West is taking a lot of interest in what is going on here.
"And while they're watching, you have to do something very quickly, make some contacts, get in on the story," he said.