Classy, chic, smooth and absolutely glamorous! These are the words that come to mind as far as velvet is concerned. Among all other fabrics, velvet has a special place since it has such a unique texture that immediately triggers certain feelings in our brain. It reminds us of royalty and richness thanks to its heavy usage by high society figures for centuries while managing to be simple, matte and also soft at the same time. For many of us, it is a real struggle to keep yourself away from touching a velvet product in order to be able to experience that unique texture once more. So, there is no doubt that velvet is one of the most attractive fabrics of all time as its place in fashion history proves it although velvet has been overshadowed from time to time. Now, history is repeating itself and velvet once more is getting the attention it deserves.
Even though it is quite appealing to wrap yourself up in velvet, the famous fabric has one big flaw: It makes all your flaws more apparent while making you look thicker than you are at the same time. Since it has an iridescent feature, the way it reflects the light twists your body's appearance. That is to say, when you plan to wear velvet, you may dream of looking as smooth as possible and perfect just like its texture, but instead, you may find that every bit of fat or imperfection on your body becomes visible. Yet, this does not mean that velvet is an unwearable fabric. On the contrary, every one of us regardless of our body size, body type or imperfections should benefit from the beauties of it, with the help of a couple tricks to keep in mind.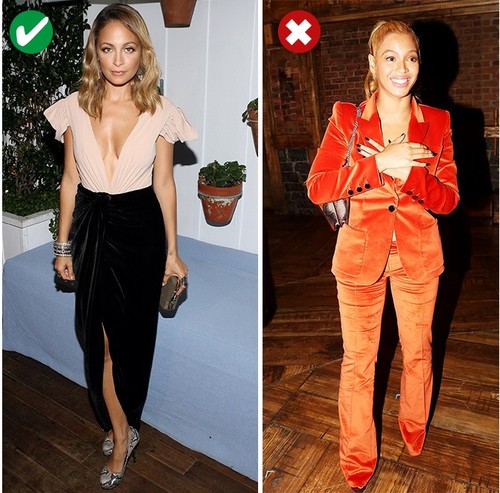 Nichole Richie (L), Beyonce
Using belts as fashion accessories is almost always helpful to boost your style. However, when it comes to velvet,belts are not only an accessory piece but also a necessity. Especially if you are wearing a velvet dress, tunic or overalls, it is important to emphasize your body. Since a belt can emphasize your body shape by, for instance, defining your waist, it balances the flaws of wearing velvet quite easily. All you need to do is to pick a waist belt that suits your outfit the best, preferably a thick one that can cover the entire waist area. You can even use a corset to define your features even more!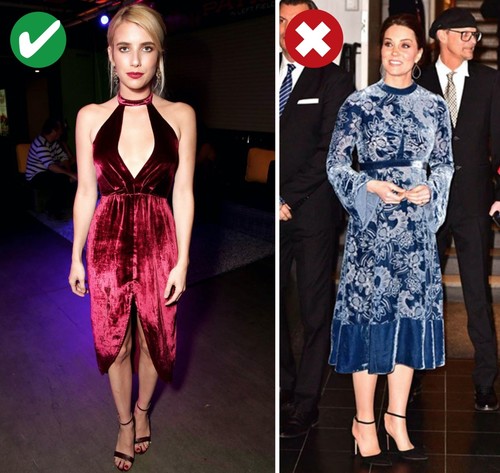 Emma Roberts (L), Catherine, Duchess of Cambridge
However, if you do not like to use belts or one piece outfits in general, try to accommodate velvet fabric only partially to your outfit rather than wearing velvet from head to toe. That is to say, let's say your blouse is velvet. Pairing it with a velvet bottom would both constrict your look while making you appear a couple sizes bigger than you are. The same rule goes for the vice versa as well. Try to combine velvet pieces with items that have a bit more simple fabric and texture. For instance, a cotton or knitwear turtleneck may pair perfectly with your velvet skirt or pants instead of another velvet piece.
When it comes to wearing one velvet piece by itself, try to pick one that is one color since patterned velvets can double up the flaw-revealing feature of the fabric. Besides, patterned items can make you look bigger in general, regardless of the type of fabric. Thus, avoiding patterned pieces may save you from unpleasant appearances.
Yet, all things aside, when it comes to fashion, the ultimate rule to follow is to wear whatever your heart wishes!