This particular time of the year, the weather can surprise us with sudden changes in temperature and as March comes close to an end, warmer weather is officially here, but not without the odd cold twists.
Spring, regardless of the excitement and joy it brings to our lives with its colorful weather, can be quite challenging when it comes to picking the right clothes for the season. You have to wear sunglasses since the sun can be bright, but you also have to make some room for your umbrella in your bag if you do not want to get caught in a surprise shower. Then there is your wardrobe, the winter clothes are too thick and the summer pieces, too thin. Thus, you need to find a middle ground. And as if the weather itself was not troubling enough for a stylish girl, trying to pick the right outfit, few stores have sales during seasonal transitions, which means you can't really shop for fashion pieces without splurging. So, how can we move our winter closets to spring without hurting our budgets?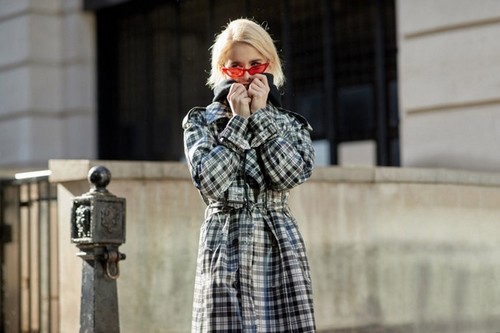 Layering light clothes with trench coats is an easy trick to beat unpredictable spring weather.
The aim is to be stylish while getting neither too cold nor too hot at the same time, which can be quite tricky to achieve. If you wear a sweater, you would get hot but wearing a shirt alone might just make you sick with a cold. But, there are some ways to striking the right balance.
First, keep your scarfs and shawls around even if you have gotten rid of your thick wraps and coats. A shawl keeps your neck warm while making you look more stylish. It can be used in different ways too. You can use it on your shoulders when you wear a trench coat or all around your neck. You can even wrap it around your head like a turban to keep your ears warm.
Using your jackets as trench coats is another trick for a spring woman, who knows how to keep her budgets safe. The thick jackets and cardigans, usually worn under a coat in winter, would make great outwears themselves in spring. Use thick belts with your cardigans to give them a more of an outwear look and for the same reason, do not button up your jackets. Do not forget, both would look pretty fancy with a shawl wrapped around them.
Another trick is to wear thin summer skirts and dresses with sweaters on top. We all probably have those floral, refreshing sundresses that we cannot wait to wear at the slightest hint of summer. Thank God, we don't have to wait any longer. Thin sweaters or small cardigans on top of these dresses, paired with a thin waist belt will create an impression of an overall look and create a perfect spring combination that works well both in winter and summer. It turns your summer dress into a spring skirt and makes you the stylish woman who knows how to keep up with any season. Given thick tights and high boots are too hot for spring, booties with thin, almost invisible pantyhose would be a good combination with your dress. You can actually use booties all spring long, with your jeans, skirts, jumpers and any other fashion pieces that your heart desires.
Finally, there is an old but probably the best trick to deal with the spring weather: Layering. Although layering seems to be the new fad in the fashion world right now, it is in fact, a classic trick that makes your wardrobe more suitable for seasonal changes. Pick up thin clothing pieces and layer them bravely on top of each other. For instance, wear a t-shirt first. Then, chose a shirt on top of that and pair it with a small cardigan, roll its sleeves to achieve a more modern look. And finally, put a trench coat on top of all of that. Wrap your shawl around your neck and boom! You are the most stylish spring girl on the street. The layering would not only make you look fashionable but would also provide you the space to play around with your clothes during the day. To illustrate, if the weather gets hot you can easily get rid of some of your pieces and spend the rest of the day with just a t-shirt on or vice versa.
The key to beating the spring weather, which tends to be full of surprises, is to imitate it. Be as much flexible as possible with your clothing and be prepared for anything. Be free, be relaxed, be the one who copies the weather the best, be the trendiest girl on the street, and if possible, be the spirit of spring itself.