Now that we have left London, Paris, Milan and New York behind, it is time for Istanbul to show its stylish side to the world for the 2018-2019 fall-winter season. Today, Mercedes-Benz Fashion Week Istanbul (MBFWI) kicks off its 11th season as the biggest fashion event of not only Turkey but the whole region. This year, the event will not only highlight Turkish designers in the international arena but also welcome the fashion industry to Turkey by hosting people from all over the world.
Organized twice each year in accordance with the international fashion calendar, the event provides a broad platform for brands and designers through collection shows and sales designed for Turkish and international markets. It also helps pave the way for Turkey's designers and ready-made clothing sectors in the fashion industry worldwide. This year, the event is expected to host 33 fashion shows, which consist mostly of Turkish designers with international collaboration as well. Some of the Turkish designers that will participate in the event are Aslı Filinta, Bahar Korcan, Belma Özdemir, İpek Arnas, Mert Erkan, Rasit Bağzıbağlı and Zeynep Tosun.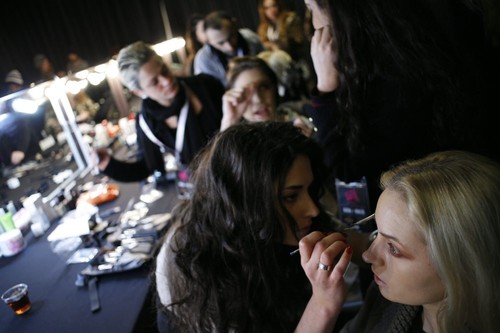 A backstage photo from a previous Mercedes-Benz Fashion Week Istanbul.
The Mercedes-Benz exchange program will bring Georgian designer Atelier Kikala to Istanbul to present designs in "Mercedes-Benz presents Atelier Kikala" during the MBFWI.
This year, the event also differentiates itself from previous years by paying more attention to men's fashion, which is often overlooked in the fashion world. However, this is expected to change soon since the menswear industry, which makes up only 27 percent of the industry now, has an average annual growth of 4.5 percent compared to the 3.7 percent in womenswear, according to FASHIONUNITED. Following the rising trends of the fashion world, the MBFWI also increased its number of designers for male collections.
Another exciting development is the release of a book detailing the evolution of the show, the most comprehensive archive to date. The book "Story of X Seasons" consists of photographs taken in all of the shows, presentations, parties and side-events that took place over the last 5 years collected under the directorship of Burçin Ergunt.
The history of Istanbul Fashion Week dates back to 2008 when it was only Fashion Lab. In time, the event grew, becoming Istanbul Fashion Days in 2009 and a full-fledged fashion week in 2010. In 2013, Mercedes-Benz became the main sponsor of the event, making it one of the most respected fashion shows in the world.Fifty members of international press consisting of editors, bloggers and street photographers were also invited to the event, while a purchasing team of 140 representing 102 companies and stores from around the world will also be following the show. The event will continue until March 30 at Zorlu Performing Arts Center, Istanbul.