Clothes inspired by Neolithic animal figurines unearthed in southeastern Şanlıurfa province's Göbeklitepe archeological site will be presented in a fashion show in the coming months, Anadolu Agency (AA) reported Monday.
The designs which will draw inspiration from history and the ancient figures discovered on obelisks at Göbeklitepe will be showcased at an event jointly organized by the Culture and Tourism Ministry and the Governorship of Şanlıurfa and the Metropolitan Municipality on April 17.
The show will feature 30 designs by Aydın Yılmaz, and 30 models will walk the runway, including famous Turkish model Özge Ulusoy.
Coordinator for the City of Civilization Cultural Project Savaş Uğurlu told AA that they aim to better promote the area with the event, and are excited to bring together archaeology and fashion.
Speaking about the project, Uğurlu said: "Lions, snakes, reptiles and many other interesting figures will be featured on the clothes inspired by history. We will make the clothes of the period wearable. We think that many people will start to wear them when we adapt them to the present time. We just wanted to introduce these clothes and combine an element of fashion with them. If we succeed, they will attract the attention of local and foreign tourists. They may even become popular everyday wears."
Uğurlu said preparations for the event took about nine months, and underscored that they consulted many archaeology and history experts within the process to make the designs as accurate as possible.
"Our aim is to reveal Turkey's potential as a country and present it for the benefit of humanity. We want to contribute to the introduction of these values that belong not just to our country but the world," he added.
"Through our work, we want to take Göbeklitepe, in Şanlıurfa – the city of history, culture and peace – to the future. We have many important cultures and civilizations, especially Göbeklitepe. We can draw foreign tourists and media to our country, conducting more comprehensive work instead of small projects if we want to introduce these places to the whole world. These projects should not be local only," said Uğurlu.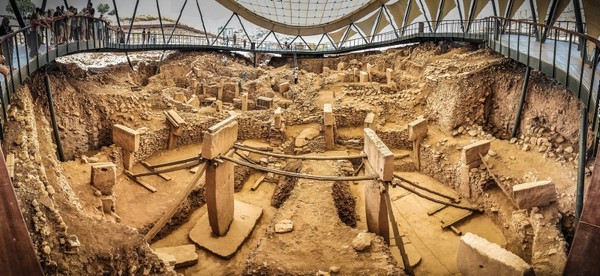 Uğurlu said the event will also hold a special significance as it will be one of the many promotional activities held as part of "Göbeklitepe Year". President Erdoğan announced in November that 2019 would be recognized as the year of ancient marvel Göbeklitepe as it looks to promote Turkey's World Heritage Sites and attract more tourists.
Göbeklitepe: The discovery that changed human history
Excavations in Göbeklitepe were launched in 1995 by German professor Klaus Schmidt, who brought to life the previously unearthed finds that have long caused a stir among academics.
Prior to the archaeological discoveries in Göbeklitepe, academic circles believed that man began to build temples after adopting a sedentary life and leaving his hunter-gatherer practices. However, Göbeklitepe, which was built by hunter-gatherer communities before they even began to practice agriculture, completely changed this school of thought.
The site is also one of the earliest establishments of an advanced social system that includes monuments, sacred spaces and symbolic motifs. Unlike previous sacred, ritual sites mostly included natural formations like caves. Göbeklitepe, however, stands out with larger and smaller rectangular man-made structures. Historians and archaeologists believe the structures such as pillars represented ancestors or gods in the Neolithic age.
Göbeklitepe was added to the UNESCO World Heritage List in July 2018.