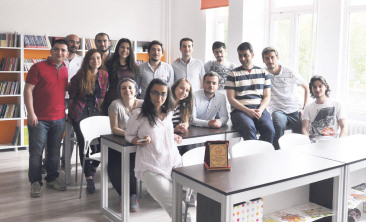 MAPUDER volunteers at the newly opened library of the Mehmet Çavuş Primary School.

Every six months, members of the Mavi Pusula Education and Assistance Foundation (MAPUDER) open a new library at a school in an Anatolian city through their own efforts. Recently, MAPUDER opened a new library in the eastern Turkish city of Iğdır. Established at Mehmet Çavuş Primary School, the library offers services to 500 students.
A university student initiative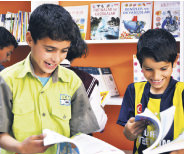 Featuring students from different universities, MAPUDER consists solely of students. MAPUDER President Emre Kurt presently studies civil engineering at Istanbul Technical University and said, "Our foundation is a university student initiative. We previously opened libraries in Sinop and Bursa." Kurt also explained that the foundation not only establishes libraries, but also pays regular visits to nursing homes and orphanages. MAPUDER members also organize career days at high schools.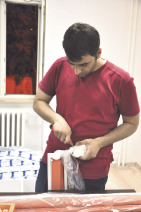 Kurt said they found the Mehmet Çavuş Primary School with the help of their teacher Serken Türkeli. "The school's principal and Hakan Cirit, the Head of Iğdır's Provincial Education Directorate, showed great interest in the project. The library was designed by one of our architectural student members," he continued. Kurt added that they make colorful designs so the libraries will attract the children's attention. "We want them to spend enjoyable time there, and we provided more than 2,000 books to the library. After our members took care of the library's lighting system, flooring, painting and even cleaning, we opened the library," Kurt said.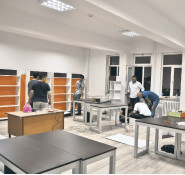 MAPUDER's press representative, Sare Tanrıverdi, is a junior at Istanbul University. "This is the third library we have established so far. We are happy to receive positive feedback from the children," she said. MAPUDER aims to design more libraries around Turkey to allow children to spend more time with books. "Our work is entirely based on volunteers. We collect books through social media announcements and by asking our friends. The foundation's revenue is used to purchase necessary items like bookshelves or flooring material," Tanrıverdi said. MAPUDER members also work together while establishing the libraries. "We forget our tiredness when we see the excitement in the children's eyes," she said.
'A well-educated society never does harm'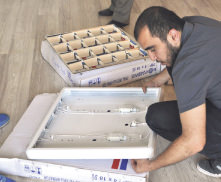 Speaking during the library's opening ceremony, Cirit said that a well-educated and literate society never does harm. "If something bad happens, it is because of illiteracy. MAPUDER members created this library to expand children's horizons. You have exerted great effort and done everything you can. I extend my sincere thanks to MAPUDER and those who helped to establish the library on behalf of the Provincial Education Directorate," he said.In 2013, MAPUDER was founded by a group of university students who engage in socially responsible philanthropy. The foundation has provided the basic necessities for two village schools in Şanlıurfa and Elazığ, and its members dedicate themselves to helping needy school children around the country. Their activities do not only include financial support, but create close networks with primary and secondary school students. The members guide students to help create a better future plan for themselves and receive feedback from teachers to increase their activities' effectiveness and reach. MAPUDER successfully conducts its mission by creating efficient communication bridges between students and teachers around Anatolia.