International students studying in Turkey as a part of the Administration for Turks Living Abroad and Related Communities Turkey Scholarship Program, bring a different color to the holy month of Ramadan. Most of the students only experienced Ramadan in their home countries, and they said that Ramadan brings a very different kind of joy in Turkey. Sharing their Ramadan experiences, international students that go to school in Turkey said Ramadan in Turkey is very unique, which they cannot see anywhere in the world. They say that all Muslims come together and celebrate Ramadan during this holy month.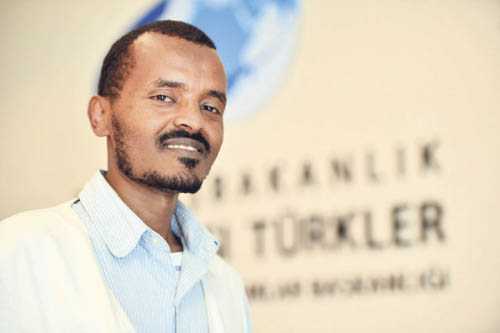 Ethiopian Muzeyen Hawas Sebsebe, who is a PhD. student at Yıldırım Beyazıt University, has been in Turkey for the last five years with his three children and wife. He said that when Ramadan in Turkey is mentioned, the first things that come to his mind are iftar tables and the many charities. "Nongovernmental organizations [NGOs], certain institutions and some people organize iftar tables for many people during Ramadan. Neighbors bring food and Ramadan packages are handed out to those who need it. I have spent four Ramadan's in Turkey," Sebsebe said.Sebsebe's only complaint about Turkey is the Tarawih prayers. "The Tarawih prayers in Turkey are performed very fast. So, I prefer to perform Tarawih prayers practiced with a hatim because they are practiced relatively slower," Sebsebe said.
Macedonian Reyhan Rahman, who is a Ph.D. student at Ankara University, said Ramadan is a very spiritual experience in Turkey. He emphasized how Tarawih prayers are performed in various mosques in Turkey throughout Ramadan. "We can go to different mosques for Tarawih prayers here. My friends and I visited important mosques in Ankara such as the Kocatepe and Hacıbayram mosques. In this respect, Ramadan in Turkey has a very spiritual atmosphere compared to my own country. So, my friends and I decided to spend Ramadan in Turkey," Rahman said.
Harima Mohd Yonus is an Afghan who is continuing his master's studies at Hacettepe University. He drew attention to the differences between Ramadan experiences in Turkey and his homeland, and said the most important features of Ramadan, which are commemoration and sharing, can be felt more intensely in Turkey. "People often do not pay visits to each other, except for during both eids. However, it is not the case in Turkey; people spend this month with their loved ones. I think it is a very beautiful thing."
Azerbaijani Orkhan Gafarov, who studies International Affairs at Ankara University, also said that the holy month of Ramadan is spent very differently in Azerbaijan. Gafarov said people spend Ramadan as a community in Turkey, adding: "People as well as state institutions make you feel the Ramadan atmosphere. Although Ramadan in Azerbaijan is also very joyful, social networks should be enlarged."
According to 2014 data, more than 4.5 million students receive education outside their home country. When it is considered that an average student spends $40,000 every year, the annual revenue of international students amounts to $145 billion. According to UNESCO projections, the number of international students in higher education will reach 7 million by 2020, which will correspond to $280 in revenue. China, India and South Korea are among the countries that send their students abroad to complete their studies, while the U.S., the U.K., France, China and Australia are the countries that receive the most international students.
There are about 50,000 international students receiving higher education in Turkey. The aim is to increase this number to 100,000 by 2018. Turkmenistan, Azerbaijan and Iran are the countries that send the most students to Turkey.