İlhan Uçak, 67, is in love with Anatolia. While studying at Galatasaray High School, Uçak's life suddenly changed after a friend asked whether he would join an Anatolian tour, as he himself was unable to take part. This enabled Uçak to be introduced to Anatolian culture at a very young age. Although he received his bachelor's degree from the faculty of law, he worked as a tour guide for many years before founding his own travel agency. While he was touring Anatolia from one corner to another, he collected copper and metal objects that reflect the immense cultural background of Anatolia. He collected copper boilers as well as bath and food bowls ornamented with writing in Ottoman, Armenian and Greek. As a matter of fact, it is possible to see these artifacts in every corner of Uçak's house. He has always been interested in these artifacts, but Uçak's sense of collecting changed after seeing an old metal clothes iron in an antique shop in Sapanca.
He bought the old iron for decoration, but he developed a passion for antique irons when he saw many other old irons in the antique shop where he purchased his first iron. So began Uçak's adventure of collecting irons 20 years ago. He is always on the look out for old irons in antiques shops he has visited during his visits to 35 countries around the world as well as Anatolian cities. He has many irons with different qualities that he purchased in France, Germany, the U.K. and many other countries. Apart from irons coated with coal, ethyl alcohol, gas and gasoline, Uçak's collection features irons that are covered with porcelain that features the coats of arms of aristocratic families.
One cannot hide his or her surprise after seeing rare irons with various hallmarks in the four corners of Uçak's house in Moda, Istanbul. His collection contains irons that were specially manufactured to iron collars, the arms of shirts, lace, hat and fabrics with gold plating. "Irons are a whole different world. Irons are not only used for ironing wrinkles on your clothes. When it comes to irons, we need to talk about different types, as there are many irons other than those made for clothes," said Uçak. The collectors biggest dream is to own the oldest iron in the world. "The oldest iron dates back 2,000 years. I have a replica of the iron found in China, which dates back to 200 B.C. I would like to have the real one in my collection. My biggest wish is to be able to take the oldest iron in the world from Hong Kong City Museum and bring it to my home," Uçak said.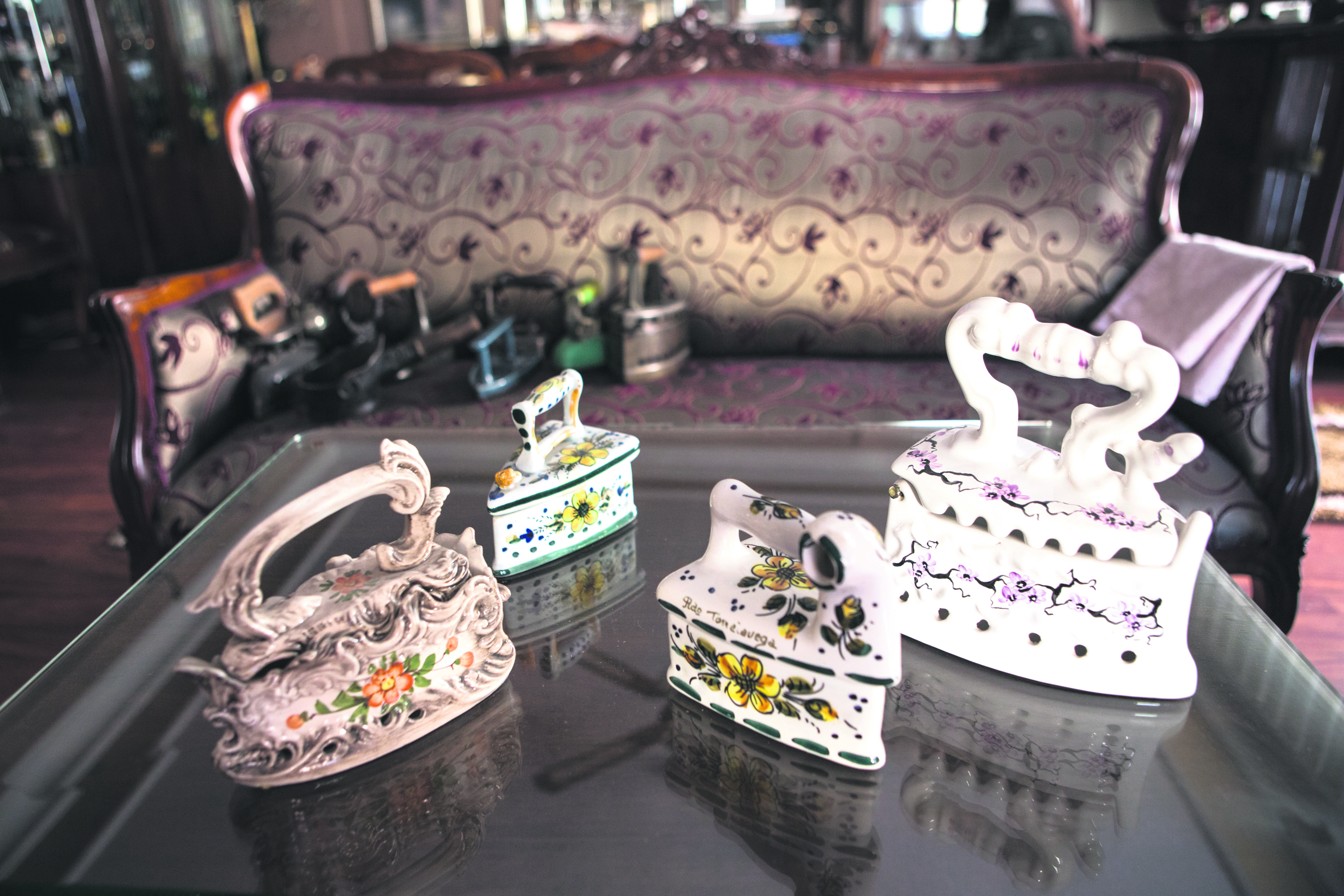 Uçak has 200 irons in his collection, but he is one of the pioneer iron collectors due to the variety of items in his possession. He said: "People brought me a total of 300 irons for working with coal. I did not purchase them. Being a collector means that you should collect rare and different ones. My collection features rare and one of a kind irons."
Uçak held his first exhibition in Beyoğlu, Istanbul, 10 years ago. He has showcased his collection 10 times. He says that people who see his collection cannot hide their surprise. "We tend to think about irons working with coal when we talk about antique irons. When people come to view my collection and see irons that work with gasoline and gas they cannot believe their eyes to see irons that work with energy sources other than coal," said Uçak, adding that this accomplishment makes him proud. "Moreover, each collection sets the ball rolling for other developments in collecting as it helps advance technology. The design of antique irons helps people improve future designs. A company that was thinking of designing a wireless iron asked me to participate in an exhibition and wanted to collaborate."
Uçak takes care of his irons like they are his children. He even cleans rusty irons with gasoline by himself. He diligently categorizes his collection. Uçak also researches irons and mentioned he was working on a book. His biggest dream is to pass these irons on to the next generation. One day he hopes to display his irons dating back the 18th and 19th century in a museum. He continues to travel abroad to find irons with different features that he does not have in his collection.