The tradition of smoking nargile, also known as hookah or shisha, has been around for centuries and is still a popular activity among all age groups in Istanbul. Also known as the Turkish water pipe, nargile originated in India when the practice of dipping a straw into a hollowed-out coconut became prevalent. In the 16th century, the pipe found its way to the Ottoman Empire and gained popularity in the 1700s. The nargile even became a status symbol toward the end of the Ottoman Empire, as smoking with the sultan was considered the highest honor. One of the most enthusiastic royal smokers was Sultan Abdülhamid II in the late 19th century.
In previous years, only plain tobacco was used in nargile. However, now a variety of aromatic tobaccos are available optimizing your nargile experience. The first thing you must do when entering a nargile cafe is choose a flavor. This might not be so easy as there are many to choose from, including apple (a common favorite), strawberry, banana, peach, mint, cappuccino, rose among many others, or a combination of these. Tophane, a district in Istanbul filled with nargile cafes and is locally known as "nargile central," has some of the best nargile in Istanbul. Here are a couple of places you can check out in Tophane and other districts in Istanbul to chat with friends, drink some tea and enjoy the old tradition that is still alive today: Nargile.
The nargile paradise of Tophane is a street rammed with lounge-style nargile cafes. There is little to differentiate them from each other, except the varying tenacity of the waiters trying to lure you in. Nargilem Cafe is a popular choice on the street as it has been serving nargile to its customers for more than 15 years. Along with smoking delicious-smelling nargile, playing backgammon and drinking some hot tea is a tradition in these small cafes. With a wide selection of nargile flavors to choose from, Nargilem Cafe has a great atmosphere. Beware of the peanuts placed on the table, however. If you even have a nibble, you might find an unexpected addition to your bill.
Address: Tophane Nargile Alanı, Tophane Salı Pazarı Sıra Mağazalar 101, Beyoğlu
Tel: +90 212 244 2492
Website:
www.nargilemcafe.com.tr
Where nargile meets class and elegance is the famous Huqqa restaurant. Far from the traditional nargile scene is the modern and classy scene of Huqqa, a restaurant/cafe/nargile lounge located in Kuruçeşme. Not only famous for the delicious world kitchen its menu has to offer, Huqqa also has a breathtaking view of the Bosporus. Hosting up to 450 guests, the unique architecture will grab your attention the minute you walk into the building. Even though the nargile is a bit pricier than the bohemian style cafes where you would normally find nargile, the quality is great. Aside from nargile, Huqqa is also famous for their dessert menu. Nutella pizza and Oreo cheesecake are just some of the mouthwatering items you will find on their menu. If you're planning to stop by Huqqa on the weekend, beware of long queues to be seated as there is no reservation system.
Address: Kuruçeşme Mh., Muallim Naci Caddesi, No: 56, Kuruçeşme – 34345
Tel: +90 212 265 06 66
Website:
www.huqqa.com
Located on the tram line between the Çemberlitaş and the Beyazit Grand Bazaar stations is the quaint nargile cafe Çorlulu Ali Paşa Nargile. Walking through a small cemetery to enter, this cafe has a great ambience, friendly staff and freshly made tea, coffee and sahlep (a warm, milky cinnamon drink). Çorlulu Ali Paşa Nargile is a hidden gem just next to the Grand Bazaar, and the building itself is about 300 years old and was previously used as a school. Stop by, order yourself a glass of tea and a mint and apple nargile, and enjoy your afternoon.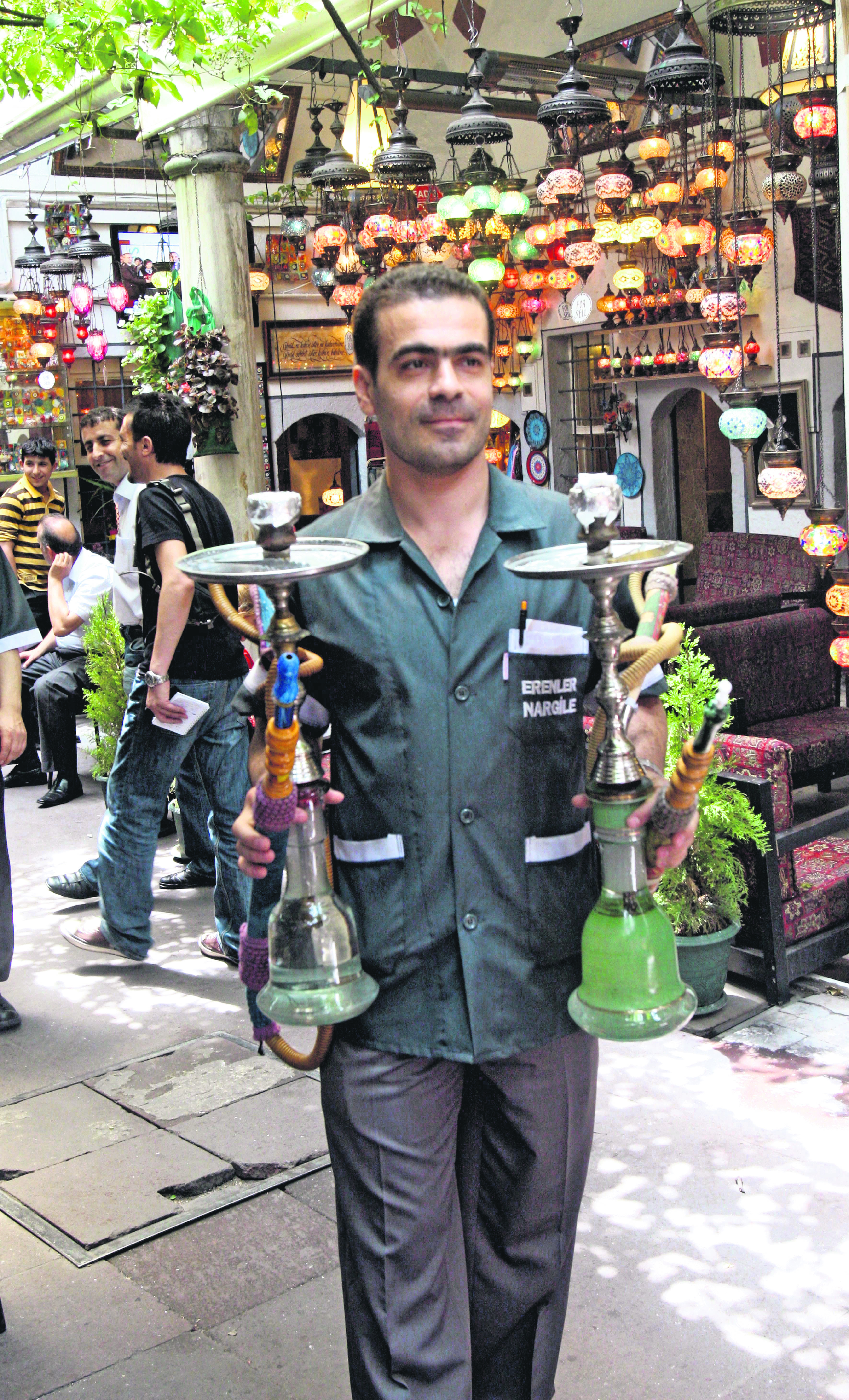 Photo by Mesut Er
Address: Mimar Hayrettin Mah. Yeniceriler Cad. No: 45, Fatih, Beyazit – 34200
Tel: +90 538 689 63 67
Here are a couple of tips that will help you with your first nargile experience, as well as some nargile do's and don'ts:
Each person in your group will be given a plastic mouthpiece called a "sipsi" for sanitary reasons. The staff will prepare and bring you your choice of nargile with a supply of hot coal on the side. Once everything is ready, you can start enjoying your nargile. Please keep these tips in mind when smoking:
1. Draw in smoke gently, don't take deep drags like you do when smoking a cigarette.
2. Never light your cigarette from the coal, this is considered bad manners and some say that it even ruins the coal that will later be placed on the nargile.
3. Always keep the nargile on the floor; never place it on an elevated surface.
4. Avoid handing the hose to the next user. Just lay it against the side of the table and wait for the other to pick it up.
5. Never blow into the nargile. It can cause the nargile to break or explode.