Şeyda Hacızade is a young woman deeply fond of wood. She is also one of Turkey's few female musical instrument makers. As a classical kemençe craftsman, Hacızade, 35, gets behind her stall in her small but endearing workshop in Beyoğlu's Galata quarter and works with great patience and determination every single day. The kemençe is a small three-stringed bowed fiddle originating from the Eastern Mediterranean and regions alongside. She first crossed paths with the kemençe during her university years. Hacızade began making wooden puppets while she was still a student at Mimar Sinan Fine Arts University Department of Theater Decor and Costume. While at university she also wanted to play the violin, and one of her lecturers gave her a one. Later, one day she paid a visit to an instrument making workshop to have her violin fixed, and she was enchanted by the production process of music instruments.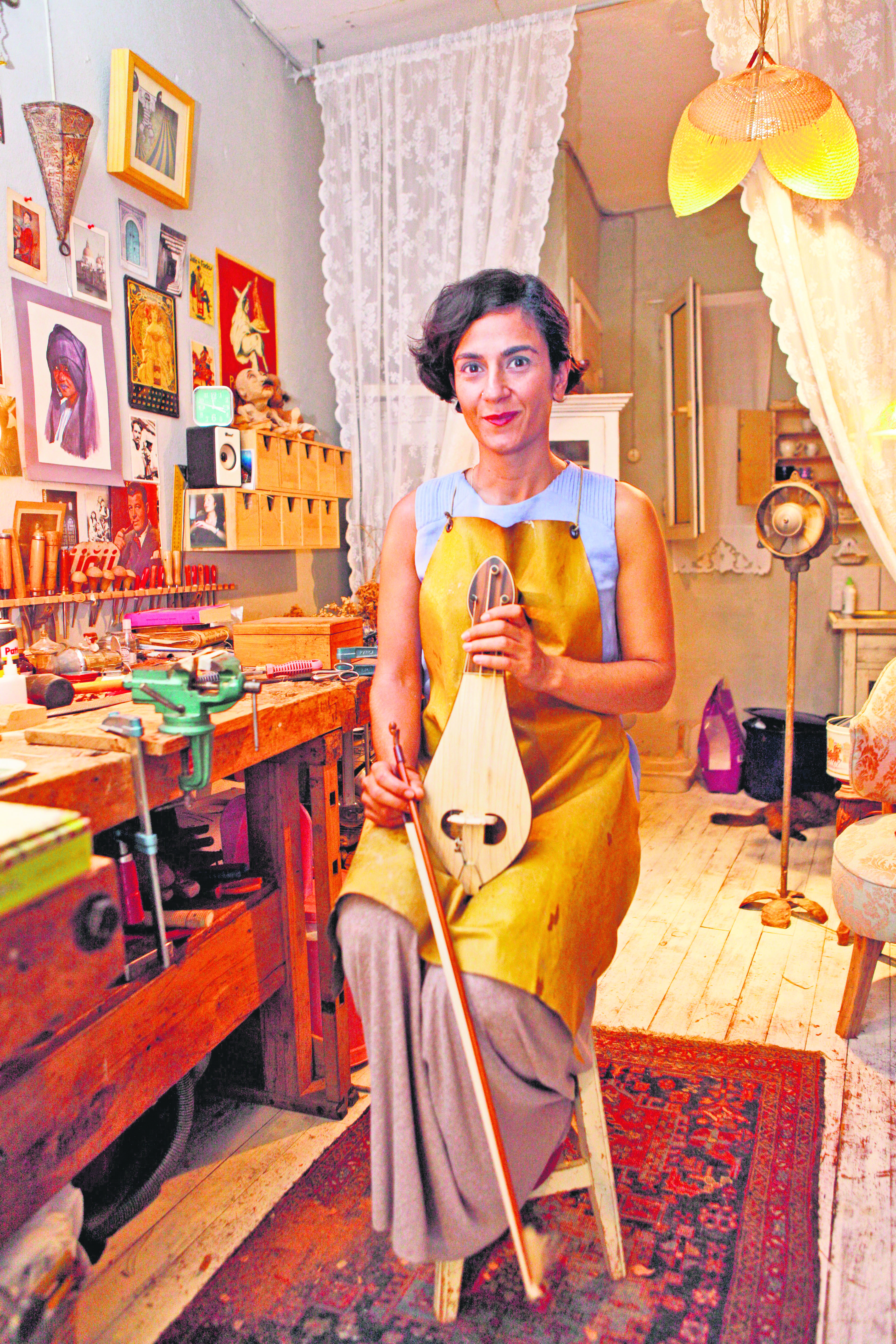 Every day Şeyda Hacızade gets behind her bench in her small but endearing workshop in Beyoğlu's Galata quarter.

"I was so influenced by the scene that I told myself I must make my own instruments one day," Hacızade said. Indeed, after a short while she decided to work at the workshop. Upon beginning to work at the workshop, the first thing they gave her was a back body of a kemençe that had not yet been hollowed out. They told her to hollow it out, which she did successfully thanks to her background as a student of puppet making and familiarity with woodwork. However, Hacızade, who was not familiar with the sound of the kemençe since she was trained with a Western education, changed when she heard the kemençe's sound echoing in the workshop. "At first, making a wooden musical instrument was all I wanted, but when I heard the sound of the kemençe, I was enchanted. The steamy sound of the kemençe showed me which musical instrument I must design. This is the reason I began to make classical kemençes," Hacızade said. A year later, she made her way to another workshop to work with ud maker Faruk Türünz, whom she called her mentor. She met Fikret Karakaya and learned how to make kemençes alongside uds. Although she worked various jobs after she graduated from university, she finally managed to open the workshop she had been dreaming of in 2006. She has been making classical kemençes in her little workshop in Galata, Istanbul for the last nine years.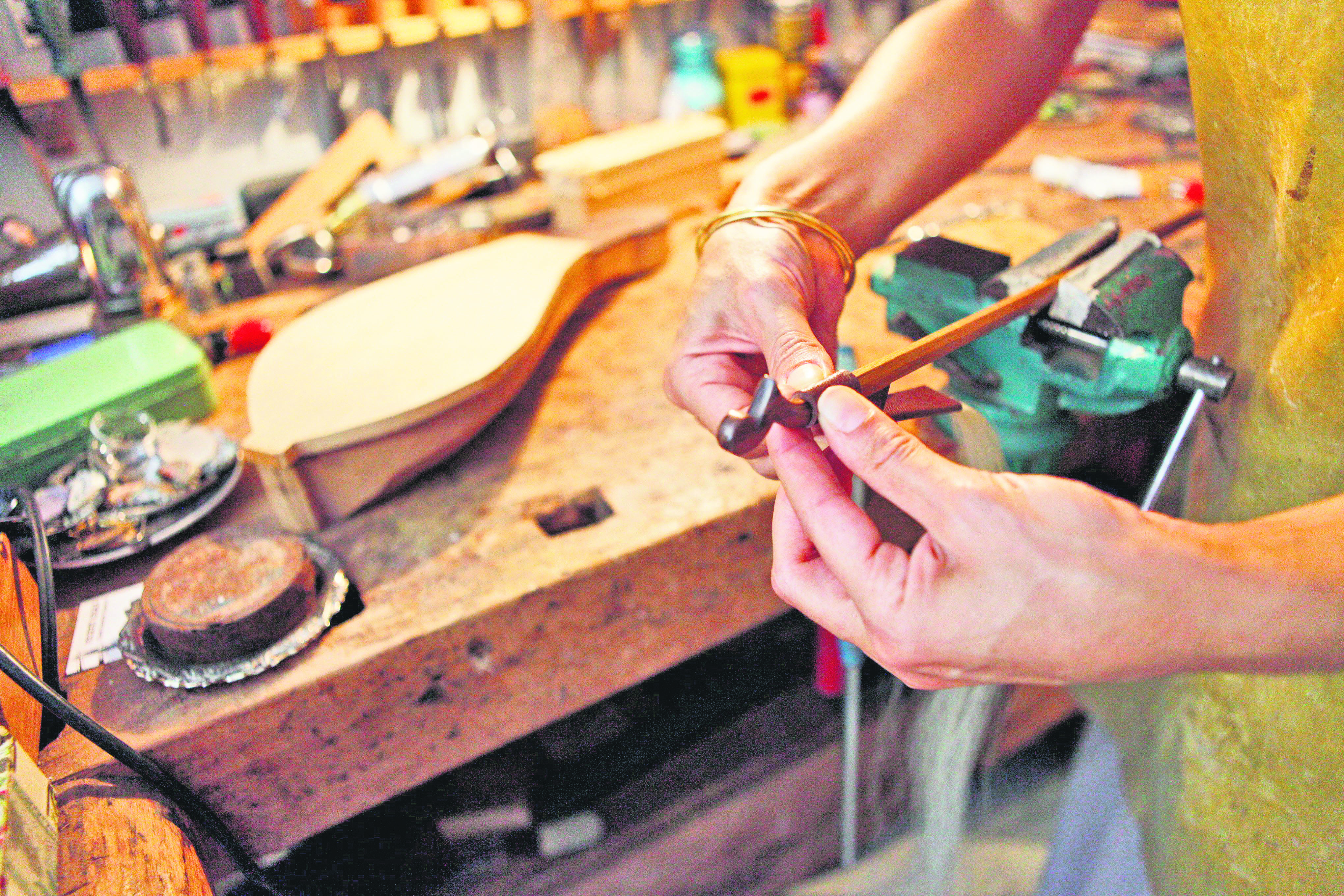 Hacızade does not only make kemençes in her small workshop, she also continues to make wooden puppets. In fact, she is studying for her master's degrees at Venice Art and Design Faculty Department of Theater Sciences and Design Philosophy, as she received an academic research scholarship from the Italian government twice in a row. Both puppets and kemençes are very important for her. She includes small notes on the kemençes she makes. "I leave small notes on each kemençe I make in case they are opened one day. I want the person who opens the kemençe to be surprised," she said. She sometimes writes a couple of poetic lines or comic expressions. The notes she leaves in the instruments sometime reflect her current mood or sometimes give little secrets about her life. She said: "You begin to shape the wood, but actually your profession shapes you, you begin to learn to free yourself from baggage as you sculpt the wood. Hacızade also keeps one of the first kemençes she made as she received a lot of compliments from her instructor for her work. "I made it from Trabzon date palm. Although it was one of my early works, it was a great achievement. It also sounds different from my other works. After Aslıhan Özer, my instructor, listened to the kemençe she said to me to not to sell it as it is 'wise.' So I did not sell it and I still keep it with great care," Hacızade said.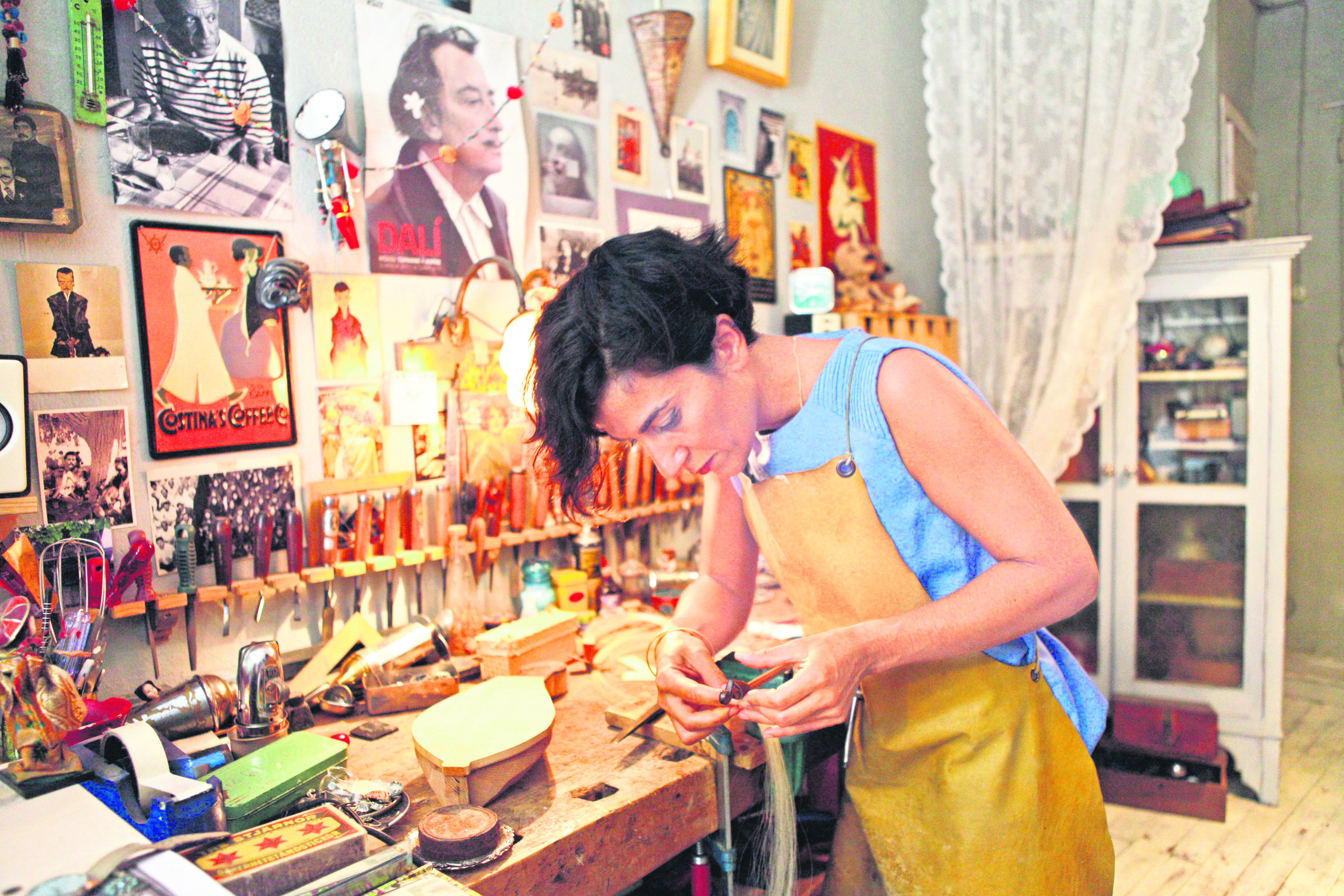 She has entirely devoted herself to kemençe design as her mentor keeps on asking her when she will employ another aprentice to help her at the workshop. Yet Hacızade believes she has not yet reached that stage. She does not even understand how time passes while working at the workshop. Furthermore, she cannot help but think of her designs if left half-finished no matter if she is at home, on holiday or somewhere else. Music always accompanies her while working. During our tour, we saw kemençes made from different types of wood decorating the walls. Gouges, engraving tools and different rasps lie on different parts of her desk. Hacızade said classical kemençes are mostly made from walnut, cherry, chestnut, pear and persimmon. "A kemençe made of black mulberry is highly precious. For its face, we use cedar or cypress wood. I also use horse hair for its string. For me, elm trees are one of the best materials for making a kemençes," she said. It takes a month to make a kemençe, including the polishing stage. "You should be careful as you continuously work with sharp objects. Those who engage in kemençe making have wounds on their hands," she said.
Hacızade also prioritizes the views of kemençe performers about her designs. She even went to Greece to learn more about the kemençe, where it is known as "Politiki lyra," the Constantinople lyre. "The kemençe is better known in Greece and also used more often for performances. I met an Irish musician, Ross Daly, and some other kemençe performers there. I think criticism from a good performer can help you to realize your deficiencies and improve," Hacızade said. She spends her spare time designing puppets or other objects using items she buys from antique shops and flea markets. "I generally work on owl figures and call my designs toys for adults," she said. It appears Hacızade's passion for kemençe and puppet designs will continue for the rest of her life.