In the past decade or so, women have become a defining factor in Turkish politics. While many believe the secular establishment was the facilitator of this process, in actuality the limitations imposed on the conservative sections of society and the subsequent trauma forced women to become more politically active.
In Turkey, even though center-right and center-left political parties have different approaches to female representation and its effectiveness in politics, the implementation of these approaches brings similar results. The leftist parties seem to be the only ones that support female representation, yet all parties share an ideological focus on this subject.
The center-right implements the concept of a soft quota. The parties employing a soft quota do not apply a gender quota; however, they pay particular attention to the election of women. As a center-right political party, the Justice and Development Party (AK Party) supports the representation of women in politics.

The leftist parties seem to be the only ones that support female representation, yet all parties share an ideological focus on this subject
"If a political party wants to come to power in Turkey, it must have the support of female voters; because parties cannot come to power without gaining their votes," solicitor Özlem Zengin, a member of the AK Party's Istanbul executive committee, told Daily Sabah. Prior to the AK Party's landslide victory in the Nov. 1 elections, men dominated the media during the electoral campaign, but it was the women who were the real players pushing the campaign. Despite remaining in a disadvantaged position for years and surviving in a male-dominated field, Zengin has been involved in the AK Party's executive committee for three consecutive terms and serves as a key example of how women are the driving force behind political movements. Zengin said, "For example, the Peoples' Democratic Party (HDP) outwardly seems like a party that values women with its co-chairmanship system. However, there is a different situation now as men make up the majority of HDP voters. The Nationalist Movement Party (MHP) is also a male-dominated party compared to the others. Women are obviously more visible than men in the Republican People's Party (CHP), yet the CHP does not attract women's votes. The AK Party has the highest number of women voters," she said. Stressing that President Recep Tayyip Erdoğan has been well-aware of the importance of women within a party organization since the beginning of his active political life, Zengin said, "The most important thing Erdoğan has discovered is that women are the source for decision-making mechanisms and political transformation."
According to a recent study conducted by GENAR, women, as an important component of society, mostly cast their votes for the AK Party and the CHP; namely, these two parties owe their seats in their respective premier and main opposition chairs, to women. In the May 2011 general elections, 48.7 percent of those who voted for the AK Party were women, while that same figure for the CHP stood at 31.4 percent.
Speaking about the period following the post-modern coup on Feb. 28, 1997, the event that became a nightmare for conservative women from both the AK Party and other party organizations, Selva Çam, the current head of the AK Party's female branches, said she was a student at the prestigious Middle East Technical University (ODTÜ) at the time. "I was suspended for a year because I was wearing a headscarf. This was a defining experience for many women in my generation. Even if we had no desire to become political figures, we were forced to follow the political agenda. Political developments transformed conservative women," she said. A year later, she returned to school and eventually graduated but the transformative experience motivated her to pursue a political career. There are thousands who followed the same path into politics.
However, conservative women in politics have been excluded from both the secular establishment and conservative men. Women who wanted to change the country and ensure that conservative women have a voice faced an insurmountable barrier. This is where President Erdoğan entered the scene and ensured that these women were given a public voice. Sibel Eraslan, who was the president of the RP's branches for women, expressed that Erdoğan was the main person who started the transformation of conservative women. "He transformed the identity of women in politics from victims to strong players. Women gained the self-confidence they needed and developed themselves in educational and professional ways," she said.

Women who wanted to change the country and ensure that conservative women have a voice faced an insurmountable barrier. This is where President Erdoğan entered the scene and ensured that these women were given a public voice
Recalling the past, she said, "We had no trouble organizing all kinds of programs in large halls. We were planning a program for 'Women and the Constitution' at a Kadıköy yacht club [in Istanbul]. We could have received approval by phone but when they saw us with our headscarves, they rejected our request. Erdoğan understood why we were upset and asked us to wait until they [the AK Party] win the elections." She repeated Erdoğan's words: "There will come a time when those who do not allow us to organize an event today, will button up their shirts when they see us and show respect. We can achieve this, believe me." She said, "Ultimately, it came true as expected. We worked hard, nonstop in faith and we won the elections. The panel of 'Women and the New Constitution' was held in the trendy [Istanbul] district of Bebek. The board's claims that pets and headscarves are not allowed in public venues were common in our country a short time ago, despite this being a primitive attitude."
Conservative women not only fought against political challenges but also struggled to gain a seat among men. Zengin said that this problem emerged from men's traditionally conservative viewpoint and their attitude toward women, perceiving them as a threat. Previously, men and women would sit separately at party meetings. Additionally, male board members represented the women's party branches. "When Erdoğan saw the determination of women, he suggested one option, which included an exclusive area for women where they could work more comfortably, apply for their own programs and participate in politics easily with their female counterparts," she said. From the RP to the AK Party, many challenges that women encountered have already been solved but there are still problems with conservative men's perspectives toward conservative women, such as woman's visibility in society or their participation in the decision-making process. She added, "Men are seen as a resistance against women. Erdoğan is the name that broke this and pushed women's resistance, especially during the election period. While shaping the lists for local elections, he urged district presidents of the party to bring more women than men to the list." Zengin shared Erdoğan's words: "We must feel ashamed if a woman is not elected or her name is written at the bottom of the candidate list. We must write women's names at the top as much as possible." Noting that the AK Party has 40 female members in the Assembly of the Istanbul Metropolitan of Municipality, Zengin said this is the highest number of female members in a local assembly of a political party. The successful policies of the AK Party toward women caused the transformation of women in Turkish society and other parties. This process started with a success story that spread from one woman to another; every woman shared her success story to another woman before transforming her life. One by one, women passed on their success stories to each other, creating a chain.
This transformation was triggered by Erdoğan's perspective. Women did not remain just a showcase; they became real players in politics. As a result, the AK Party created its own "female brand names" or "phenomenal women," who trained other female members in the organization.
Zengin emphasized the importance of electing women in a party organization. Women elected to the AK Party worked hard and have added positive value to the organization, Zengin continued. This method was the most important motivational factor to create political targets and a political vision for their lives. Then, why did women prefer that the AK Party take the leading role in the government instead of other parties? The AK Party is going to design alternative working models that make it easier for women to look after their children. This system includes new reform that will allow mothers to work on certain days of the week. After all, in the new government period, the AK Party is planning to develop a flexible working model and legalize this regulation.
Additionally, another regulation will include providing financial development for micro-enterprises run by women. Hatice Atan, the head of the AK Party's Şırnak women's branch said, "A system for micro-enterprises helps women to support themselves. Especially women from Turkey's eastern regions can then support themselves, practice using correct speech and have a say inside their homes. Women must enter politics as active influencers. Erdoğan's policy on women was a facilitator that had a positive effect on the process.
The AK Party government and President Erdoğan will continue to improve female representation in all areas and they believe that none of these steps are coincidental. All these developments are the direct result of deliberate and decisive policies.
HDP uses children and women for their terror speeches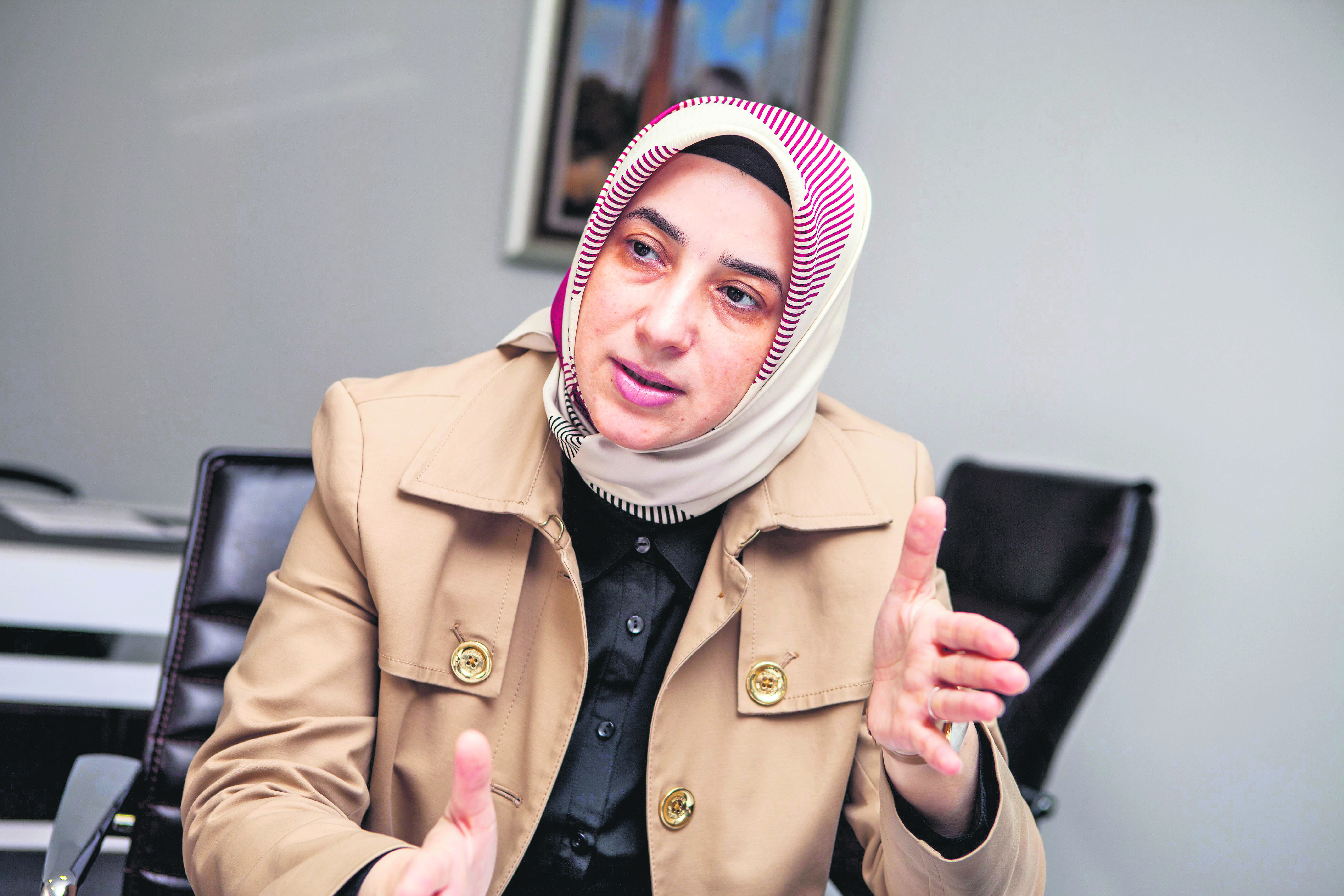 Özlem Zengin, a member of the AK Party's Istanbul executive committee

The pro-Kurdish Peoples' Democratic Party (HDP) uses women for a different mission rather than giving them political priority, said Özlem Zengin, the AK Party's Istanbul executive committee member, who added that the HDP uses them as "a political tool" to soften their bitter words and, therefore, what the HDP is carrying out is not an innocent female movement; never or ever.
Speaking to Daily Sabah, Zengin said that HDP Co-Chair Selahattin Demirtaş took the limelight at the meetings his female counterpart Figen Yüksekdağ was also in attendance. They realized that female members of the HDP have a supportive discourse for the PKK and terrorism. On the other hand, male members have a soft discourse toward the West. The female members of the HDP try to soften the terrorism discourse used with the public. Responding to questions about why it wasn't Demirtaş made the statement, "We lean on the PYD and YPG," [PYD is the Syrian affiliate of the PKK and the YPG is its armed wing] but Yüksekdağ it instead, Zengin stated that they camouflage the harness, indocility and ugliness of terror with women so that it can then appear normalized in society.
Therefore, the election of women does not bear innocent intentions. The HDP brings women to the forefront because this is a tactic used to soften their tone of terror, Zengin added. She said the HDP is not using only women, but also children and youth. They are always at the forefront during protests and street conflicts. She said that women are used as a buffer between terror and society. Zengin concluded that after they irritated security forces, the PKK wanted to trigger the outbreak of a social crisis using children by saying, "Have all of these things been done to children?"