In the late 1970s Turkey, rural people from various Anatolian cities used to knock at the door of music studios and record labels at a multi-story mall in Istanbul's Unkapanı district. With the hope of becoming a music star, some realized their dream at Istanbul's music hub located within the İMÇ (Istanbul Dry Goods Center). A vast majority of music businesses including prestigious record labels, promoters, distributors and instrument sellers were standing side by side at the building. Local musicians with bağlama and those who want to try their chance even if they do not have any professional background in music, used to form long queues in front of record labels. Their stories have been subjected to movies and novels countless times, notably in the Yeşilçam period.
Over years, however, the rise of digital music sealed the fate of the İMÇ's music bazaar, providing an uphill battle for record labels. Today, many music stores including those releasing the albums of Turkey's prominent singers, have shut down due to the lack of interest. They lived their golden era after the 1970s when cassette sales figures reached millions.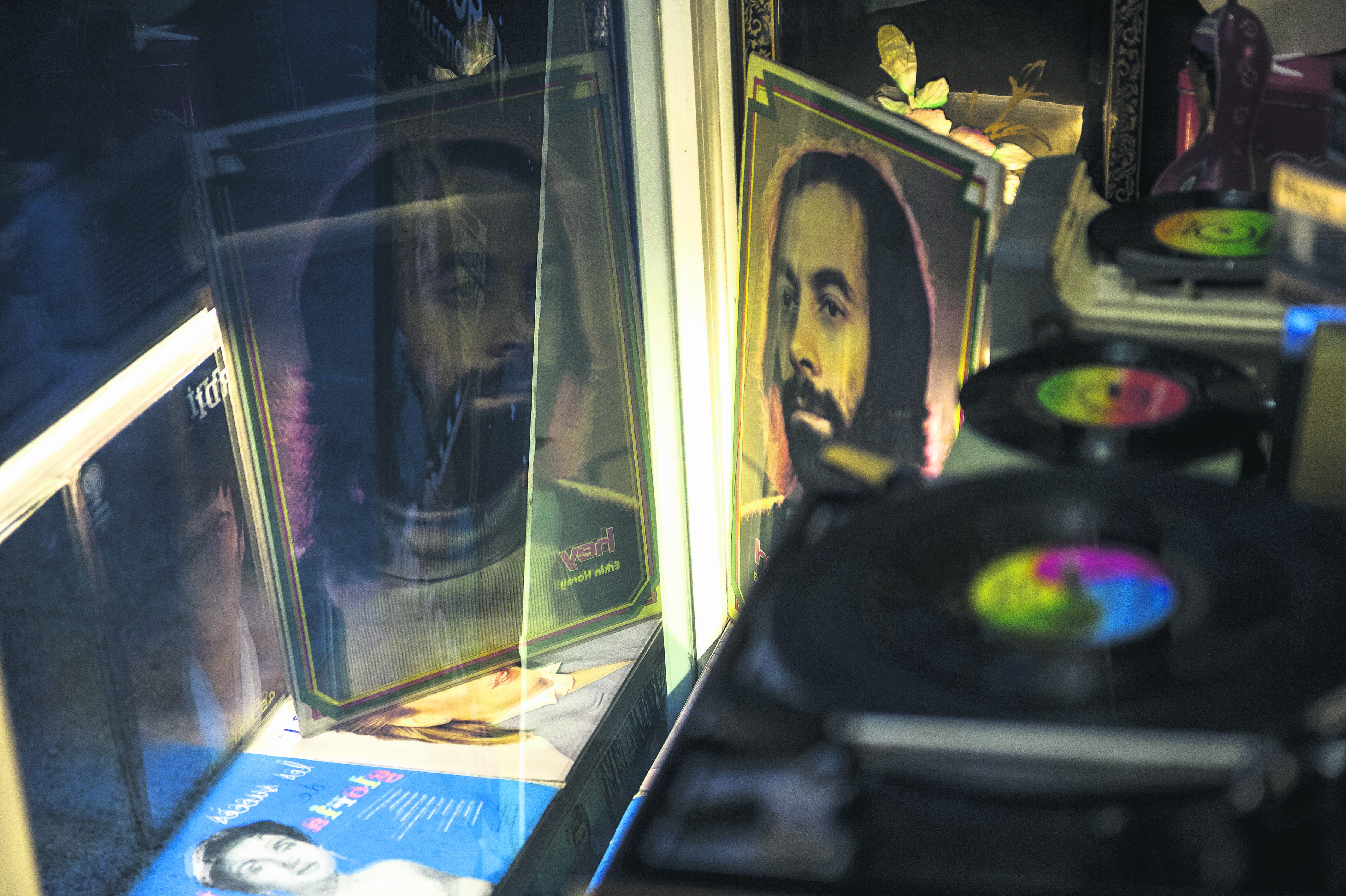 The record-sellers' bazaar is not only the place where prestigious production companies were, but also where Turkey's fruitful composers and song writers grew up.

Running Mavi Deniz record label for 30 years in Unkapanı, Aydın Keyf said that in the past a cassette that sold 100,000 copies used to be considered unsuccessful, while they sell no more than 20,000 now. Criticizing that the lack of efficient control adversely affects the music industry, Keyf said, "Technology changes, but we can keep pace with it. Technological advances are not ill-intentioned. I struggle to earn a living here, but people now download any album in seconds through illegal ways."
More musicians get profit from festivals and music events, Keyf continued. "I cannot earn enough anymore. We work as promoters when they need us," he said. "You may ask why I am still here. I do not know. I have worked here all my life," he stressed.
Aşık Ekberi, a minstrel, poet and the owner of Ekberi Müzik record label, also said that only talented singers or musicians gained popularity in the past, but the current scene shows that anyone can become a singer. "Years ago, record labels used to discover new talents, most of whom were penniless. Their expenses were covered by producers. Today, if you have money, you can make an album. This is why the quality of music has diminished. Although you are talented, you need money to sustain your fame," he said. Ekberi thinks that copyright must be implemented on music pieces played in shopping malls and other places, a possible strategy to boost the market.
Ethem Zeytinkaya, another record label owner, who was introduced to the music industry at his father's record firm in Istanbul's lively Sirkeci distict in the 1960s, said Unkapanı is where numerous music businesses gather together. "You can't find many examples of it around the world," he said. Zeytinkaya said that in recent years there has been an increasing interest in vinyl records.
The music center at the İMÇ is also the place where not only prestigious production companies were available, but also Turkey's fruitful composers and song writers grew up. Vural Şahin, whose around 700 lyrics were composed and who wrote songs for renowned names like bağlama virtuoso and singer Orhan Gencebay. He has been running the music business for 21 years in his store at the İMÇ. "There were more musicians here, but left the place mainly due to financial problems. Years ago, song writers were searching for good composers and composers sought good songwriters. The market is entirely in the hands of production companies," he said.
Köksal Bütün, a local singer from Erzurum said his dreams came true when he came to Unkapanı. In 2000, Bütün was signing folk music in Beyoğlu. A record label discovered him and he released an album. "If you ask a local man about music in a remote Anatolian city, he would talk about Unkapanı. The masters of music were raised here," he said.
A cassette seller who has been running a music store for 35 years said that cassette sales have almost reached a halt. He used to sell 500 cassettes daily. "In the last five years, I have been spending the money I earned in the last 30 years. I only sell three to four music request a day. Customers generally asks old albums," he continued.
Nafiz Kayacan, the İMÇ's tea-maker working there for 30 years said he used to offer tea to many renowned arabesque singers like Müslüm Gürses, Ferdi Tayfur and Orhan Gencebay. Kayacan works alone, while he used to have five staff back in the popular days of the center. Istanbul's heart of music industry welcomes only one or two people with the same dream per month now.