"We need to love. We need to love like mad. We need hearts like burning coal for this love; not just people, we need to love all creation, including birds, flowers and beetles." These words belong to Ercan, who some might see as a homeless madman. He may be shabbily dressed, but wisdom pours from his mouth when it comes to love and its place in our lives. As he strolls through the streets of Balat, an ancient Istanbul neighborhood on the Golden Horn predominated by Jewish and Orthodox Christian communities, his homelessness and madness are immaterial because he is one with the neighborhood's welcoming atmosphere, embracing all who love without reservation, and his coffee house, Dervish Baba, welcomes the crazy, devotees, lovers and people lost in ecstasy.
Despite being one of the most cosmopolitan corners of Istanbul, Balat also houses refugees from the crisis in Syria and endures urban migration and other modern ills. In the past, locals used to appreciate the wisdom voiced by this so-called madman, but in recent decades the neighborhood has transformed into a low-income residential area with residents less concerned with love and compassion than the original residents. Ali Denizci, one local who became sick and tired of the way these homeless wise men were treated, decided one day to establish a neighborhood coffee house to promote the forgotten virtues of the lost past. After seeing people like Ercan being chased away with sticks or belittled too often, he resolved to turn back the clock. Denizci was enchanted with Ercan and what he said about love, and together with two of his friends, he established Dervish Baba Coffee House to welcome all the homeless in the neighborhood.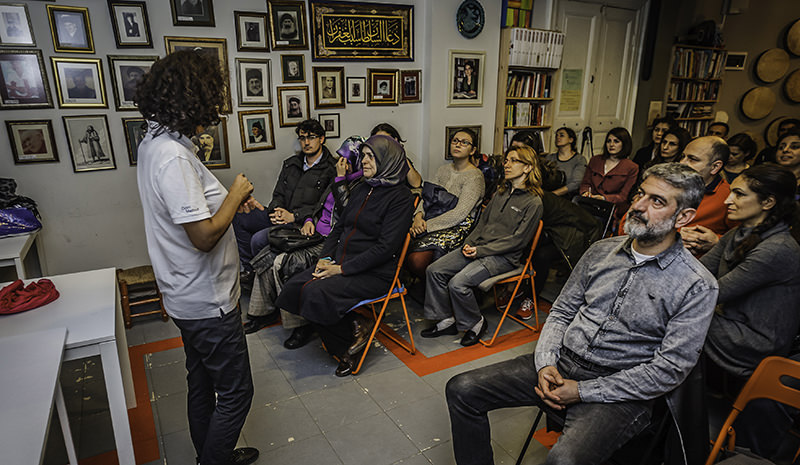 Denizci said, "We found 18 madmen and offered them free meals three times a day. They have a different perspective of life. It was hard to persuade them to visit us every day. It took some cajoling to convince them it was safe. We offer them baths once a week."
One day Denizci came across a Syrian family sheltered beneath plastic sheets just next to the Golden Horn and decided to put into practice the wisdom he had learnt from Ercan. "We started to help Syrian families in need of accommodation, rent and other basic needs."
After a while customers visiting the cafe started to ask about the aid parcels stored under the cedar tree in the middle of the cafe. "They wondered what the parcels were for. Once we explained it to them, most of them became volunteers, helping us care for the needy," said Denizci. Soon the cafe became the center of an extensive neighborhood aid organization.
Today, Dervish Baba has 2,000 volunteers and their volunteer profile is varied and includes rabbis, priests, businessmen, clowns, shoe shiners, carpenters and teachers, among many others. The only vocation banned from participating in these efforts is politicians. Their message of love and compassion is equidistant from all religions, ethnicities and ideologies.
"Racists, those who religiously discriminate between men and women, those engaged in missionary activities, these have no place among our volunteers. Those who we help cannot be discriminated against either. Our only guiding principle is Allah's will and what we do needs to be worthy of Allah. No one who is part of this can profit from it," said Denizci.
Denizci said that those who join the cafe's volunteers needed to forgo certain popular conventions to become a part of the team. "They first need to be ready to love and give love. Before helping anyone else, they need to be ready to help themselves. Allah provides us with everything we need. Anything we give to the needy, be it money, scholarship or food, is first given to us by Allah. We are just a conduit in this system. A servant of Allah hands over Allah's money, clothes or food to another servant of Allah. Nothing we do should give us pride. We should always question the reason of our compassion. Our acts are a mirror to our souls. If I detect pride in another, this means I know what pride is and should be careful not to succumb to it. We are blind to our own faults, so we serve as mirrors to each other."
Dervish Baba has now six branches across Turkey, with three in Istanbul (Balat, Cihangir, Kadıköy) and one each in Eskişehir, Bursa, Edirne. Plans are underway to open 10 more cafes this year. Denizci, who is a professional architect, does the interior design for the branches. Locations are picked for their cosmopolitan nature. The colorful decoration within the cafe; is a reflection of Denizci's worldview that Allah likes variety in people, nature and ideas.
The main objective is to provide what is necessary for the stranded wayfarer to continue their journey. Since he first opened the Balat cafe in November 2009, Denizci and his humanitarian servers have helped 220 families to become homeowners, over 23,000 people were provided with food aid. Every month, 1,000 people receive food parcels and another 150 students receive scholarships.
Children are provided with lessons in literature, English, Russian, theater, mathematics and other subjects. The aim is to ensure they grow up to be thinking and questioning individuals, with a predisposition toward arts. Syrian children are given courses in the Turkish language. All classes are conducted by volunteers. The branches continue to work as regular cafes, serving delicious food and beverages, with all proceeds being used for charity. There are weekly seminars on Sufism and personal evolution. As one departs the cafe in Balat, a sign warns, "If you can hear and see, you are responsible."