The district of Fatih is home to a unique kind of bazaar. What started in the '40s as place for housewives to sell hand-made and homegrown goods - hence the name Kadınlar Pazarı - the Women's Bazaar is now an area consisting of roughly 72 shops where locals sell produce brought from the farms of local villages. Located behind the famous fire brigade in the district of Fatih and just under the aqueducts is a strip that is still known as the Kadınlar Pazarı. Over the years, this bazaar has preserved the reputation it has long been famous for with organic and homemade goods.

After being greeted by a strip of butcher shops that display chunky parts of animal carcasses prominently in the streets, you may experience shock and amazement if you are accustomed to seeing neatly packaged and well-labeled meat only, but rest assured you will get your meat fresh. Sweet old Hacı Mesut who has been sitting on his stool selling "bumbar" (the heavily salted intestines of an animal used for a dish called Bumbar Dolma) for the last 30 years attests to every aspect of the animal being used.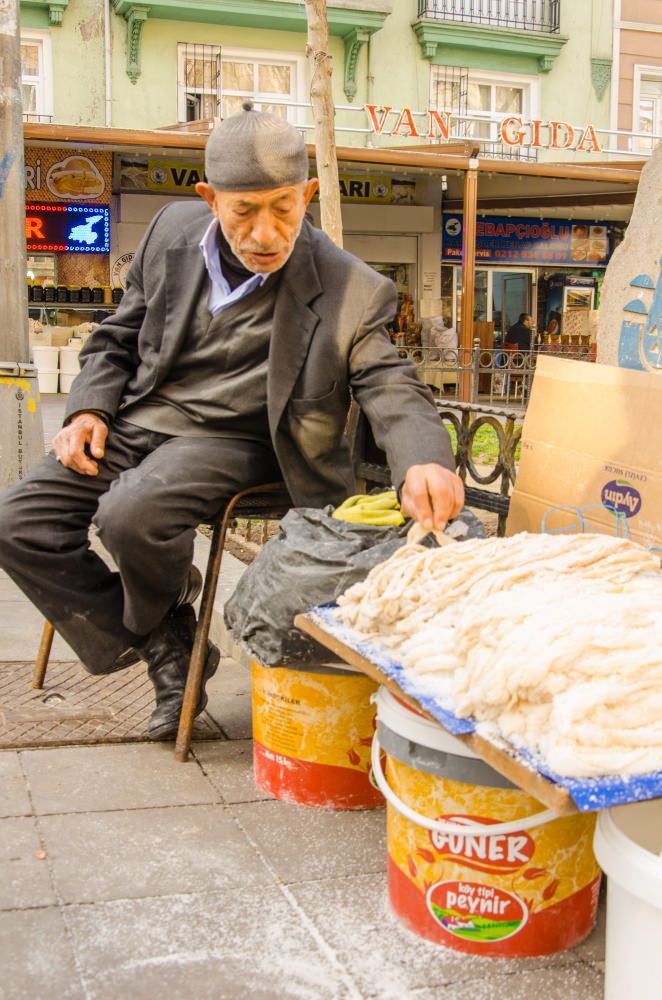 Hacı Mesut has been selling bumbar in the same place for the past 30 years.

Pleased with his knowledge he exclaims "did you know that this bumba was also used to make string?" Not much further up, you will find İbrahim selling what looks like a necklace of emeralds secured to a string. "This Okra is from my village on the Aegean side. We dry every fruit and vegetable we grow, so that we have food for winter" he announces. You can be sure to find many more just like Hacı Mesut and İbrahim who are there with just a bag or box of goods that have come directly from their own backyard. Butter from Trabzon, roasted chickpeas from Çorum and dried red peppers used to make tomato paste and chili from Urfa are just a few of the goods you can find.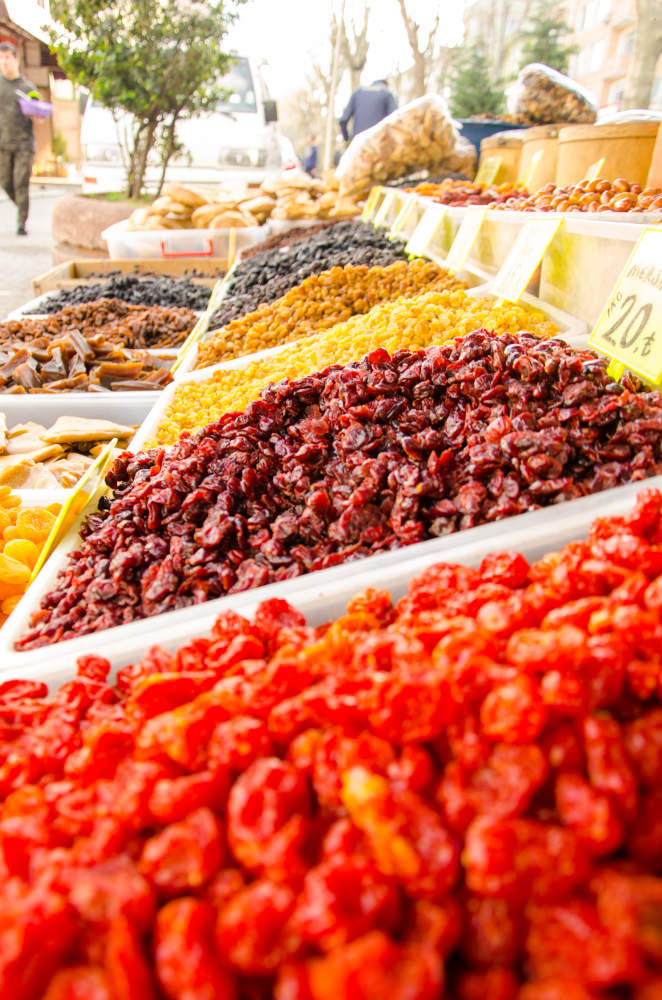 Dehydrated vegetables for winter

This Women's Bazaar, which appears dominated by men, has numerous restaurants to choose from. The star of this bazaar which stands out from the crowd is a humble place called Sur Ocakbaşı, run by Mehmet Usta. The restaurant offers seating for 28 with bigger outdoor seating options, maintaining the sincerity it was founded with in 2004. The menu includes Buryan kebab which is exclusive to Siirt. Using their original preparation method, the meat is placed in a pit (a 2- to 3-meter well-like hole in the ground) for about two-and-a-half hours, giving the meat its juicy tenderness. The morsel on your fork begins to dissolve as soon as it hits your lips. Complementing the Buryan kebab is the perde pilavı.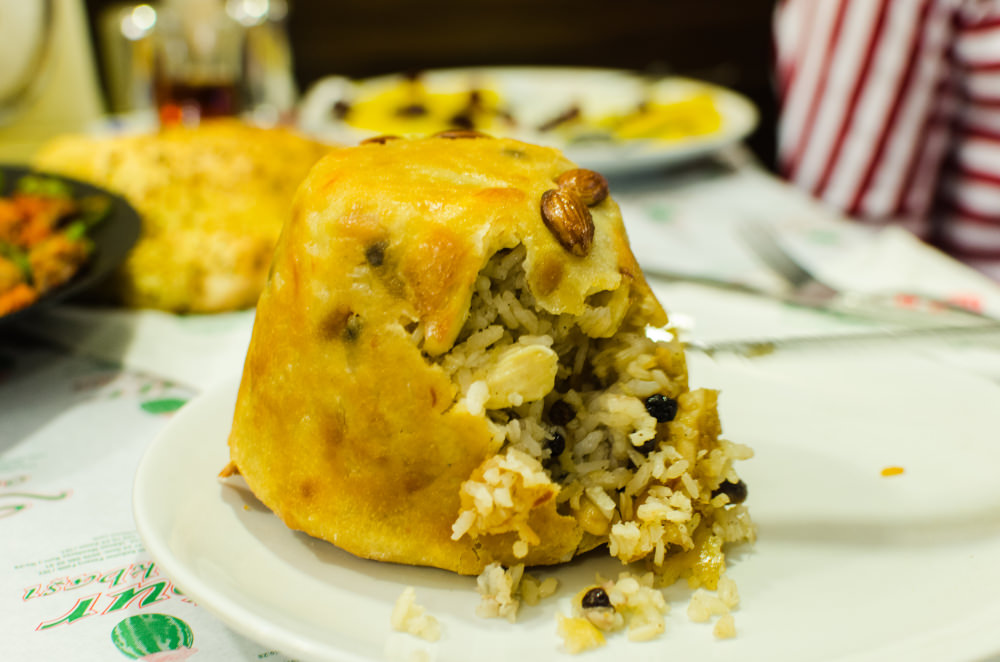 Perde pilavı

The story to this dish is quite interesting. The tradition of throwing uncooked rice over a bride and groom comes from ancient Rome and symbolizes a wish for good luck and fertility.

Other forms of this custom exist in various parts of the world in different forms, such as the Moroccan tradition of throwing raisins and figs to symbolize a fruitful union and the Italian tradition which includes sweetened nuts. A particular mother-in-law from Siirt, with possible roots from Asia, prepared an entire rice dish for her daughter-in-law that contained all these elements. The rice, wrapped with a homemade dough, represents unity. She adds chicken to bring them good fortune, currants to sweeten their union, spices to spice up their romantic lives, almonds for their first born to be a boy and pistachios for a girl. Neatly packaged, she presents the dish to her new daughter to welcome her into the family. Ayran - a drink made from homemade organic yogurt - is also served at Sur Ocakbaşı in either a silver or copper bowl with a small ladle-like spoon.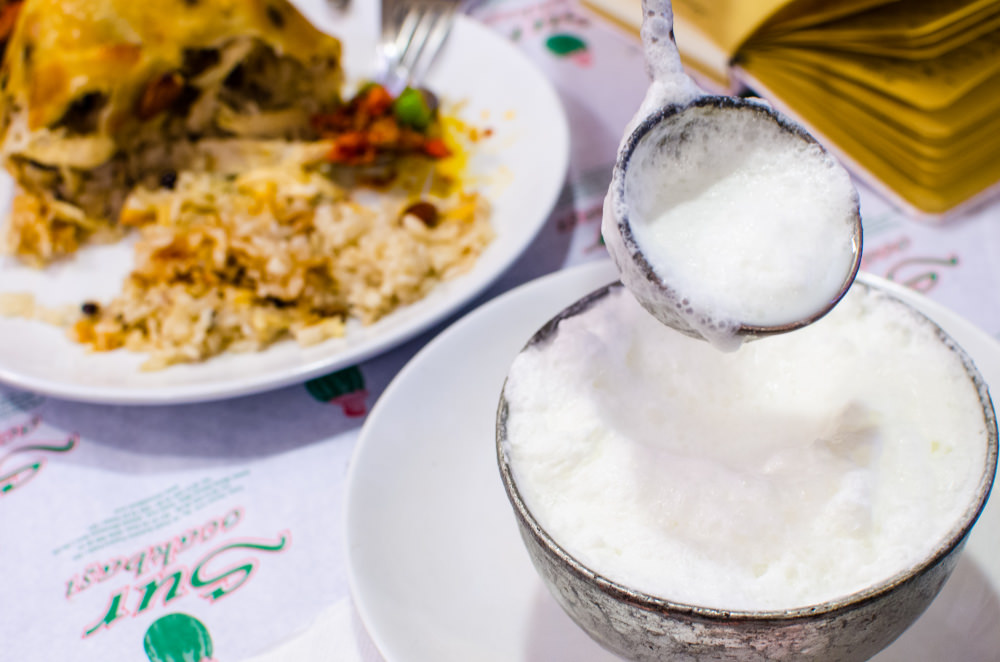 Fresh ayran

The star of this humble restaurant which has attracted A-listers from around the world, not to mention night owls looking for a quick bite to eat, is the dessert dish of İsmail's grandmother. A secret recipe passed down from grandmother to grandson, it became so popular that it was patented in 2008. Since then, it has attracted the likes of Yusuf Islam (formally known as Cat Stevens), Anthony Bourdain from the Discovery channel and Turkey's Vedat Milor, to name a few. Homemade ice cream made with organic milk that comes from Siirt is wrapped in a doughy paste made primarily from semolina and prepared in the kitchen using a secret recipe. Topped with cinnamon and garnished with cranberries, this dish is a surprise for your taste buds the moment it hits your pallet; sweet enough to eat as a dessert and certainly not overpowering enough to make you overwhelmed.