Radicalization is the new worry for the United Nations as Syrian refugees left behind in the scramble for Europe are now talking of leaving their camps in Lebanon and fighting for groups like DAESH and Nusra Front, while even many who arrive in Greece have to cope with mental illnesses.

Since the outbreak of the Syrian civil war in 2011, nearly 9 million Syrians have been displaced with 3 million fleeing to Lebanon, Jordan and Turkey. A number of reports from Western countries, though, recently identified mental illness, depression and stress among new groups arriving both in Europe and in the United States. Depression - and its implications - is now starting to be recognized as both an illness and a crisis.

For those who cannot make it to Europe, depression or mental illness is now starting to become a real problem facing many Syrian refugees who are stuck in camps in Jordan and Lebanon - and its mainly teenagers who are the most vulnerable, according to a number of recent studies.

Yet, according to a U.N. boss, the main reason for depression here is the increasing incidents in the home of violence conducted against them by elders and caused by stress relating to poverty.

One of the driving forces of recent waves of refugees from Syria to Europe is that refugee camps in Jordan and Lebanon can barely give them enough to eat. Recently in Lebanon, over the cold snap, many refugees resorted to burning plastic garbage in their stoves just to keep warm as there is no money for fuel. Violence within the refugee communities is both a result of depression and its cause. It is a downward spiral that the U.N. and aid agencies fight as many refugees battle against all the odds just to survive harsh conditions.

In a recent interview with UNICEF's Lebanon boss, Tanya Chapuisat, she admitted to Daily Sabah that depression and violence were getting worse, especially among children. "We're very conscious of depression and ongoing levels of violence in the family as a direct consequence of despair, depression and lack of hope" she said. "The violence gets internalized as men and families are not earning incomes. The tensions rise, so [then] there's more domestic violence - so kids are experiencing high levels of violence in their families and not just having to cope with their past experiences [or] what they've lived through now as a result of very difficult circumstances."

In Lebanon, the Rome-based crisis and aid group Caritas said many people are suffering different kinds of trauma and need therapy due to their war experiences. Caritas Lebanon social workers say they have noticed "many social and family problems, such as domestic violence, couples breaking apart and children who are traumatized after experiencing being kidnapped in Syria," according to a recent report. Yet mental health is hardly a new condition for aid agencies on the ground in Syria and its neighboring countries. "Most people suffer from long-term profound stress, which makes them go into survival mode" explained Jane Macphail of Mercy Corps in Jordan. Children are particularly vulnerable, which is why donors place great emphasis on education. "We do a lot of informal learning that keeps kids engaged so they continue to be lifelong learners, and the donors recognize this. A lot of the young people we talk to have low levels of depression, which comes from chemical change ... but when we talk about long-term depression with these kids, there's clear evidence that it can trigger long-term mental illness" she told Daily Sabah via Skype.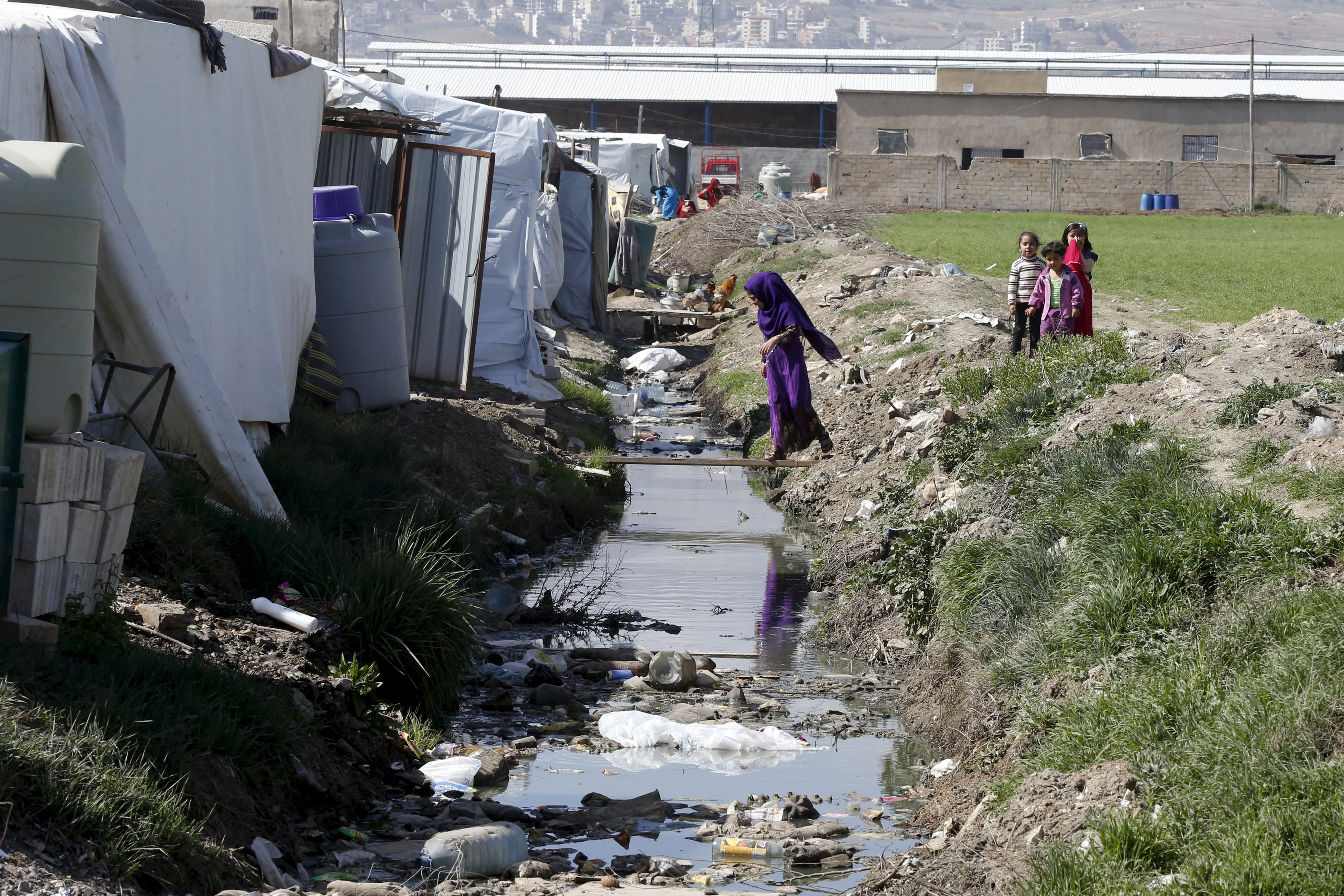 A Syrian refugee girl walks on a wooden plank over sewage in an informal Syrian refugee camp in Lebanon (Reuters Photo)

Young men are especially susceptible, and a number of environmental projects are being organized to give boys "adventure" to stimulate their brains to avoid the early stages of mental health problems. Moreover, the lack of activity or adventure leads young people to ponder their own situation too much.

According to the current research of Dr. Helen Verdeli, a professor of clinical psychology at Teachers College of Columbia University, the most common stress that Syrians living in refugee camps experience is stems from worrying about the well-being of their relatives "who have dispersed to other refugee camps, moved to other countries or remained in Syria and might have been tortured or killed."

This was particularly evident with a 15-year-old girl who was separated from her mother and recently interviewed in a camp in Zahle, in eastern Lebanon. "My mom is now trapped in Syria ... I just don't know if I will ever see her again," said Maynayer, who is raising three brothers who she complains are abusing her.

Even inside the camps themselves, there is cause for mental health and stress to take root, according to a U.S. study. "Although refugees residing inside the camps are protected from military violence, inside the camps they are vulnerable to physical violence, torture, sexual assault and rape. Many adults and children have been victims of or witnessed multiple acts of violence," the study said.

Consequently, there is some evidence that young men, out of desperation, are beginning to contemplate joining extremist groups who might pay them pocket money to help them out of their desperate situation. Chapuisat played down this "radicalization," but Mercy Corps in Beirut admitted this was a trend now. "From our field visits, the tension is always getting higher and people are becoming more desperate," George Antoun of Mercy Corps Beirut said. "And this is why people are losing hope and trying to find any way to get out of this desperate situation," he added.

It was not difficult to find such men in a squalid refugee camp in Zahle, an area where the Lebanese army regularly battles DAESH fighters in the mountains.

Just a few miles out of Zahle, we visited a small camp that was made up of refugees who had fled the controversial chemical attack in Damascus in 2013. A young man told us candidly: "Look, we are all burning plastic here to keep warm and getting ill from it. It's miserable and there is no hope ... Sure, I am always thinking about it [joining a fighting group], especially if it paid me a little so as to help. Many of us are thinking of this, actually. Do you blame us?"

For the girls they leave behind, though, the worry is about sexual abuse, so the pressure is on them to get married early. Young girls are subject to high levels of stress as approximately half of all Syrians living in refugee camps are children - who experience "interpersonal violence along with their parents, and many girls, under the age of 18, must confront the extra burden of being married off," one study said.

It's widely reported by journalists that around a quarter of all Syrian refugee marriages registered in Jordan, for example, involve a girl under the age of 18, as parents often resort to arranging marriages for their daughters at a young age believing this reduces their chances of being victimized by rape in the camps themselves. In some cases, the age can be as young as 11 or 12.

From as early as 2013, Caritas has estimated that at least one-fifth of all refugees needed psychological help. United Kingdom-based charity Save the Children more recently this year put the figure higher, and estimated that one-in-four refugee children were suffering from a mental health disorder.