Spring fever is here, with the reappearance of color and vitality everywhere, heralding the sun's warmth to the earth. And, much more! You may be a little unfamiliar with Istanbul's everyday life but have probably come across more flower merchants in cherry red pleat skirts with brightly colored blouses on street corners in spring, asking passers-by to buy a dozen roses or cloves for their beloved. I am talking about Roma women, the members of a cheerful minority group, whose mismatched but colorful dresses are enough to put a smile on your face. From the Indian subcontinent, Roma people dispersed to different regions over years, but no matter where they are, they have always preserved their cultural identity and the lifestyle they love.
With a life devoted to selling flowers, Roma women, believe it or not, are very good at persuading people and twisting your arm to buy flowers. So, be careful while walking along the Beşiktaş coast in Istanbul with a friend of the opposite gender, because a woman wearing a floral headscarf will spot you and ask, "You, my handsome boy, why don't you buy a rose for this beautiful girl?"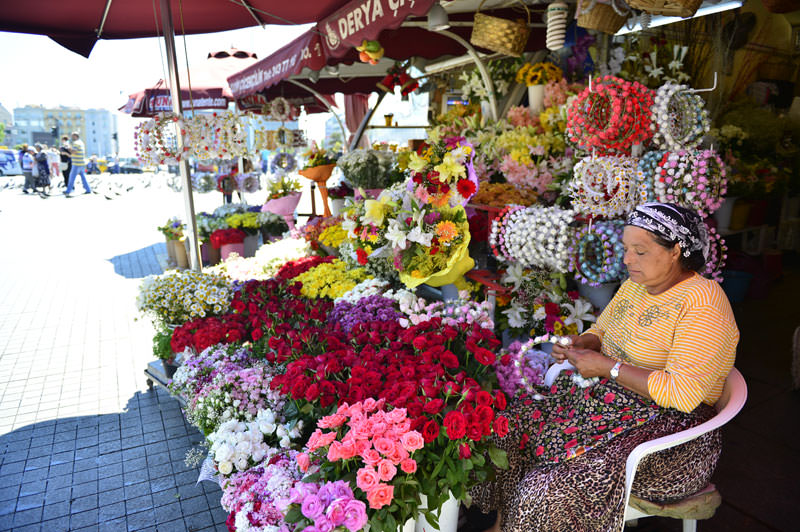 Even if you are not a couple, the woman will not believe you and continue: "I know you love each other; it is obvious!" If you are a good bargainer, you can persuade one of them and get your flowers at an affordable price. The prices mostly range from TL 10 (about $3) to TL 20 and Roma flower merchants have very fresh and beautiful spring flowers not limited to rose and cloves, but including daisies, hyacinths, jasmines, orchids, tulips and lilies.
In the past, they used to collect flowers in the city's outskirt areas but many Roma flower merchants successfully run their own spots in Taksim, Nişantaşı, Eminönü and Kadıköy. The largest of which is situated in Taksim Square and right off the Kadıköy deck. My favorite Roma flower peddlers are in Nişantaşı, a small spot where you can find spring flowers in big buckets.
A historic flower bazaar facing the New Mosque ("Yeni Camii" in Turkish) in the Eminönü district well-known for the Spices Bazaar, is reminiscent of an oasis of flowers and plants at affordable prices. From narcissus to colchicum, the flower bazaar has much to offer anyone with an interest in gardening. You can buy fruit seeds from 25 TL and the price of houseplants start from 5 TL. During your tour of the flower bazaar, you may see dozens of pets and birds, especially small kittens accompanying customers.
The 11th edition of the Istanbul Tulip Festival has also kicked off at the Emirgan Grove, one of the largest public parks in Emirgan with pavilions and decorative ponds and will continue until April 30 at Göztepe 60. Yıl Park in Kadıköy and Sultanahmet Square with a rich program of exhibitions, symposiums, sports activities and live performances.
Spring flowers
Judas tree
Judas trees or Eastern Redbud ("erguvan" in Turkish) start to bloom in April, painting the city with abundant pinkish-purple flowers. Native to Mediterranean and west Asian countries, the tree's leaves develop into a rounded heart shape and get a chestnut color in autumn. Some legends say the tree takes its name from Judas, a disciple of Jesus Christ, who hanged himself from this type of tree and its white blossoms blushed with shame, giving its distinct color. The pinkish lavender color of the Judas tree was the royal color of Byzantine emperors, decorated centuries-old frescoes in Hagia Sophia and enjoyed a special place in the Ottoman Empire for which festivals used to take place. Even the city of Constantinople is rumored to have been conquered when the Judas trees bloomed.
Take a tour from Kandilli to Paşabahçe on the Asian side of Istanbul, where Judas trees are abundant in spring. Alternatively, Emirgan Park, Aşiyan and Vaniköy in the Sarıyer district on the European side are other locations where you can catch their matchless beauty. The next time you sit under a Judas tree facing the Bosporus, remember the Turkish poet Orhan Veli, who once said about these boasting purple flowers: "[They are] A world that can drive a person mad," or famous poet Edip Cansever likening the city to an "empire of erguvan." Also recall the lines from celebrated Ottoman-era poet Nedim, when purple blossoms salute you while the wind plays with your hair: "O city of Istanbul, priceless and peerless! I would sacrifice all of Persia for one of your stones!"
Wisteria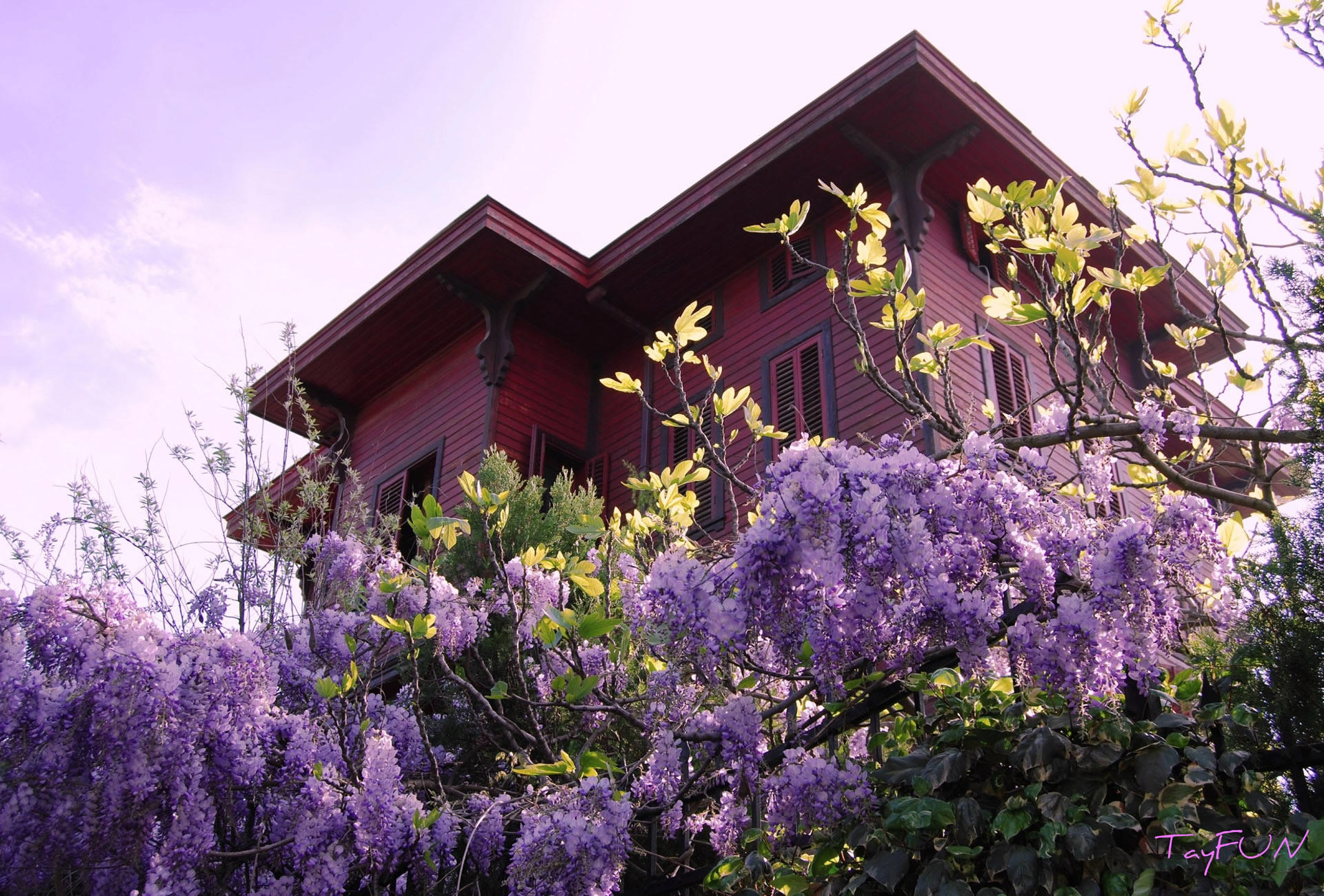 Purple obviously dominates spring not only giving its color to Judas trees but wisteria, a kind of cascading and showy flower blooming in clusters. Even a weary wooden house looks beautiful when wisteria adorns its front. Take a ferry to Üsküdar on the Anatolian side of Istanbul and have a small expedition along cul-de-sacs and streets home to the city's old mansions appealing passers-by with the flowers in their garden. You will easily spot wisteria because their scent will beckon you closer. These purple flowers are also a source of inspiration for Turkish authors like Halide Edip Adıvar, whose first book took its name from wisteria: "Mor Salkımlı Ev" (House with Purple Wisteria). "... in the sunset, the house's windows covered with purple wisteria shine like a fiery plate," she says in her book, letting readers to fall under the spell of dreamy houses. These beautifully scented flowers can also be in white, blue and pink and perfectly cover your garden or house. Native to China, Japan and the U.S., wisteria generally blooms from April to June and is able to endure cold, rain and hot weather. Wisteria loves the sun and it is recommended to plant it in a fertile and well-drained soil.
Japanese cherry blossom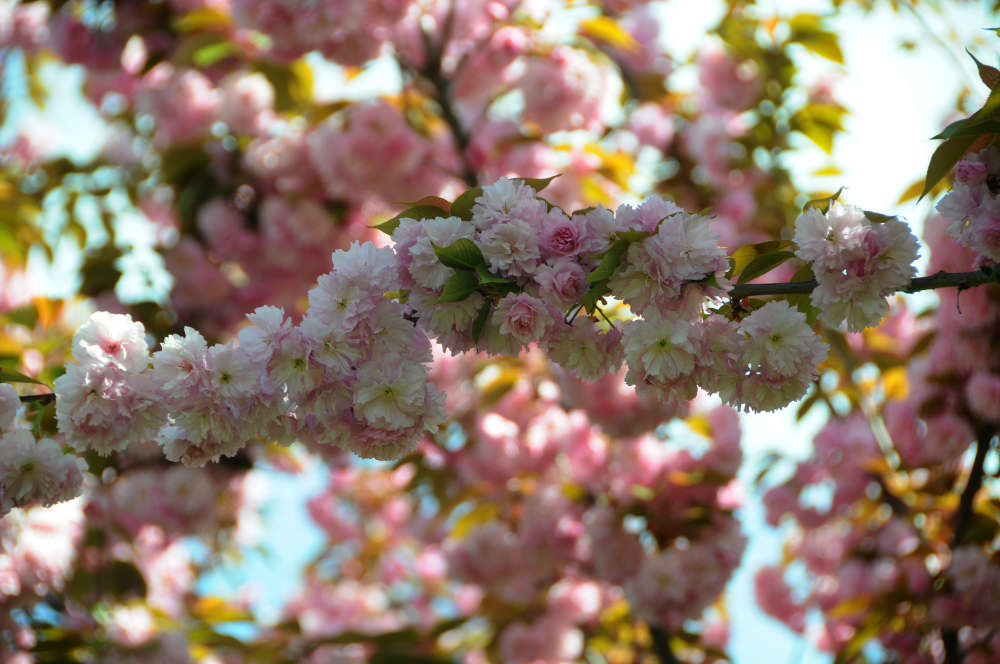 "What a strange thing! To be alive beneath cherry blossoms," once said Japan's respected poet Kobayashi Issa. As a symbol of renewal and hope, cherry blooms (sakura) are in abundance from March to mid-April. During cherry blossom season, groups of people have picnics under the cherry trees, a tradition called "hanami" (flower viewing) in Japan. The beloved flowers may not be a symbol of Istanbul but Baltalimanı Japanese Garden in Sarıyer is where visitors can discover the beauty of cherry blossoms along with other flowers like camellias and lagoon. You can take a short walk to digest the tranquilizing view of flowers in the garden. Designed in line with a traditional Japanese garden, the small but quiet park hosts annual Japanese festivals, too. Get off at the Baltalimanı Bus Stop to visit the park. Entry is free.
Magnolia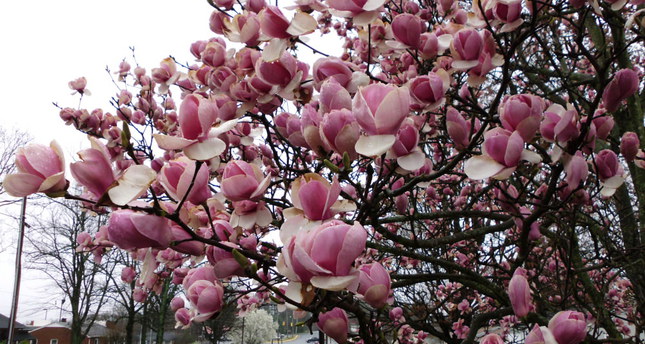 Did you know that magnolia ("manolya" in Turkish) is a beautiful name for girls in Turkey? You may also discover Turkish poems, song lyrics or small streets named after magnolia. The late poet Can Yücel once wrote the following lines: "A new land is just born on the earth, doves land on magnolia at night." Magnolias bloom during the spring season and the blossoms can be white, yellow, purple, pink or red. Magnolia is also told to have anti-anxiety and anti-angiogenic properties.