Many famous Turkish films such as "Ah Güzel İstanbul" (Oh Beautiful Istanbul), "Anayurt Oteli" (Motherland Hotel), "Canım Kardeşim" (My Dear Brother), "Masumiyet" (Innocence), "Muhsin Bey," (Mr. Muhsin) "Bir Adam Yaratmak" (Creating a Man), "Bizim Aile" (Our Family), "Sevmek Zamanı" (Time of Love) and many others have been etched in our memories: we have memorized their lines and fallen in love with the characters of the films. Turkish cinema has also been a cornerstone of Çağdaş Erçelik's workshop for years, where he previously made full-sized sculptures - inspired by literature - with the theme, "Dostoyevsky." Now, the sculptor is back with his latest works, inspired by leading actors, villains, heroes and memorable scenes from some of the best Turkish films.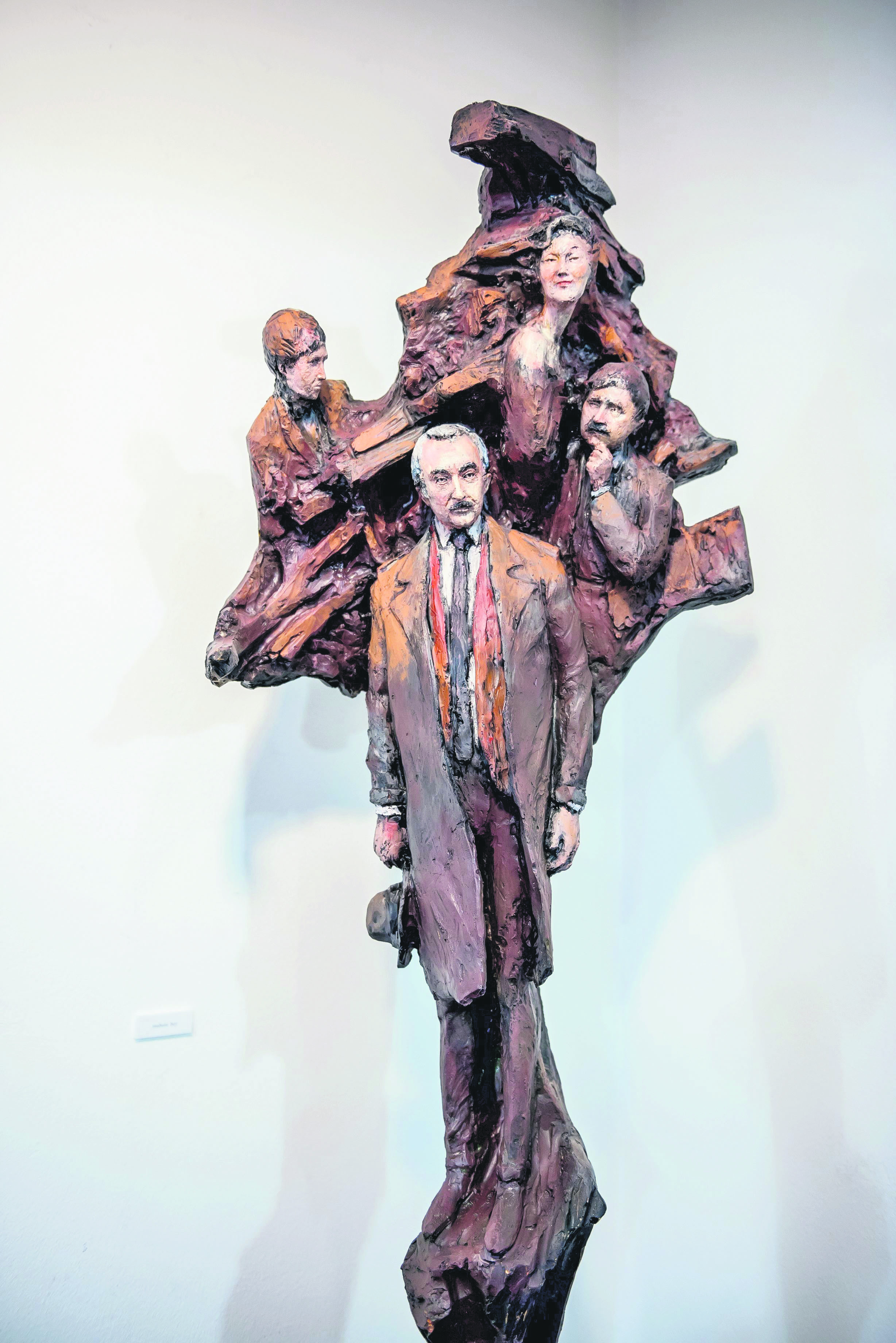 A sculpture of actor Şener Şen in "Muhsin Bey."
Erçelik's works are not only inspired by Turkish film and literature - the sculptor is also a painter and has created incredible depictions of movie scenes, adding a whole other dimension to his portfolio. When we met up with Erçelik, he told us his primary goal was to unite cinema and art, pointing to his work "Ah Güzel Istanbul," which illustrates the main characters of the film, Sadri Alışık and Ayla Algan, two of Turkish cinema's most important names. Inspired by this initial project, he began to produce incredible sculptures which depict the main characters played by some of the most legendary names of Turkish cinema, including Sadri Alışık, Şener Şen, Tuncel Kurtiz, Tarık Akan, Türkan Şoray and Müjde Ar. Erçelik has immortalized these characters in sculpture, working night and day in his studio for two consecutive years. The sculptor aimed to depict the mood of each character with his own unique twist.
"Cottage of Sorrow in my Dreams"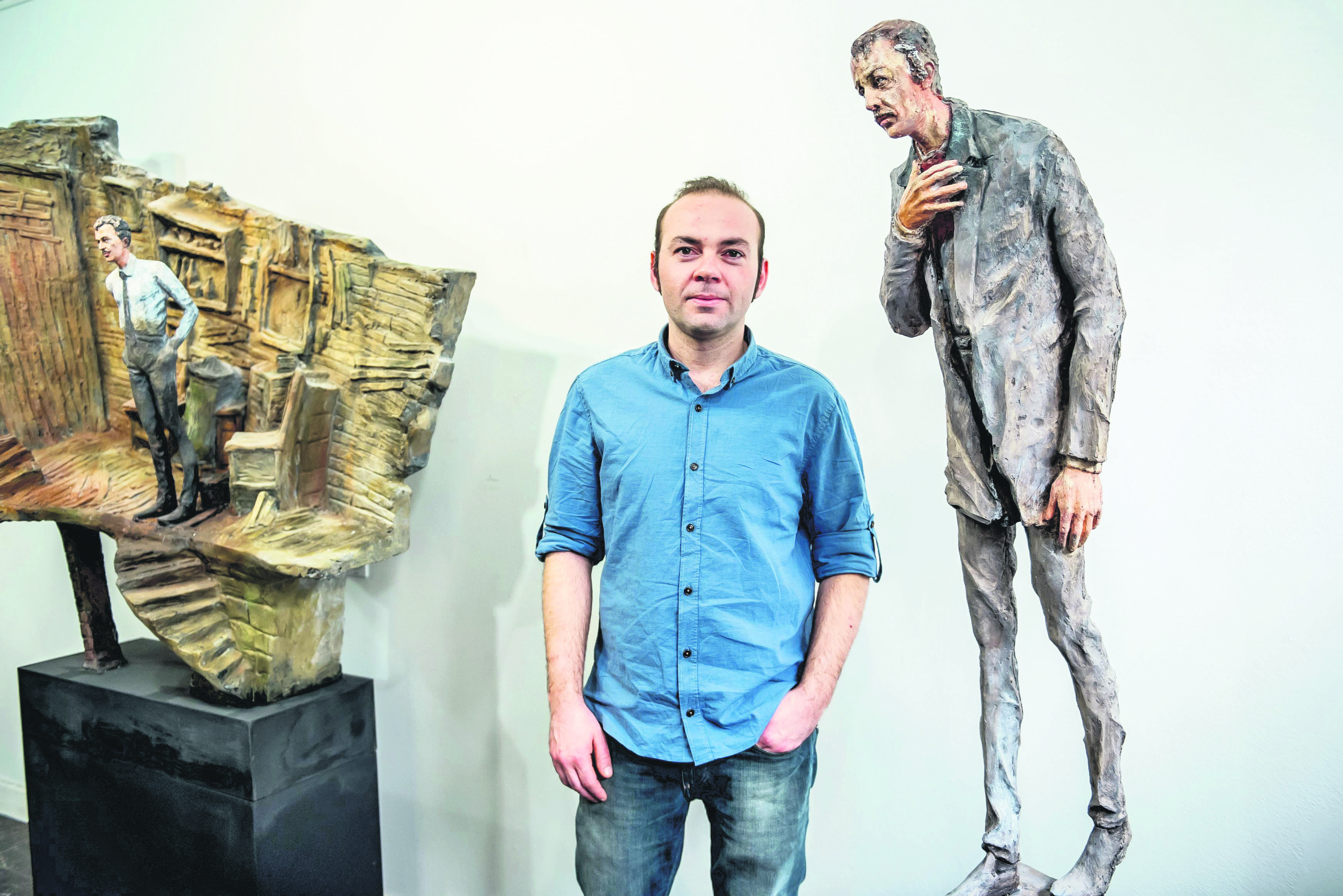 Çağdaş Erçelik
Erçelik is most excited about his recreation of characters and scenes from Turkish films such as "Ah Güzel İstanbul," "Muhsin Bey," "Sevmek Zamanı," "Masumiyet," "Canım Kardeşim," "Bizim Aile," "Anayurt Oteli" and "Üç Tekerlekli Bisiklet" (A Bicycle with Three Tires). The sculptor's collection features 25 films. "All of these have impressed me over the years. I enjoyed working on 'Ah Güzel İstanbul' the most; however, the hardest project was the sculpture of Müjde Ar depicting him in the leading role in Ah Belinda," Erçelik said.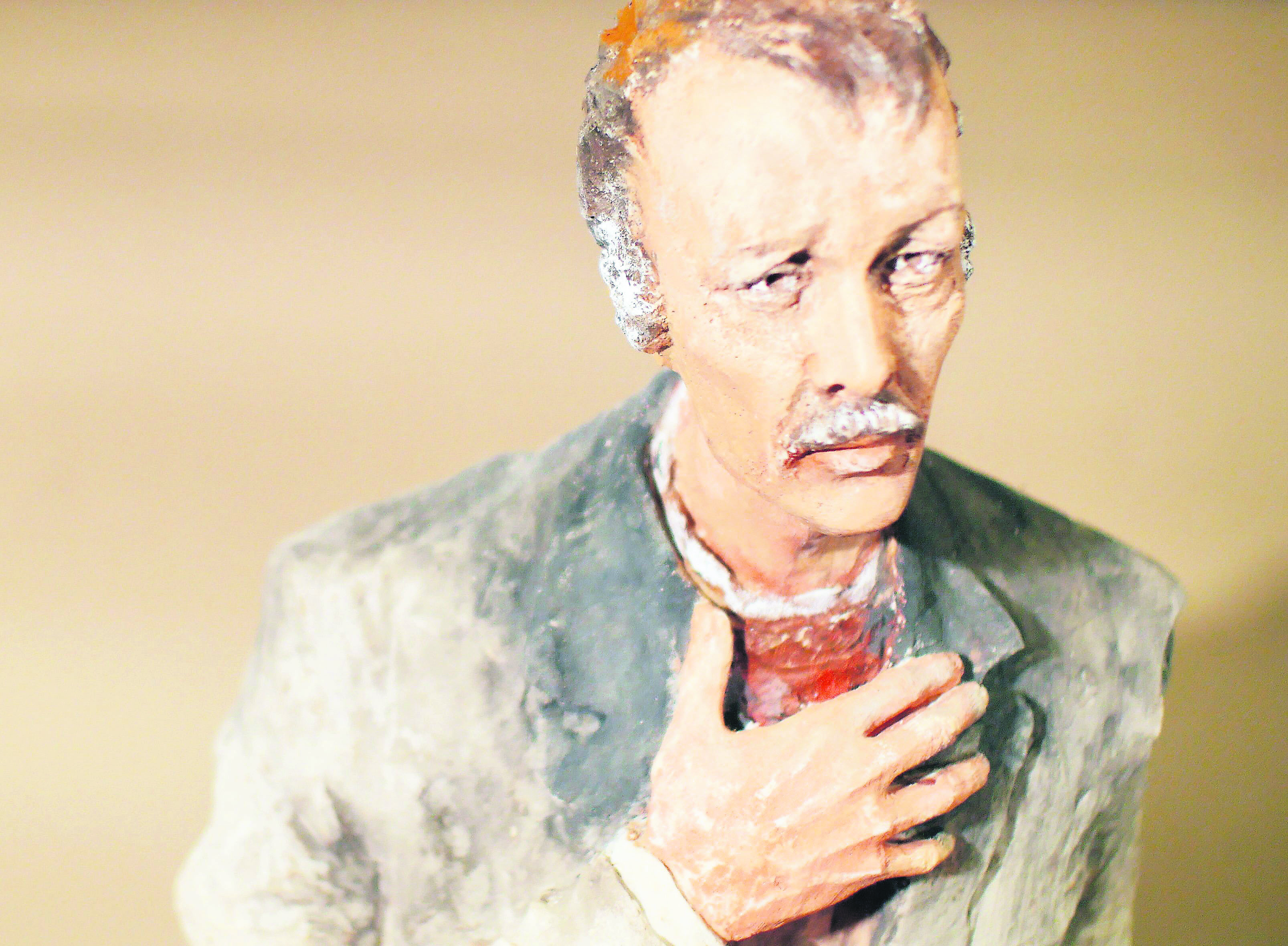 Münir Özkul
Some of the films Erçelik chose are depicted by more than one sculpture; namely, "Ah Güzel Istanbul" features three sculptures. The film refers to the "Külbe-i Ahzan" which means "cottage of sorrow." This line touched me deeply, so I tried to create the Cottage of Sorrow of my dreams," Erçelik went on to say. His works can also be seen at Galeri Eksen. Erçelik remarked that he is deeply satisfied with the outcome now that his works are all on display. When asked why there were only two child characters depicted, he stated that only two of the characters, played by Tarık Akan and Halit Akçatepe from "Canım Kardeşim" were included from the film which was directed by acclaimed Turkish director Ertem Eğilmez, Erçelik said he didn't add the child character because he wants viewers to remember the film and the character, adding details from their own imaginations. His collection has attracted many visitors and a few interesting events have taken place already. When Erkan Can's cousin purchased the sculpture of Can, who is best known from the film "Gemide," (On Ship) as a gift, Can called Erçelik to say that, had he known, he would have visited his workshop to pose, because he really liked and appreciated it. Erçelik also noted that that some films were not included in his projects due to lack of time. One of Şener Şen's scenes in "Aşk Filmlerinin Unutulmaz Yönetmeni" (The Unforgettable Director of Love Films) - directed by Yavuz Turgul - and the characters in "Sarı Mercedes" (Yellow Mercedes) directed by Tunç Okan is still on the artist's list of sculptures he would like to create.
However, Erçelik has an even bigger dream: to make life-size works that reflect moving characters and display them on city streets, in parks and in front of houses: eliminating the need for exhibition halls. Noting that he wants to overcome the bias against sculpture in society, Erçelik added, "My aim is to introduce the art of sculpture to those who have no idea about this art form."