What would you say about watching fish swimming and coral reefs popping up in front of you while looking at a blue sky and exploring the natural beauties? Designed by a fisherman in the popular coastal town of Marmaris in Muğla province, Turkey's first domestic-built semi-submarine offers a blue voyage option and an underwater safari, drawing intense attention from tourists. Beside the tourist purposes, the semi-submarine can also clean the sea bottom, reducing pollution and contributing to the environment.
Last year, Yusuf Dirmil, who resides in Marmaris and has been an underwater diver for the last 30 years, decided to build a boat for people who have yet to see the underwater world. He met with the engineers of the Türkoğlu Shipyard in Yalova and told them of his dream. Following necessary preparations, the team realized the fisherman's dream of allowing people to enjoy coastal beauties and explore marine life. The 26-meter-long and 8-meter-wide boat is equipped with a custom-made tube installed at a depth of three meters, which makes it look like a real submarine. It took a year to build the wooden boat with a capacity for more than 140 passengers at a cost of $1 million. The boat is unique in Turkey with distinct features.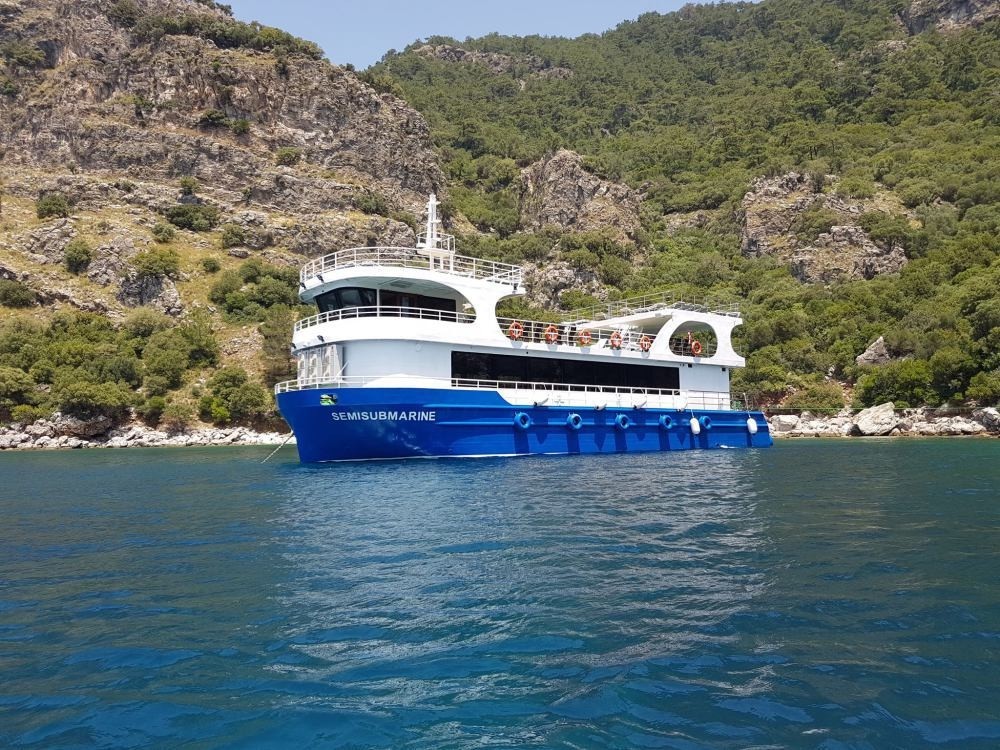 Dirmil's semi-submarine recently sailed on its first tour in Marmaris, after being launched at Türkoğlu Shipyard. Domestic and international tourists took a one-day blue cruise in the semi-submarine and were able to observe the bottom of the sea through an optical window while seeing the matchless natural beauties of the region. A one-day tour and underwater safari costs TL 85 (about $29.35). Dirmil, who also serves as the semi-submarine's captain, said that he is happy that his boat serves Turkish tourism. "I have been a fisherman and a diver for roughly 40 years, and I always thought that there are so many people who have not yet had a chance to see the beauties under water. I designed a vessel that can serve as a boat and a submarine. I am so happy to realize my dream with the help of Turkish engineers. I hope my boat serves Turkish maritime for years."
The semi-submarine received approval and good feedback from tourists after its debut trip. These tourists said that it was entertaining to observe above and beneath the sea. British tourist Kevin Michelien said: "This is the first time I sailed with this boat. I think this is a dreamboat. You find yourself relaxing and away from the stress." Turkish tourist Özge Göçer said that it is a marvelous feeling to see the diversity underwater, while touring the most beautiful bays in the region. "I recommend this experience to everyone."
Murat Kuyumcu, the partner in the semi-submarine, said that they applied for a patent with Turkish Statistical Institute (TurkStat). "We believe that the boat is one of a kind in Turkey. Currently, officials are searching whether there are similar wooden marine vessels. This semi-submarine has received a certificate of conformity from the Türk Loydu Foundation. Our objective is to diversify tourism activities and offer tourists the hidden beauties of Marmaris from a different perspective."
Semi-submarines are relatively new and different in the category of tourist boats, as they are generally referred to as hybrid glass-boats. The semi-submarine looks just like a real submarine, but it is equipped and designed for guests to explore the underwater world. They redefine the experience of the underwater world and its ecosystems for residents and visitors on the Mediterranean coast. While the upper body remains above the sea surface at all times, large windows along the underwater hull enable passengers to enjoy spectacular views of the underwater ecosystem, thus creating the illusion of a real submarine dive. It is an ideal activity for children who love watching fish up close. A great way to discover beautiful colorful marine life without getting wet, semi-submarines are also becoming more popular along the Adriatic coast.
In Turkey, local travel and cruise agencies have already started blue voyage tours with the arrival of international tourists in the Aegean and Mediterranean coastal provinces. During a cruise, travelers can explore the best of the Turkish Riviera.